Iran's President Believes Chavez Will Rise From the Dead, Like Jesus
"I have no doubt that [Chavez] will return alongside Jesus Christ ... to establish peace and justice in the world," Ahmadinejad said.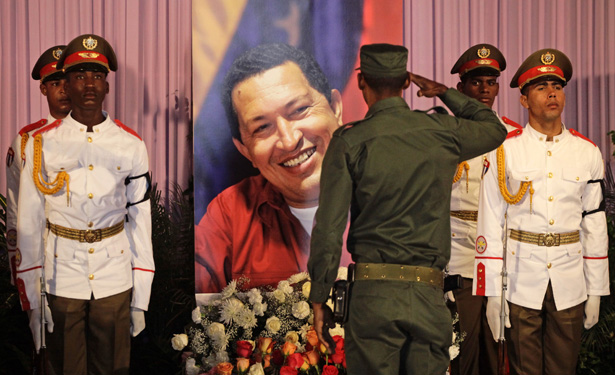 The death of Venezuelan leader Hugo Chavez has prompted eulogies from around the world, but few of the messages have been as eccentric as the second-coming predicted by Iran's president.
And as if returning to Earth alone was not enough, President Mahmud Ahmadinejad says Chavez will do so alongside some esteemed company.
"I have no doubt that he [Chavez] will return alongside Jesus Christ and the Mahdi [the Hidden Imam] to establish peace and justice in the world," Ahmadinejad wrote in an emotional condolence message posted on his personal website. The Mahdi is a revered figure among Shi'ite Muslims, many of whom believe he will return to save humanity.
Ahmadinejad, who had forged a close public friendship with Chavez, hailed his close ally for "serving the people of Venezuela and defending human and revolutionary values."
Iran has declared a national day of mourning in honor of Chavez's death, and Iranian media has said it was a "possibility" that Ahmadinejad would attend the funeral scheduled for March 8.
'Martyr'
Ahmadinejad also supported allegations made by Venezuelan Vice President Nicolas Maduro, who said shortly before Chavez's death that he had "no doubt" the country's enemies had somehow given the leftist leader the cancer from which he eventually died.
In his condolence message, Ahmadinejad said Chavez was a "martyr" who fell to a "suspect illness."
Chavez, who led Venezuela for 14 years, was a controversial figure both in his homeland and on the international stage. He was seen as a hero by some for his socialist programs designed to help the poor, his strong criticism of the United States, and gifts of cheap oil.
In Iran, the 58-year-old Chavez enjoyed immense popularity. Ahmadinejad admired Chavez's outspoken defiance of the United States, and shared his role as a voice of dissent on the international stage. His relationship with the Venezuelan leader was characterized by warm embraces, light-hearted jokes, and lavish praise. On several occasions Ahmadinejad referred to Chavez as his brother.
Tehran and Caracas signed billions of dollars in trade and investment agreements over the past several years. Chavez made 13 visits to Iran as president, while Ahmadinejad has made six visits to Venezuela since 2005.
"Hugo Chavez is a name known to all nations. His name is a reminder of cleanliness and kindness, bravery...dedication, and tireless efforts to serve the people, especially the poor and those scarred by colonialism and imperialism," Ahmadinejad wrote on his website.