How the Election Might Still Be Good for Italy
After the stalemate, Grillo may usher in reforms -- a rarity for Italian politics.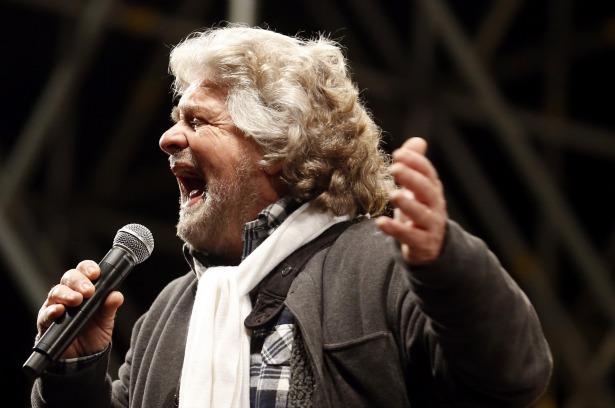 As the polls closed on February 25, early election results made it clear that Italy's recent economic stability would not last long. No party was able to get an absolute majority in the Senate, leaving Italy ungovernable in a moment of economic crisis that most wants a strong leadership. Now, Italy faces a future of instability. But, if the cards are played well, out of the political chaos an opportunity of self-renewal might await Europe's third-biggest economy.
Pier Luigi Bersani, leader of the center-left Democratic Party (PD), was expected to win the Italian elections and form a coalition government with former technocratic and centrist, Prime Minister Mario Monti. But expectations--and polls--were wrong.
Silvio Berlusconi, leader of the center-right People of Freedom (PdL), returned to the Italian political arena with a mild success insured by his usual round-the-clock media presence and his deceiving pledge to refund a much-loathed tax on first homes.
Berlusconi won 125 seats out of 630 in the lower house of Parliament and 30 percent of the seats in the Senate (for a total of 117 seats out of 315, only 6 seats fewer than Bersani's coalition). But his political persona, smeared with scandals and convictions, is gradually fading. And compared to 2008, overall he lost more than six million votes, about 50 percent.
Berlusconi's relatively weak showing, though, didn't result in the triumph of his traditional rival, Bersani's center-left PD, which got four million fewer votes than in 2008. Although Bersani won the lower house of Parliament (thanks to the majority bonus given to the winning coalition by Italy's electoral law), he failed to win the Senate, which is fundamental to govern. The result is a gridlock.
The new Italian phenomenon in these 2013 elections has a different name: Beppe Grillo. The 64-year-old former comedian entered politics with an anti-establishment agenda, at the cry of "Tutti a casa," or "everybody home." Grillo promised to cut the costs of politics, to fight against austerity measures, and to "clean" the Parliament from corruption. By being able to gather Italy's right-wing and left-wing protest votes, Grillo made his newly-formed populist Five Star Movement (M5S) the most-voted party in the lower house and the second-most voted in the Senate.
With the Italian Parliament almost equally divided between these three politically incompatible blocks­--Bersani's PD, Berlusconi's PdL, and Grillo's M5S--the razor-thin winning Democratic Party is having a hard time finding the parliamentary backing it needs to govern.
"No one really knows how they can work together," says Gianfranco Pasquino, a political scientist and professor at the University of Bologna.
The informal bargaining among politicians is still underway and a couple of the options Bersani initially had--creating a coalition with Berlusconi, for instance--have already been rejected. Bersani's policies would all clash with Berlusconi's agenda, and the center-left electorate would never accept a coalition with its historical rival, who just three days after the elections became the subject of a new corruption probe.
Another viable alternative is to create a coalition with Grillo, who in the past few days seems to have become the most influential figure in the Italian political scene.
"A lot depends on him," Pasquino says. "As we say in Italian, he's the one dealing the cards. He is the cardholder and he determines the game."
But true to his anti-establishment battle cry, Grillo has made clear that he won't ally himself with any traditional party. On the web, an M5S voter started a petition to plead Grillo to give the vote of confidence to Bersani's government, so as to stop the gridlock and actually get something done for the country.
"The M5S will not give the vote of confidence to any government," Grillo wrote on his blog on March 1. "But it will vote law by law in agreement with its political program."
Considering the determination of the M5S leader, Bersani might not have many more options other than persuading Grillo to abstain at the vote of confidence. This would allow Bersani to create a minority government that would depend on Grillo and his movement to pass measures.
"That would mean that there will be the possibility of a short-term government to change the electoral law, to introduce some constitutional reform," says James Walston, chair of the Department of International Relations and Global Politics at the American University of Rome.
Among the constitutional reforms Grillo agreed to approve, there is a new anti-corruption law, a conflict-of-interest law, and cuts to the costs of politics--all measures that Bersani promised to work on and that would give back some credibility to the Italian political class.
How long such a minority government would last is hard to predict, and political experts are already considering the possibility of new elections being held as soon as July. In the meantime, the political instability could mean returning to a deep economic recession.
"Sooner or later the economy will request us to find a solution, otherwise the recession will plunge in the Greek direction," says Oreste Massari, professor of political science at La Sapienza University, in Rome.
The effects of Italy's political uncertainty have already been felt around Europe. The day after the elections, stocks fell across the continent and yields on 10-year Italian bonds jumped to 4.81 percent, their highest level this year. Spanish, Portuguese, and Greek bonds prices fell as well.
Investors are now worried not only about Italy's ungovernability, but also about the meaning of the results themselves. By voting Grillo and Berlusconi, Italians almost unanimously spoke against former Prime Minister Mario Monti's austerity policies, imposed by Germany.
"Behind the Italian vote there is the protest against Europe's austerity policies," says Massari.
Although praised abroad for his steady hand in reforming Italy's economy, Mario Monti was extremely unpopular in Italy. His centrist coalition got only 10 percent of the vote. The anti-austerity choice is a sign that Italians--and, like them, other Europeans--are tired of cuts and raising taxes.
But now voters wonder whether the political impasse will cause Italy's economy to go down the tubes.
"Having a powerless government is a problem," says Tito Boeri, an economist at Bocconi University. "However, there are certain things that make the situation less serious than it seems from abroad."
Although Bersani is struggling to form a government, Italy is not without a government right now, Boeri says. Monti is going to be in charge until a new Parliament is formed. This is also what President Giorgio Napolitano reminded the German President Joachim Gauck in Berlin on February 28, after cancelling the meeting with Peer Steinbrück, a prominent SPD member, who called Grillo and Berlusconi "two clowns."
Boeri also sees the success of Grillo's Five Star Movement as a political occasion Italy has long been waiting for. The former comedian's campaign platform calls for the renewal of Italy's gerontocratic political class, the end to the public funding of political parties, more renewable energy, free Internet access, and a cap on the salaries of senior executives.
"I think there is an opportunity behind this chaos created by the elections," Boeri says.
A sign of change is already visible: thanks to Grillo's M5S, the average age in Parliament is now 49, down from last year's 55. And thanks to the Democratic Party and the Five Star Movement, 31 percent of all members of Parliament are women, up from 20 percent in the previous legislature.
It's true that Europe and the rest of world are looking at Italy, the continent's third-biggest economy, with deep anxiety. But the stalemate will not last forever and Grillo, in any case, represents change, a rarely heard word in Italian politics.
"In the medium and long term," says Walston, "it might mean that Italy will renew itself."