Gudkov, Badkov: How a Russian Parliamentarian's Trip to America Rattled the Kremlin
Dmitry Gudkov's condemnation exemplifies the ridiculousness of Putin-era witch hunts.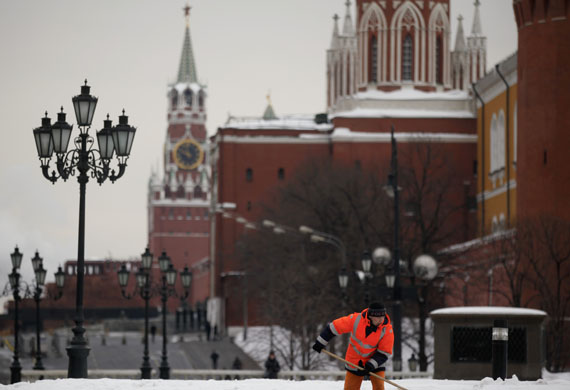 Earlier this month, a Russian parliamentarian named Dmitry Gudkov came to Washington -- specifically, to the Dirksen Senate Office Building -- to participate in a conference on the future of U.S.-Russian relations. The discussion, which was titled, "New Approach or Business As Usual? U.S.-EU-Russia Relations After Putin's Crackdown," was hosted by three organizations: Freedom House, the Foreign Policy Initiative, and the Institute of Modern Russia (full disclosure: I am now employed at the Institute).
The substance of Dmitry's remarks in Congress, which I'll get to in a minute, were beside the point for the vast state apparatus that has determined what's happened to him since. Rather, it was his mere presence at such a venue, and in such a forum, that was labeled the height of treachery, if not a prosecutable offense. "Just showing up" might constitute 80 percent of success for Woody Allen, but for a Russian dissident the rewards are slightly harder to come by.
Gudkov was joined by Lyudmila Alexeyeva, who is to modern dissidence what Steve Jobs was to personal computing, Mikhail Kasyanov, a former prime minister of Russia, and Kristiina Ojuland, the former foreign minister of Estonia and an outspoken Kremlin critic in the European parliament. All shared roughly the same view: that the Putin regime was escalating its attacks on Russian human rights and civil liberties and that the United States -- and Europe -- do indeed have a role to play in trying to stymie or reverse this grim trend.
The conference's keynote speakers were Maryland Democrat Sen. Benjamin Cardin and Massachusetts Republican Rep. James McGovern, the architects of the newly passed Magnitsky Act, which aims to impose asset freezes and travel bans on Russian officials credibly accused of gross human rights violations.
Of the three Russians in attendance, two were either immune from overweening state criticism or simply dismissed given their longtime status as anti-Kremlin foils. Alexeyeva was recently nominated for the Nobel Peace Prize; at 85, she has defied yet another Russian government in refusing to register her internationally famous, and internationally underwritten, non-governmental organization, the Moscow Helsinki Group, as a "foreign agent." "We survived the Soviet power, and we'll survive this," she has previously said, and no doubt she is right. Kasyanov, who had served in Boris Yeltsin's Kremlin, was dismissed along with every other minister from Putin's cabinet in 2004; he is now the co-chairman of an "unofficial" opposition party called the Republican Party of Russia - People's Freedom Party , or PARNAS for short. He's been a longtime member of the anti-Putin opposition. But the third Russian was something new altogether.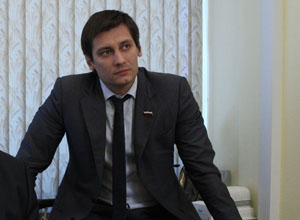 At 33, Dmitry Gudkov bears a slight resemblance to the actor Jake Gyllenhaal , and he's got a not-bad jump shot. He was a point guard in the Russian National Junior Team alongside current Timberwolves forward Andrei Kirilenko. Gudkov was elected to the Duma in December 2011 as a member of Just Russia, one of three "official" or regime-tolerated opposition parties in the country. Previously thought to be no different from the other two minority parties that offer up token challenges to whatever policy or platform is laid down by the Kremlin, Just Russia exhibited signs of daring independence, largely embodied in Gudkov himself. In October 2012, he was elected in an online vote to the Coordination Council, a small assembly of dissidents of varying backgrounds and ideologies, dedicated to creating a sort of parallel polis for Russia's embattled opposition and strategizing how to take the large protest movement that occupied Bolotnaya Square for a few remarkable days two winters ago into the homes of ordinary Russians.
Gudkov was one of eight deputies to vote against the Dima Yakovlev Law, which, inter alia, has banned Americans from adopting of Russian orphans. He then drafted a Duma bill that would scupper the ban. Last July, Dmitry joined his father Gennady Gudkov, at the time also a deputy from Just Russia, in leading an 11-hour Duma filibuster, or "Italian strike," aimed at preventing the passage of a bill that would increase the fines for any unsanctioned civil protests in Russia. The bill passed, and soon came to be seen as one of Putin's inaugural acts of retaliation against those who believe that Russian democracy needn't be managed, much less falsified.
It was the first filibuster in Duma history and caused many otherwise skeptical Russia analysts to wonder at the promise of Gudkov pere et fils, particularly because pere, like so many politicians in Russia, is a former KGB officer. Gennady has since become a popular fixture within the opposition for his anti-Putin philippics. He foresaw the Duma electoral fraud coming and warned it would lead to mass opposition. "Even a rabbit driven into a corner can turn into a beast," he said in November 2011. Gennady was expelled from the Duma in August 2012 following allegations from the Investigative Committee that he profited from a construction supply company during his legislative tenure, violating a law that prohibits deputies from earning revenue through commercial means. His expulsion came after a vote by his peers (291 to 150), but absent any trial.
Even before he returned home to Moscow after speaking at Congress, Dmitry Gudkov discovered that he was the subject of a round-the-clock print and broadcast smear campaign discrediting him as a spy, a knave, and a turncoat.
Vladimir Soloviev, a television host on Rossiya-1, a state-controlled channel which sent an interviewer and cameraman to the Dirksen Building but then decided to report on an event that never took place, had this to say: "I was surprised by the lack of charisma in a young and ambitious politician. I had an impression that he read out remarks prepared by someone else, with poor logic and native analogies, one not backed with numbers. A politician can employ strong language when criticizing authorities domestically but, once outside his country, he must be a patriot... He believes that the U.S. should be directly involved in overthrowing Russian authorities."
Vladimir Shapovalov, the director of the pro-Kremlin Institute of Policy, Law and Social Development claimed that "one can use the phrase 'anti-government activities' ... This is something that an ordinary citizen shouldn't have said, let alone a politician ... Gudkov demonstrates an example of colonial thinking."
Maxim Rudnev , a member of the Young Guard of United Russia, another Putinist youth movement, thought Gudkov was serving in the wrong legislature: "Dmitry wants to be a representative of Washington in the State Duma and protect the U.S. interests... I think that Gudkov must turn in his MP card and find another job... There shouldn't be U.S. puppets in government bodies that lobby the interests of another state."
Duma Vice Speaker Sergei Zheleznyak wrote on his Facebook page: "A politician who has decided to act in the interests of another country and who seeks its support, is a traitor to his country and to his people."
A letter formally branding Gudkov a traitor and asking for a parliamentary investigation into his activities was signed by all factions in the Duma, including Just Russia, the ruling United Russia, the Communist Party, and the wondrously paradoxically named Liberal Democratic Party of Russia (LDPR). The letter read: "We believe that Gudkov's statements are effectively tantamount to calls for illegal acts that violate the sovereignty of the Russian state." LDPR, according to leaked State Department cables, is suspected by at a top Spanish prosecutor of having been a whole cloth invention of the Russian security services; its head, Vladimir Zhirinovsky, is best thought of as where Borat meets Slobodan Milosevic, demanded that Gudkov be indicted for "treason," a crime punishable by up two decades in prison.
Last week, sensing that its indulged status might soon come to an end, Just Russia expelled Gudkov from its ranks, making him the only independent to sit in Russian parliament -- until, that is, his friend and fellow lawmaker Ilya Ponomarev resigned from Just Russia in solidarity.
The regime and its handmaids then went into full Absurdistan mode.
Nikolai Levichev, the leader of Just Russia's group in the Duma, claimed that an American linguist analyzed Gudkov's speech and found that, owing to some outre choice of words, the entire thing had been pre-scripted as an exercise in anti-Motherland propaganda. The linguist who performed this sub-Chomskyan gloss went unnamed, but the conspiratorial lexicon included Gudkov's use of "shelled" for the more colloquial "fired"; "donate" when any non-native English speaker from Russia would clearly say "give." (In fact, the speech began with Gudkov apologizing for his poor English.)
On Wednesday, the Duma Ethics Commission, whose former head, Vladimir Pekhtin had to resign last month after bloggers uncovered his extensive and undeclared property holdings in Florida, then agreed to three things. The first was that Gudkov would be stripped of his right to address parliament for one month. The second was that he must offer a public "apology" for traveling to the United States in the first place. The third was that he should resign from the Duma.
In his actual speech -- the prewritten bits of which you can read here while observing from this video that he spoke mostly extemporaneously -- Gudkov pointed to widening gulf between state-concocted agitprop and the independent news and information accessible to more and more Russians through the Internet. It was they, he said, who were fomenting real change inside his country as members of a creative middle-class that could organize, fundraise and strategize without a by-your-leave from the czar. He drew a distinction between "TV-citizens" and "net-citizens," which is as good a sociological assessment of post-Bolotnaya Russia as any. And he pointed out the obvious fact that enemies of the Kremlin are suddenly finding themselves under arrest or indictment. "Dozens of false criminal cases were initiated against innocent people just for their participation in the protest actions of May 6th," he said, mentioning by name anti-corruption activist Alexey Navalny, who stands accused in four criminal cases ("absolutely fabricated") and is restricted in his movements to the Moscow Region; far-left protest organizer Sergei Udaltsov who is under house arrest; and his own father.
As for systemic politics, the last Duma election, Gudkov called "totally forged." This might be odd allegation hear from a beneficiary of that election but it is by no means a radical one to make. On March 12, a pro-Putin think tank, which carries the marvelous name, Center for Problematic Analysis and Public Policy Development, leaked news of a mathematical study it conducted on the Duma poll. It found that United Russia lost the election to the Communists; the former's tally had to be artificially inflated by around 12 percent to get the result that was officially announced. "United Russia didn't come first [in the Duma polls]," Stepan Sulakshin, the Center's director, told independent Russian outlet RBK Daily. "Its actual result was 20-25 percent." To make matters worse, or at least more interesting, the man in charge of this think tank is Vladimir Yakunin, the head of the state-owned Russian Railways and a staunch "conservative" Putinist. (Two days after the report was leaked, Yakunin disassociated himself and the Centre from Sulakshin's findings, which he claimed were baseless.) So if anything, Gudkov was well ahead of his government's own interpretation of recent events.
And contrary to the fulminations of the domestic media and political class, he was advocating a more "moderate" approach to engaging the regime:
"Instead of criticizing Putin, we need to help him fight against Russian corruption -- because in every interview he emphasizes the importance of fighting corruption. And we need to help him expose state bribers by providing information on their activities abroad and here in the United States. Because, you know, Russian propaganda, Kremlin propaganda, usually [uses] our relations -- I mean opposition and America -- to discredit us because we are always being set forth as 'traitors,' as 'State Department agents sent to destroy our Motherland.' Just for instance, when I was in Russia, I had heard information spread by the state television that 'Dmitry Gudkov was going to the United States to sell some secrets and to get new instructions.' But if we change our approach, on the one hand, we could show Russian citizens that the opposition acts only according to the interests of Russia; on the other hand, we can demonstrate that the United States helps Russian people to expose Russian corrupt authorities. I think it would be a more effective way to stop the crackdown and to try to protect human rights in Russia."
In a question-and-answer session that followed his opening remarks, Gudkov expressed his support for the newly passed Magnitsky Act and noted that, according to the independent pollster the Levada Center, 44 percent of Russians back it, too.
A week before Gudkov spoke in Congress, Sen. Cardin was in Vienna to attend the winter meeting of the Organization for Security and Co-operation in Europe's parliamentary assembly. On the margins of that affair, Cardin was apparently approached by Nikolai Kovalyov, the former head of the FSB (the KGB's successor) and now the head of the Duma commission charged with monitoring deputies' income declarations. Kovalyov, according to an anonymous source quoted by The Moscow Times, was acting "on his own" and without the permission of United Russia in discussing the possibility that Washington might work with Moscow in investigating the undeclared overseas assets of Russian legislators -- now a major theme of Putin's anti-corruption efforts.
A flurry of articles that appeared in the Russian press has presented this informal exchange, which I've heard took place at a cocktail reception, as a major summit between Kovalyov and the dreaded author of the Magnitsky Act. The whole episode smells of an orchestrated propaganda campaign with the purpose or preempting an opposition lawmaker's scheduled visit. "Senator Cardin undercuts Dmitry Gudkov" was a characteristic headline.
Yet Gudkov hasn't been "undercut," nor has he backed down. He paid for his own trip to the states and made a point of proving this by producing the online Aeroflot transaction on his LiveJournal blog, adding that more loyalist parliamentarians have had the Duma subsidize their overseas travel. His biggest provocation was what he called the main purpose of his trip to America: visiting adopted children to see for himself how they fared. To watch state media or Russia's child rights ombudsman Pavel Astakhov tell it, all adoptees become Oliver Twist as re-imagined by Wes Craven.
On his blog, Gudkov wrote that he traveled to New York, New Jersey and Pennsylvania and met with families that had adopted Russian children. These were all families that the Russian embassy never bothered to check up on. That's probably because there's no sensationalistic stories of parental negligence or unsubstantiated claims of infanticide be mined from these cases, which include one family's adoption of a deaf autistic girl from Yekaterinburg who now enjoys a quality of life she'd never have had access to back home. Gudkov produced photos of these adoptees looking healthy and happy. And he did some homework about America's child rights laws, meeting with senators and congressmen, including Louisiana Democrat Mary Landrieu, New York Democrat Steve Israel, and Michigan Republican Roy Blunt, who adopted a boy from Ryazan. If Astakhov has undertaken a similar fact-finding mission, he has not said so.
More uncompromising oppositionists might argue that Gudkov is being naive to credit Putin at all with being serious about fighting corruption. The governmental efforts aimed at doing so thus far have been inconsistent and capricious, prompting most Kreminologists see a lurking vendetta behind every new victim, such as the former defense minister Anatoly Serdyukov. A real anti-corruption campaign would no doubt end with Putin's own resignation, if not him in the dock. Why lend legitimacy to an illegitimate regime?
These points all have merit, but Gudkov's middle-of-the-road prescription actually channels a tried and true tactic of 20th dissidence, acting "as if" what an authoritarian (or totalitarian) regime says it believes in is something that it actually does believe in.
On March 11, the anti-regime New Times magazine reported that Irina Yarovaya, the head of the Duma's Security and Corruption Fighting Committee, has a $3 million apartment in Moscow registered to her 17 year-old daughter. Not only was the property undeclared in Yarovaya's financial disclosures, but neither she nor her husband can, judging from what is in these documents, afford such a pricey condo. She was just the latest embarrassed object of a blogger-driven exposure campaign known as "pekhting," in homage to the former chairman of the Duma Ethics Committee.
Furthermore, there is a good chance that if and when Gudkov does lose his seat in parliament, so will everyone else. The rumor is that Putin is mulling dissolving the entire rubber-stamp assembly and starting over again from scratch (one possible reason for that leaked Yakunin report, which contrasted the fraudulent Duma election with the supposedly non-fraudulent presidential one). Not for nothing is United Russia universally known as the "party of crooks and thieves," and for Putin to allow this party to continue for much longer would be an act of self-abasement he can ill afford. Meanwhile, more and more Russians are becoming fed up with what Pasternak called the inhuman reign of the lie. Those unafraid to tell the truth must be branded traitors.