For Conflict Zones, Sequestration Is Even More Devastating
For people the world over, Washington's budget gridlock is a life and death situation.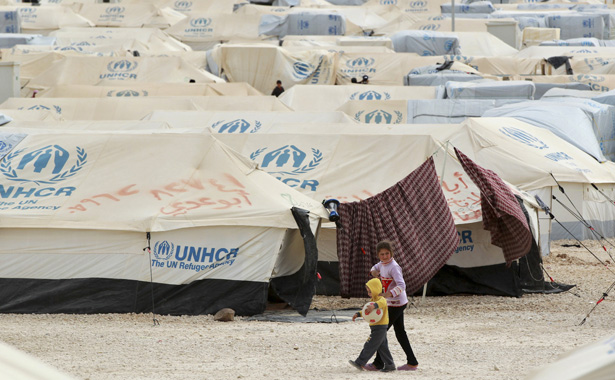 Muhammad Hamed/Reuters
In the context of a $3.6 trillion federal budget, $150 million seems like little more than couch change, microscopic acreage within the sprawling empire of government spending. Assuming an even minute-by-minute distribution of expenditures, the federal government could recuperate $150 million by completely shutting down for less than half an hour.
But $150 million is an unimaginable sum within just about any other context. The Syria conflict, which is expected to produce its one millionth recorded refugee sometime this week, is no exception. Neither is Mali, or the parched eastern Sahel, or the tumultuous Sudanese-South Sudanese borderlands. Thanks to budget sequestration, there will be $150 million less in funding for some of the most vulnerable people on earth. U.S. humanitarian relief goes a long way in the world's trouble spots, paying moral dividends for a country that prides itself on being one of the planet's leading forces for good, while securing vital American political and diplomatic objectives, like the projection of soft power, and the stabilization of societies that might otherwise shatter under the pressures of conflict.
It is not just humanitarian relief that will be hit by sequestration, which removes $150 million in funding from the State Department's Bureau of Population, Refugees and Migration and the United States Agency for International Development's Office of Foreign Disaster Assistance, compared to last year's funding levels. It also removes $433 million in State Department and USAID public health spending, including $211.6 million for the AIDS relief program PEPFAR. A total of $133.5 million will be cut from development assistance, including $42 million for basic education, and $62 million for food security programs.
All of these cuts are worrying, and Tom Hart, the U.S. Director of the One Campaign, fears that sequestration could reverse recent progress in containing AIDS, Tuberculosis and Malaria in the developing world. "Because of dramatic progress over the last 10 years, these diseases are actually on the decline. But like any disease, you take the foot off the gas pedal, and they will re-surge," says Hart. "These diseases adapt. They can re-surge with a vengeance."
The $150 million plunge in available humanitarian aid is another jarring example of the unintended consequences of the automatic, across-the-board cuts agreed to as part of the debt ceiling negotiation in July of 2011. As Sharon Waxman, the director of the International Rescue Committee's Washington office explains, the reduction in funding for State's refugee assistance accounts might mean cuts in vital services at a time when global humanitarian needs are increasing. "In terms of the American government's ability to respond, we will have far less resources at a time when we need far more," says Waxman, adding that "the number of complex humanitarian and political emergencies is continuing to grow."
Robert Zachritz, the senior director of government relations for World Vision, was just as stark in his assessment of what the decreases in funding could mean: "This is one of the few places where cuts could mean lost lives."
The State Department is likely to distribute cuts evenly among areas of need, rather than radically scale down funding in one or two particular crisis zones -- so everywhere the U.S. funds humanitarian aid is liable to suffer. Jeremy Kadden, the senior legislative manager for the advocacy organization InterAction, believes that relief NGOs who receive American funding will have no choice but to pull resources from crucial social programs, like refugee education or anti-gender violence efforts, and direct them towards more immediate, life-saving aid. "It's choosing between very difficult options," says Kadden, who fears that there will be less money available for programs "that help refugees find permanent solutions for their displacement." Fewer refugee services now could mean a poorer and more vulnerable displaced population once conflicts end.
And that's assuming no new crises emerge, or that current ones don't get any worse. The sequester cuts represent a plunge in resources that are specifically dedicated to emergency relief, and the State Department's migration assistance accounts provide some much-needed flexibility in coping with burgeoning catastrophes. There have been no shortage of those over the past few years -- there were around 1 million fewer refugees from Syria at the beginning of 2012 than there are today, for instance. State Department officials now believe that Syrian refugee needs are outpacing the $1.5 billion pledged at a January conference in Kuwait for Syrian refugee assistance during the first six months of 2013. And at the same time, the Bureau of Population, Refugees and Migration will lose over $90 million under sequestration, which represents the majority of the $170 million the office was budgeted for dealing with unforeseen refugee outflows during the last fiscal year.
The Syrian conflict has been taxing even without any cuts, and the request from the Kuwaiti pledging conference was straining budgets that were set before the refugee crisis exploded. Sequestration means the U.S. government and the organizations it funds will be less capable of dealing with the next Haitian earthquake or Southeast Asian tsunami -- the kind of emergencies that occur with little prior warning, as well as unnerving frequency. And the budget hit comes as one such crisis is already in progress: in early January, UNHRC counted 600,000 Syrian refugees. That number has gone up by 400,000 in the past two months alone.
Of course, sequestration was never meant to hit refugees from Syria or Mali, or to deny an estimated 165,400 AIDS patients of anti-retroviral drugs, or 805,200 children of vaccinations. It was never meant to go into effect at all, and was intended to spur a divided Congress to a compromise over the U.S.'s supposedly out-of-control debt. Although there are exceptions for certain defense and entitlement spending, sequestration is designed to be indiscriminate: it is a 5.3 percent across-the-board cut in federal discretionary spending, with no consideration of whether that funding goes towards controlling the deer population in Washington's Rock Creek Park or providing potentially life-saving services to Syrian refugees.
As an incentive to later, more meaningful action, this made perfect sense: even in a worst-case scenario, Congress would likely deem it more desirable to reach a single, acceptable bargain on spending cuts and revenue increases, than to horse-trade on a series of budget fixes -- especially as unpopular government-wide cuts went into effect. So far, this assumption has proven remarkably wrong. Things like public health in the developing world, or the U.S.'s ability to respond to humanitarian emergencies, were only connected to Washington's budgetary gridlock as part of a misguided attempt at leveraging the U.S.'s two major political parties into a still-elusive compromise. The amount of money involved is so small, and the needs so immediate and so easily addressed, that the humanitarian aid cuts simultaneously exposes the myopia of official thinking on domestic and foreign policy both. Emergency aid arguably should never have been part of the sequestration package. But the sequestration package should never have gone into effect in the first place.
There are several possibilities for how -- and whether -- funding could be restored. Congress could pass a budget patch, in which funding for State's emergency relief programs is brought back to pre-sequestration levels. Or Congress could give the State Department an added ability to shuffle money between its various programs and offices, which would let it stanch some of the bleeding in essential, short-term programs. There could be the long sought-after "grand bargain." Or there could be no bargain at all, with Congress locking in sequestration-level spending for another six months under a continuing resolution -- and possibly longer than that, even.
If the sequestration cuts do become a permanent fact of life, the effects will be real and possibly immediate, as NGOs whose work is funded through State and USAID begin to factor the sequestration into their budgets. Hart says that capacity is being affected on the public health side. "We've already started to slow down or delay the provision of services," he says, adding that it's "extremely difficult for these programs working on the ground to move forward" with so much budgetary uncertainty hanging over them. And it isn't just advocates who are highlighting the cuts' potentially-deep effects. In a letter to Maryland Senator Barbara Mikulski, Secretary of State John Kerry wrote that the overall State Department-wide $200 million cut to humanitarian spending would "hinder our ability to provide life-saving food assistance to two million people, and USAID would have to cease, reduce, or not initiate assistance to millions of disaster-affected people."
Maybe the most compelling case for the restoration of the funding -- and against the current method of budget negotiations in Washington -- comes from conflict zones themselves. On Monday, a skirmish between an Al Qaeda affiliate and Iraqi and Syrian troops left scores of soldiers dead inside of sovereign Iraqi territory, raising the possibility that Syria's civil war, which has already roped in Islamist militants from neighboring Lebanon, could mutate into an even broader and more destructive conflict. Last week saw more than one flare-up in the terminally unstable Democratic Republic of Congo, while recent clashes between jihadists and foreign soldiers in northern Mali were a reminder that the dry and landlocked West African country is far from pacified. The refugee population in South Sudan continues to swell as the conflict in Blue Nile and the Nuba Mountains drags on, with no immediate solution in sight. All told, there are an estimated 44 million refugees or internally displaced on earth, perhaps more than at any point in the last 15 years. Needs are multiplying -- even as the U.S.'s ability to meet them takes a consequential step back.