Bad Roads, Red Tape, and Other Reasons Brazil's Economic Shine Is Fading
Brazil's GDP growth was nearly flat last year. Here's what happened to this former economic success story.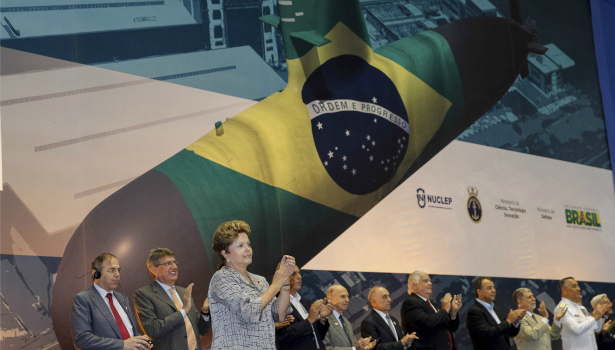 In recent years, Brazil has been lauded as an emerging economy success story. Leading the BRICS countries with an average real GDP growth rate of over 4 percent from 2004 to 2010 and whopping 7.5 percent GDP growth in 2010 despite the global downturn, Brazil has attracted investment and attention as the poster child for high-growth emerging economies. Add in unemployment below 5 percent, rising wages, and an expanding middle class and Brazil looked like it was poised for long-term economic growth and prosperity.
But according to the recently released government numbers, GDP in 2012 was down to .9 percent, the lowest among the BRICS, and inflation of 6 percent neared the top of the Central Bank's targets for the third year in a row. Brazil's nascent consumer class had been supporting growth here for the last several years, aided by record low interest rates and the expansion of consumer credit. The federal government's "my house, my life" program to help lower-income Brazilians buy or build their first home had also fueled growth, even as it raised concerns about a credit bubble.
This internal consumer-driven growth cannot hold the economy up forever, though, and it is starting to show signs of weakness. Despite rising wages and record low unemployment, the consumer default rate hit 30-month highs in the fall. With low unemployment and the consumer economy reaching its limits, further growth will have to come from improved productivity or expanded investment, and this can't happen without addressing some of the long- term structural issues known collectively here as the "Brazil Cost" -- that is, the combined effect of high import tariffs, poor infrastructure, and bureaucratic hurdles to doing business in Brazil.
Despite Brazil's impressive gains in education, skilled and qualified labor is hard to come by, pushing wages up and keeping productivity down. These challenges put Brazil 128th on a list of 185 countries in the World Bank's "doing business rankings" and make national products 34 percent more expensive than imported ones, according to a study recently released by the Federação das Indústrias do Estado de São Paulo.
These structural problems have come as a surprise to investors who are interested in doing business here. Rafael Lourenço of the Brazil U.S. Business Council says "There is a lot of opportunity and money to be made in Brazil, but there is also a lot of red tape, both for hiring skilled workers and for investing in the country."
The Brazilian government has recently begun studying how to ease the visa process for skilled foreigners, but in the meantime, for businesses that are trying to work in Brazil, Rafael says they recommend "working with someone who speaks Portuguese, has the local networks and knows how to expedite things with the bureaucracy. This can save people a lot of time and frustration."
The federal government is trying, in a limited way, to address these problems. In an effort to improve Brazil's famously poor logistics infrastructure, last year President Dilma announced plans for a series of auctions for long-term concessions to privatize railways, roads, ports and airports. This should lead to three new ports, much needed improvements to thousands of kilometers in roads and rail lines, and expansion and improvements to Brazil's overtaxed airports.
In education, politicians and educators are working to improve outcomes, but it will take some time. Last year, President Dilma announced an international exchange program aiming to fully fund 100,000 Brazilian students to study in undergraduate institutions, with the aim of building Brazil's science and technology brain trust in coming years. And she's expanded a conditional cash transfer program called Bolsa Familia, which requires children's attendance at school, to include access to microcredit and vocational training. At the local level, municipal leaders in Rio de Janeiro have launched the "Schools of Tomorrow" program to improve the city's lowest performing schools in its most violent and underserved areas. The program includes ongoing professional development for teachers and principals, an integrated "full-day learning environment to promote before- and after-school learning and an increased focus on science and technology.
Schools in the program have seen their test scores rise by 33 percent and dropout rate decline by nearly 40 percent, both outpacing the municipal network as a whole.
Andre Ramos, manager of the Schools of tomorrow program and advisor to the Municipal Secretary of Education said "our main investment over the last years have been in principals and teachers. They are the ones who hold the schools together, and they're the principal actors in the system."
The schools of tomorrow program shows real promise, though it doesn't entirely resolve the pressing question of what Brazil can do about the under-qualified adults already in the workforce today.
Investments in Brazil's long-term competitiveness are desperately needed, and while physical infrastructure improvements may ease logistics in the near-term, the rest will take years to have a meaningful impact on the Brazilian economy. Until Brazil's human capital catches up with internal demand and regulation is eased to improve competitiveness, Brazil's economy may be in for a period of much lower growth than we've become accustomed to.