A (More) Sober Senegalese Government
President Sall seems focused on ending corruption, but is it just a political façade?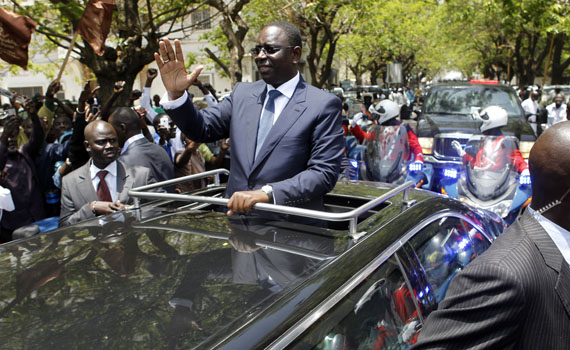 One year has passed since Macky Sall defeated Senegal's ageing incumbent president, Abdoulaye Wade, in a hotly contested election marred by violence. Since he took office, Sall has led in a style distinctly different from that of his predecessor -- one based largely around rooting out the remnants of Wade-era government kickbacks.
Wade, who took office in 2000, was prone to grand gestures and large-scale projects, most memorably a colossal, $27 million bronze statue of an African man, woman and child emerging from a mountain. The African Renaissance Monument, which stands taller than the Statue of Liberty, dominates the skyline of the country's capital Dakar.
Meanwhile, Sall has focused on bolstering Senegal's agricultural base with a plan to invest nearly $4 billion in the country's most rural districts over the next several years.
Whereas Wade ran for a controversial third term at the age of 86 despite the constitution's two-mandate limit, Sall has vowed to reduce the presidential term from seven to five years.
Perhaps most notably, Sall has placed a significant emphasis on government transparency. "I think where we've seen a real shift is with Sall's focus on good governance," said Lewis Lukens, the U.S. Ambassador to Senegal and Guinea-Bissau. "It's such a stark change from the previous government."
Indeed, Wade's presidency was marred by increasingly serious corruption allegations. In 2007, USAID published a carefully worded assessment on corruption in Senegal. In the report, authors noted that "The president has concentrated a great deal of discretionary power in agencies attached to the office of the president, which have been able to avoid competitive bidding on major public works and infrastructure projects." In 2009, Wade's government famously admitted to give an outgoing IMF official a suitcase stuffed with nearly $200,000, a "farewell gift" for services rendered. Wade's Prime Minister initially dismissed the incident (the money was later returned), reportedly saying the sum "can't even buy you an apartment in Paris."
"People had a saying that with Abdoulaye Wade you don't count in millions, you count in billions," said Ousmane Sene, the director of the Dakar-based West African Research Center. "Hardly a month would pass before so many millions [of the local currency] went to a particular person for absolutely no justifiable reason other than they were a personal acquaintance."
Since taking office last April, Sall's battle against corruption has largely focused on members of the previous government, most notably Wade's son Karim, who served as a high-ranking minister and a special advisor to his father. After months of investigation, a recently inaugurated corruption court has demanded that Karim Wade explain how he has amassed a $1.3 billion fortune, complete with at least three luxury Parisian apartments, a private jet, and a villa in St. Tropez.
Some observers, however, worry that Sall's focus is too narrow. "He's been largely targeting corruption close to Wade," explained Andrew Lebovich, a Dakar-based security analyst. Thus far, corruption inquiries have focused almost exclusively around members of the Parti Democratique Senegalaise (PDS), Wade's party.
One year into Sall's presidency, Lebovich said, it remains unclear whether he is invested in "an effort to crack down, or whether he's using corruption investigations to eliminate the last vestiges of Wade's power."
The president's anti-corruption initiative may be further complicated by allegations that he himself was tied to unscrupulous business dealings during his stint in Wade's government. "He has been part of this whole system he is going after, and the PDS is threatening to actually provide information about his own involvement," explained Mamadou Diouf, a Senegalese intellectual and director of the Institute of African Studies at Columbia University.
The international community, however, has been supportive of Sall's tough stance against Karim Wade. Both the U.S. and France are providing technical assistance to Senegalese officials trying to track down assets Karim Wade may have hidden in foreign bank accounts. A few weeks ago President Obama announced he will welcome Sall at the White House for a series of discussions related to African development. The invitation comes in "recognition of Sall's attempts to bring good governance to the front of his efforts," Lukens said.
Sall has also distanced his government considerably from the Senegal's powerful religious orders.
While most Senegalese are members of either the Tidjane or Mouride brotherhoods (both local Muslim sects) the Senegalese government has historically maintained a policy of "equidistance" from all religious persuasions, thus minimizing conflicts between the two groups and with the Christian minority (which comprises about 10 percent of the population).
Wade, however, eschewed the equidistant policy, opening the door for increased religious conflict in the country. Days after he was elected, a photo of Wade kneeling on the floor before a Mouride leader caused a stir in the local press. The symbolic obeisance was what Diouf calls "the first breach in the system that had guided the relationship between the state and Muslim leaders" since Senegal's independence. Wade continued to privilege his brotherhood, the Mourides, throughout his entire presidency, said Diouf, increasingly courting their favor for political gain.
Sall has made an effort to disavow Wade's apparent sectarianism. "He has really indicated that he upholds the foundation of the Senegalese secular state," said Diouf. As factional strife and religious extremism become increasingly pertinent issues in the region, Sall's adherence to the doctrine of equidistance will likely help maintain stability in Senegal.
Despite these strides, Sall faces formidable challenges. "You have high unemployment, a tough economy and a population that wants and expects services and jobs from this government," said Ambassador Lukens. The increasing "unhappiness in the young population here who feel frustrated by the lack of opportunities," will also test Sall's government, Lukens noted.
Wade still enjoys significant support in the country, and his followers regularly clash with Sall's partisans at political rallies. Diouf warns of a looming showdown between their respective parties. "What is going to happen in particular in the confrontation between [Sall's] regime and the former regime of PDS... nobody knows," Diouf said.
Due in no small part to Sall's good governance initiatives, though, political scandals appear less frequently than they have in past years.
"While his ultimate legacy remains to be seen, Sall's efforts to reduce government excesses and clean up politics have inspired confidence," says Sene. "He talked about governing, but with sobriety, and I think that sober style will be maintained."