4 Signs the Vietnamese Government Is Crushing the Country's 'Social Media Revolution'
The Communist Party has responded to the growth of anti-state blogging with a disturbing crackdown.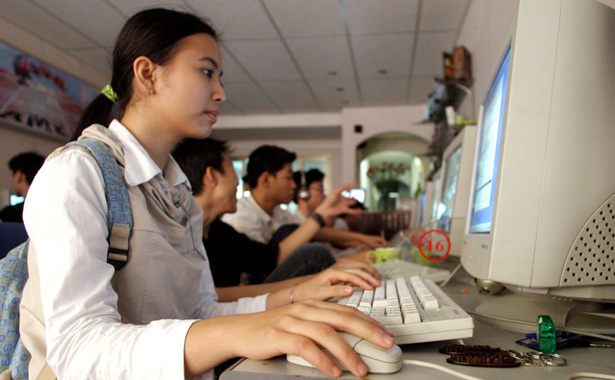 After more than a year in pre-trial detention, five independent bloggers amid other activists stood in a Vietnamese court for two days in January to hear they would live behind bars for up to 13 more years. They join a growing cohort of bloggers imprisoned for "activities aimed at overthrowing the people's administration," "undermining of national unity" and committing "propaganda against the Socialist Republic of Vietnam."
Vietnamese bloggers tasted internet freedom over the last decade as online access grew, but social media is no game changer in a paranoid state. With a mix of insecurity and strength, the Communist Party is gagging dissent in Vietnam with a strategy that entails promoting self-censorship, defaming the swelling ranks of imprisoned dissidents, deploying anonymous pro-Party influencers and holding showcase purges amid a stalling economy.
In one-party Vietnam, the pace and breadth of internet connectivity is astounding. The online population is the world's eighteenth largest and Vietnam is Facebook's fastest growing country, according to market researcher We Are Social.
Overall internet penetration is around
34 percent
of Vietnam's 90 million citizens. Although the Southeast Asian regional average
is closer to 40 percent
, the rate of change in Vietnam is impressive. The number of internet users increased by
more than 20 percent
from 2010 to 2011, and the government recently announced a broadband plan that aims to
cover 85 percent of the population
by 2015. Vietnam's growth rate in information and communication technologies (ICTs), as captured in the ICT Development Index, is one of the highest globally. In a country report, the International Telecommunications Union
says
the spread of mobile phones with internet access is driving the increase. Penetration of mobile broadband rose from nearly zero in 2008 to 13 subscriptions per 100 people in 2010.
A byproduct of Vietnam's surge online is the rise in popularity of blogging. One estimate counts independent blogs at two million, with a small, yet sizeable, portion devoted to sensitive social and political subjects. The novelty of easy access to contrary views in a country with total state control of print media has turned dozens of independent bloggers into well-known pundits. Some are anonymous, like contributors to Danlambao, or "people doing journalism," which reached half a million page views in September 2012. Others are famous by their pen names, like Nguyen Van Hai, known as Dieu Cay, founding member of the banned Club for Free Journalists.
The prolific bloggers earn their following by reporting events and issues blocked by state censors. Dieu Cay, for example, is popular for covering protests on disputed claims in the South China Sea. Former police officer Ta Phong Tan is read for her corruption allegations, particularly against the police. Other flashpoint topics include democracy, land confiscation, human rights and unauthorized strikes. Some bloggers, perhaps more provocatively, opine on a defunct political system. Le Van Son predicted the impending collapse of the regime, and Le Quoc Quan criticized the central role of the Communist Party in Vietnamese politics.
It is tempting to think Vietnam is opening under pressure from what Time Magazine called the maturing "culture of protest." The Economist even suggested the Party is at risk of losing the moral authority underpinning its power and ominously warned that public frustration is growing, "though not as yet to revolutionary levels."
After the Arab Spring protests shook the Middle East and North Africa, giddy scenarios of change were forecast for Twittering Iran, Weibo-ing China, and blogging Russia. The 2009 election protests in Iran were called a Twitter Revolution. The new social order? Christophe Deloire of Reporters Without Borders calls it an "era of terror" with pervasive monitoring by the state and relentless persecution since protests began. In all these countries, as in Vietnam, penal crackdowns on dissidents and an upswing in state censorship and monitoring are bitter checks on a breathless prognosis of revolution.
Hanoi is awake to the domestic surge of online opinions, and reaction against experimenting dissidents has been swift and excessively harsh, even for the Communist Party. Here are four signs that the momentum belongs to the Party and the crackdown on political dissent will continue, ugly and effective.
1. The Party changed the rules
Political dissent has long been illegal in Vietnam, where multi-party politics is also against the law. This, apparently, extends to new media platforms. In September 2012 Prime Minister Nguyen Tan Dung passed administrative order No. 7169 instructing officials to show zero tolerance with ill-defined illegal blogs. Before that, another decree outlined fines for print and online journalists who fail to comply with vague requirements such as "providing honest domestic and international news in accordance with the interests of the country and the people." The law also decreed expansive investigative powers, creating a new force of state inspectors. Authority to investigate suspected 'propagandists' is no longer vested in the Ministry of Information and Communications, but all layers of the People's Committees and the police force, among others.
The new rules illuminate a growing sense of paranoia among top ranks of the Party that blogging represents a new, powerful medium for dissent. This fear is especially evident in the growing number of arrests on charges of "attempting to overthrow the state," as the U.S. State Department pointed out in its 2011 human rights review.
Anti-state propaganda carries a maximum sentence of 20 years in prison. Paired with harsh punishment, the vague rules on what constitutes an offense are even more alarming. Part of the government's approach is to keep citizens guessing: A clever strategy to incentivize self-censorship that has been used for decades. During the corruption purge of the late 1990s, Vietnam watcher Martin Gainsborough recorded the public incredulity at seemingly random falls from grace, and the common view that offenders "haven't done anything different from anyone else."
When life in jail can be authorized at a whim, it takes a person of rare strength and daring to openly criticize the state.
2. Show trials have not caused a backlash
As its citizens moved online, Vietnam hit the bottom ten in the 2012 World Press Freedom Index. Vietnam cuts a literal black streak through South East Asia in the index compiled by Reporters Without Borders, notably for the Party's repression of pro-democracy bloggers.
Over the past year, the Party, via the tightly controlled judiciary, hosted a series of show trials for inconvenient thinkers. In the showrooms that have been compared to the Soviet era, chilling vitriol is reserved for independent bloggers and journalists. Life imprisonment can be delivered in a trial lasting two days, and judges easily grant a monopoly on evidence to the state.
The crackdown is gaining such momentum that Vietnam seems destined to bottom out on the 2013 Index. In the past two months, five independent bloggers were convicted on national security charges, another was forcibly admitted to a mental health institution and 22 activists were jailed for subversion and sentenced to between 10 years and life imprisonment. In the final days of 2012, prominent human rights lawyer and blogger Le Quoc Quan was arrested and charged with tax evasion. In September, three independent bloggers and co-founders of the Free Journalists Club were sentenced to 12, 10 and four years in prison, even after the arrests had earned international condemnation, including from the White House.
According to the Committee to Protect Journalists, Vietnam has been ratcheting up its count of journalists in jail over the past several years, and in 2012 it ranked sixth-worst for imprisoning the press. The group notes that all but one of the jailed journalists wrote for blogs or online news.
The arrests and harsh sentencing of journalists, including citizen bloggers, are not outlier events but indicative of a clear shift in government strategy. Remarkably, the shift occurred without the public backlash one might expect.
There have been big incidents, like the self-immolation of a jailed journalist's mother in July 2012 and the October 2012 protest letter sent to the president by peers of a detained university student. Both events fuelled online jabs at the government, but were then followed by a noticeable silence. After the 2011 arrest of Hoang Khuong, a reporter who exposed petty corruption by the police, public frustration was immediate but just as quick to dissipate.
Why didn't these sparks keep burning?
Seeming to anticipate public empathy and aware of its uncertain power, the Vietnamese government has systematically defamed those on trial. One approach is with ridiculous charges, like those against Nguyen Phuong Uyen, the 20-year old student first jailed for propaganda against the state and now under investigation for terrorism. According to classmates, her real crime was distributing leaflets opposing China's foreign policy.
A second approach is to strip people of their identity. Following his arrest, Le Quoc Quan was introduced to Wall Street Journal readers as "one of the country's best-known dissidents," author of a popular blog, human rights lawyer and legal consultant, and former American government-funded fellow based in Washington. In Vietnam state news, Quan became the indistinct "director of Vietnam Solution Co."
3. The Party may be winning public opinion
A big factor in the diffusion of public anger is the Party's online communications strategy.
Anonymity on the web is both threat and opportunity for regimes, authoritarian or democratic. What political party has not tasked its supporters to stalk opposition commentary on online news articles and, anonymously, to beat it back with party lines? If not on direct orders, the partisans have unspoken approval.
The use of government influencers gained attention at a 2011 forum on social media in conflict hosted by the U.S. Institute of Peace. Speakers mused on the increasing difficulty of distinguishing between independent partisan and government influencer. Armed with anonymity and steadily improving social media-speak (a mix of jargon and style), government commenters are blending in.
In January, the head of the Communist Party's Propaganda and Education Department revealed that pro-Party bloggers are deployed across 400 online accounts and 20 blogs to praise the Party and counter criticism. The number of official bloggers is unknown but estimated at nearly 1,000. Without any apparent sense of shame or discretion, Ho Quang Loi told the BBC about the success of the policy in ending negative rumors on sensitive issues and actually blocking online efforts to organize mass gatherings.
The manipulation of opinion is effective and will likely continue as the Party uses not more sophisticated technology, but rather more believable influencers: Those able convey a modern and 'everyman' personality behind the avatar.
The Party is using other, more sophisticated controls on its image. Patriotic hackers regularly shut down sites with critical content and, against sites hosted outside Vietnam, use distributed denial of service (DDoS) attacks. The OpenNet Initiative documents increasingly mature cyber attacks against dissenting sites and individual writers. In one attack that coincided with a day of action to protest the imprisonment of blogger Dieu Cay, malware infected between 10,000 and 20,000 computers, most of them domestic. Although clear links to Hanoi are difficult to establish, targets of the most sophisticated attacks can credibly incriminate the state.
4. The economy is stalling
Vietnam earned its rank as an Asian Tiger since economic opening began in 1986, after the Doi Moi, or renovation, reforms launched two decades of impressive growth. From 2002 to 2007, Vietnam achieved a consistent annual growth rate over 7 percent. The middle class grew too, and although the urbanites of Hanoi and Ho Chi Minh City benefited most from expanding services and the professional job market, cities are blooming beyond these capitals, bringing a larger cut of Vietnamese into the privileged fold.
Since the 2008 recession crippled the global economy, Vietnam's growth has stalled, slowing to around 5 percent in 2012. While many high-income countries would trade a domestic monopoly for that level of growth, the drop in family income for non-rich Vietnamese is devastating. So too is growing inflation, which saw consumer prices rise over 9 percent on average each month last year.
Worse than the forecast for a continuing but cyclical slump, economists have highlighted more sinister, long-term damage. The rot is caused by endemic corruption and criminal mismanagement of Vietnam's industrial titans, the state-owned enterprises. A string of sensational cases since 2011 have revealed mismanagement at SOEs in the realm of billions in siphoned cash and bad debt. This is a significant blow to Hanoi's management record, since SOEs deliver 40 percent of Vietnam's output.
In response, Hanoi launched well-publicized purges of SOE bosses, notably the chairman and four executives of Vietnam's largest shipping line, Vinalines, and nine executives of shipbuilder Vinashin. All were arrested or imprisoned in 2012.
Related to the SOEs mess is Vietnam's fall on the Corruption Perceptions Index to 123 in 2012 from 112 in 2011. The low ranking may signal that government officials are progressively enforcing laws in an arbitrary and self-interested way, or simply that citizens are more aware of Vietnam's endemic corruption.
The Party knows that ostensibly stable regimes can collapse when exposed to a sluggish economy, and it will take no chances on the uncertain power of social media to fan discontent. This is, after all, Vietnam's first economic slowdown to be scrutinized by an online community.
Given the loose footing of its moral authority and reputation for economic management, Hanoi will continue in frenzied vigilance against criticism of state economic policies or the business elite. On the battleground for public opinion, it will use the purges to showcase control.
***
The crackdown on dissent in Vietnam is about control of a narrative. The Communist Party is the eternal defender and lifeblood of Vietnamese nationhood, as a spin around Hanoi colorfully confirms. Vietnam's recent past brims with enough remarkable events that commemorative posters strung about the city can be replaced every few weeks.
The identity of the Party, and the country by extension, was never immune from division, but the tug of war has consistently been internal, notwithstanding longtime discord with some of Vietnam's minorities. The Party today faces infighting between members loyal to Prime Minister Dung and moderates like Nguyen Phu Trong, the general secretary. Ten years ago it was the old guard, vets of the French colonial war, chaffing with the vision of Dung's cohort.
The new threat is public dissent amplified by the Web. It has been incisively neutralized by Hanoi in a push that coincided with the global economic recession and grew ruthless after the Arab Spring set precedents of surprise regime collapse. The message of those upheavals is vigilance. Dung showed the lesson is not lost on his government with a New Year's warning that "we are regularly challenged by conspiracies to spark socio-political instability."
In other words, the crackdown continues in this skittish state.