Worth Reading: ChinaFile Discussion on 'Airpocalypse'
The Chinese system confronts its toughest challenge ever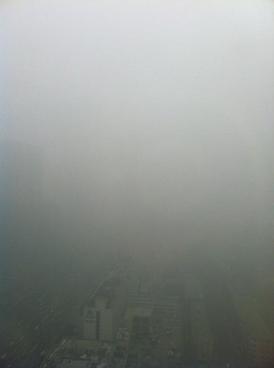 ChinaFile
is a new venture by the Asia Society, for which the Atlantic will be a partner and to which I will be one of many contributors.
The discussion today genuinely is worth noticing. It's about the reasons for, and likely consequences of, the "Airpocalypse" that is now evident through so many big Chinese cities. For reference: That's our old neighborhood in Beijing, in a picture shot from a 30th floor window last week.
The long introductory post by Alex Wang, whom I knew in Beijing when he represented the Natural Resources Defense Council there, and who is now at UC Berkeley, sets out all the reasons why the current emergency matters for China and the rest of the world. Other contributors elaborate on some of the even worse ramifications, and possible responses.
As I argued last month --
here
,
here
, and
here
-- the nearly unendurable conditions that Chinese growth has brought to many Chinese people represent a kind of challenge that the system and its leaders have not reckoned with before. Apart, of course, from the effects on the rest of the world. I think you'll find this discussion valuable and clarifying, if not exactly encouraging. (I have a cameo entry at the end, saying essentially what I've just said here.)