Want to Perform in China? Go to College!
China considers cracking down on outspoken musicians by requiring them to have a degree. Why?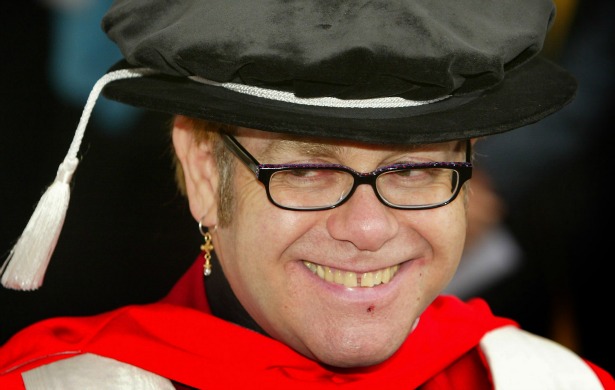 While it is axiomatic these days that you need to go to college to get ahead in life, there are a few professions in which having a four-year degree isn't strictly necessary. Basketball players, for example, need not have a degree to be successful at their craft, something LeBron James (among others) has amply demonstrated.
Music would seem to be another case in which schooling plays a minor role in determining success. But in China, this may soon cease to be the case. According to a recent article in The Guardian, Chinese culture minister Cai Wu has apparently demanded that all foreign musicians who perform in the country have college degrees.
Somewhere, Justin Bieber just hired an SAT tutor.
Cai's suggestion comes on the heels of an Elton John concert in Beijing last November, after which the musical icon dedicated his performance to the "spirit and talent" of dissident artist Ai Weiwei. Though John was permitted to play a subsequent show in Guangzhou in December, his comments did not sit well with China's authorities, and it is unclear whether he'll be invited back to play in the country.
China has long been highly sensitive to celebrity statements about the country. In 2008, the Icelandic singer Bjork
triggered a minor scandal
when she shouted "Tibet!" three times at a concert in Shanghai, apparently in the misguided hope that her screams would foment an independence movement in the region.
Celebrities the world over have always shown the predilection toward speaking out on politics. The question, then, is why China cares what they say. A country with the world's second-largest economy, one would think, has bigger matters to attend to than a singer who peaked in popularity more than three decades ago. But by floating his absurd proposal that foreign performers have university degrees, Cai Wu managed to perpetuate China's image as a petty country unable to take criticism.
Then again, Cai and other Chinese leaders have another audience in mind: China's people.

Beijing has long gone to great lengths to combat real or perceived slights to its image, a policy that bolsters its reputation as the defenders of China's national honor. It's this defense, accompanied by its stewardship of the economy, that gives the ruling Communist Party its legitimacy. So while it's unlikely that many Chinese even knew about Elton John's comments, a fair number would be pleased to hear that the government won't take a foreign star's comments lying down.
Better-behaved foreign musicians need not be deterred from entering the Chinese market, however. The recent Spring Festival gala, an annual variety show commemorating the Chinese New Year, featured a performance by the lithe Canadian singer Celine Dion. And while none could deny her immense talent, Dion, it should be noted, never went to college.