In Face of Mainland Censorship, Taiwanese Revisit Reunification Question
China's censorship of the micro-blog account of Frank Hsieh, a prominent Taiwanese politician, leads to mainland soul searching.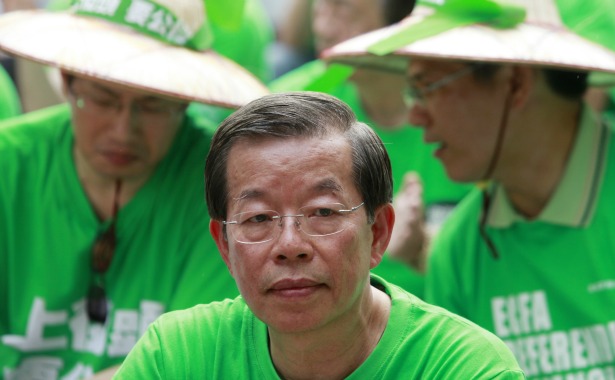 Former Taiwan premier Frank Hsieh leads opposition Democratic Progressive Party (DPP) supporters during the beginning of a sit-in protest outside the Legislative Yuan in Taipei May 20, 2010. (Nicky Loh/Reuters)
Within twenty-four hours of registration, Sina Weibo (China's equivalent of Twitter) deleted the micro-blog account of Frank Hsieh, former premier of Taiwan's pro-independence Democratic Progressive Party (DPP). Ironically, Hsieh's last tweet before he lost the ability to post on Weibo was this: "Whether or not there is freedom of speech does not depend on how freely you speak when you criticize high officials or people in power, but whether you lose your freedom after you speak."
Hsieh's post prompted an interesting response from mainland Chinese netizens: they criticized the Chinese government for infringing on freedom of speech, expressing concerns that such a display of intolerance would antagonize Taiwanese people and diminish prospects for cross-straits reunification.
Yet some Taiwanese officials, in turn, have used this incident to highlight the incompatibility between Taiwan and the mainland, and to emphasize the need for Taiwanese independence. In a television interview broadcast by Taiwan's United Daily News Group, Su Tseng-chang, current chairman of the DPP (and who lost the 2012 DPP presidential nomination to Frank Hsieh) stated: "From this incident, you can see how precious and praiseworthy a free, democratic, and open Taiwan is, and what differences exist between Taiwan and China. Taiwanese people must treasure their own land and country. We must not have false hopes toward China."
In the same interview, Hsieh stated that he created the Weibo account in an effort to better understand the Chinese public and to share his own thoughts and experiences with them. When asked why his account was deleted, he replied, "I don't know." He then added jokingly, "Maybe there were some 'hackers.'"
Some Taiwanese netizens echoed Su's view, openly displaying their contempt for China. In response to a China Times article reporting on this topic, Web user @詹耀程 commented, "The two places' basic values have so many differences--how can we ever talk about reunification?" Another user @淡水渔夫 wrote, "If Taiwan falls into the hands of the Communist party, Taiwanese people will be like Li Houzhu (renounced poet and the final Southern Tang ruler)--we will wash our faces with tears every day, then drink ourselves to death."
Still others rebuked Frank Hsieh, accusing him of trying to curry favor with the Chinese people. In response to an article written by Taiwan's Central News Agency (CNA), Web user @為什麼北部叫天龍國 南部叫地蛆國 為什麼 commented, "The party that shouts 'Taiwan Independence' every day goes and sets up a Weibo account -- gaining popularity by selling Taiwan and seeking shelter from the Mainland?" Another user called @hungyk5 wrote, "Hsieh tried so hard to gather 'fans' by washing his Weibo account with sensational comments, but he went too far...as a result his account got blocked. It serves him right!"
A few Taiwanese traditionalists seized this opportunity to call for the unification of Mainland and Taiwan -- under the Republic of China's rule. User @9527 commented on the same CNA article, "Fellow Mainland brothers -- rise and revolt for your freedom of speech, throw yourself into to the arms of the legitimate, free, democratic Republic of China."
In Taiwan, opinions toward the cross-strait relationship split not only between DDP and the pro-reunification Kuomintang (KMT), its competitor, but also within the DDP itself. Last October, when Frank Hsieh privately visited top government officials in Beijing , some DDP members praised Hsieh's efforts to improve the party's ties with Beijing, while others maintained that Hsieh's political views and actions do not necessarily represent those of the entire party. As DDP's chairman Su Tseng-chang acknowledged, "The DPP's position [on its China policy] remains unchanged despite there being different opinions in the party."
The belligerent and divergent reactions toward the news of Hsieh's day-long Weibo career show that more than 60 years after the 1949 Civil War, the question of cross-strait relationship -- and reunification -- remain controversial as before.
---
This post also appears at 
Tea Leaf Nation
, an
Atlantic
partner site.