How China's Most Influential Micro-Blogger Got Himself Banned From Weibo
Lee Kai-fu is one of China's most successful businessmen. Now he finds himself in political hot water.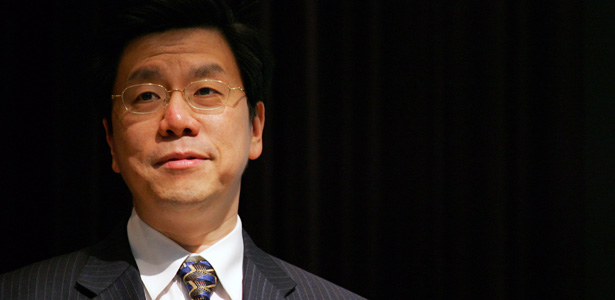 On February 17, ex-Google China head Lee Kai-fu stated on Twitter that he had been locked out of China's Twitter-like Sina Weibo for three days, ostensibly for criticizing a Party-backed search engine called Jike and its sporting celebrity director Deng Yaping.
Lee, who is currently head of the Chinese venture capital firm Innovation Works, is an avid micro-blogger who often tweets in support of independent media and freedom of information. He has over 30 million followers on Weibo, which recently dubbed Lee the most influential microblogger of 2012.
Lee is no stranger to controversy: over the past six months, more than 78 of his posts have been deleted by Sina Weibo. However, this is the first time that his account has been blocked entirely.
The incident occurred on February 17 after Lee criticized Communist Party-sponsored Internet search engine Jike and its Party-appointed director Deng Yaping, a former ping pong champion who is regarded as one of the best players of all time. Following unconfirmed reports that Jike spent an alleged 2 billion RMB (about U.S. $320 million) of taxpayer's money without turning a profit, and that Deng was subsequently forced by an irate superior to cut 100 members of staff, Lee blogged that, while he declined to comment on such gossip, he had some questions:
1) Why is it necessary to use taxpayers money to create a search engine? 2) Is there any hope for a search engine that is developed without a commitment to the open sharing of information? 3) Why would the CEO of a search engine be appointed by the Party? 4) If America's Democratic Party had appointed Michael Phelps as Google's CEO, would it have been able to defeat Yahoo and become the world's largest search engine?
Lee's comparison of Deng Yaping to swimmer Michael Phelps may have been a little unfair; in addition to being a ping pong icon, Deng has a Ph.D in Land Economy from Cambridge University, where she researched the effect of the 2008 Olympics on China's development. She has also served on the Olympic Committee's Ethics and Athletes commissions and is a member of China's CPPCC, a political advisory body to the Chinese government.
However, the search engine that Deng commandeers, Jike, has not been doing well. A recent report from Chinese IT statistics platform CNZZ indicates that among China's domestic search engines, Jike is used by far less than one percent of Web users, garnering less than 1/10,000 of total market share. According to a recent China Media Project article, Jike's search results of controversial issues lean heavily towards the Party line, omitting alternate viewpoints on topics such as Nobel Prize-winning dissident Liu Xiabo and the separation of government powers.
The "gossip" that Lee Kaifu refused to comment on in his post was an article, since removed from the Internet, that contained accounts allegedly from a Jike employee stating that Deng Yaping did not understand the search engine industry. After being appointed, the article alleged, Deng "blindly" expanded her employee base, spending over 2 billion RMB on staff and equipment until forced to downsize after failing to turn a profit. She also allegedly enjoyed regaling staff during meetings with tales of her ping pong exploits. The article quoted her telling employees, "You all are good for nothing. Back when I was playing ping pong, I was always #1 and don't even know how far behind #2 was-you guys can't learn from Baidu, you have to emulate Google."
This critique of Jike and its boss was by no means Lee Kaifu's first controversial Weibo posting. Lee was one of many high-profile micro-blogging celebrities that tweeted in defense of the Chinese publication Southern Weekend after its New Year's greeting was axed by censorship authorities in January. He also stated last September in a speech at a World Economic Forum conference held in Tianjin that social media is a way for China to deal with its corruption issue.
After being blocked from Weibo, Lee reverted to Twitter, where he has about one million followers, tweeting, "I've been blocked from Weibo for three days, [but] everyone can find me here." In a subsequent tweet, he cited Xi Jinping's statement earlier this year that the Party must accept "sharp criticism" from non-communists.
Online reaction to Lee's involuntary hiatus from the Chinese blogosphere appears subdued; many appear unaware that he has been blocked, as his name and profile can still be searched.
User @YongquanH asked, "He got blocked for saying some unknown search engine was wasting money? Is one limited to singing praises?"
One reason for this muted response may be that few Chinese Web users are aware of Jike's existence; many of the 2,000 Web users that responded to a January 18 report about Jike's miniscule share of China's search engine market commented that they had never heard of the site. Others said that they had never used it. Some wondered what Deng had done with the billions of RMB allegedly invested in the Jike venture. User @鸟宿池中树 wrote, "Just because you're good at ping pong, it doesn't mean you're good at everything. Do you think you're Superman?"
To be fair, perhaps more blame lies with those who appointed Deng to a position for which she may have been simply unqualified.
---
This post also appears at 
Tea Leaf Nation
, an
Atlantic
partner site.