From Bullets to Bistros: the Mexico City Miracle
Even as drug war violence encroaches, a sharp drop in crime over the past decade has changed the culture of Mexico's capital.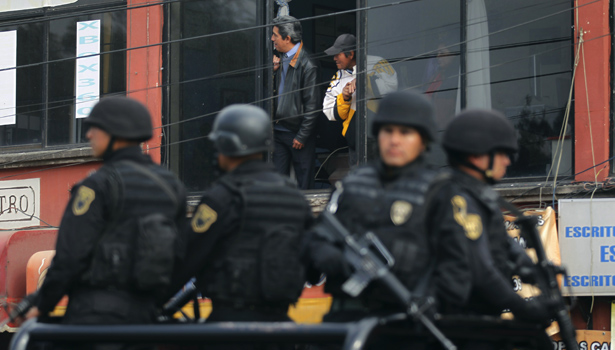 After midnight, Cesar Perez, the director of Mexico City's Driving Without Alcohol program, stands alongside more than a dozen other police officers at a checkpoint on the corner of Reforma and Insurgentes avenues, near the capital's historic center. Perez, a veteran officer with a serious demeanor, isn't looking for drug smugglers. He and his team have a different focus: drunk drivers.
He looks over at the line of cars by the curb. "In 2003 [former New York City mayor Rudolph] Giuliani came to look for programs to increase the efficiency of the police," Perez says. "We had a high incidence of drunk driving." Under a slight drizzle, a police tow truck operator raises the front of an impounded late model Volkswagen Beetle. The car's driver, a middle-aged man in a crisp blue shirt, fails his breathalyzer test and will spend the night inside a holding facility, along with a few hundred other over-the-legal-limit drivers detained at other checkpoints.
In other parts of the country, cartel violence is raging and criminals are taking advantage of the resulting power vacuum. But in Mexico City, the police, through their presence in the streets, have helped reduce the types of common crimes that affect residents the most. The alcoholímetro checkpoints are now a well-recognized element of Mexico City's nightlife. They are part of a broader slate of innovative community-oriented police programs that have helped turn Mexico City from one of the world's most dangerous places into one of the safest areas in Mexico.
At the checkpoint on Reforma Avenue, police officers in white vests emblazoned with the word "ALCOHOLÍMETRO" wave cars though the cordoned-off lane behind the mobile breathalyzer station. "It's a civil infraction... [we detain] eight to twenty-five people a night," at each checkpoint, Perez explains. Five detainees who failed their breathalyzer tests wait inside a transport vehicle. "When there are five or six people, we take them to El Torito," he says, a holding facility where drunk drivers must spend a minimum of twenty and a maximum of thirty-six hours. "It's not a pleasant place. People don't want to go back," Perez says.
Mexico City was once feared as being the most dangerous city in the planet. A new network of security cameras, and a focus on community police-work and patrols, have helped entrepreneurs, restaurant owners, and young professionals out of a decade of stalled urban renewal programs, and fostered the emergence of a vibrant nightlife. As street gangs have receded to fringe neighborhoods, crime has fallen, and many late night partiers have a different concern: the fear of being detained at the breathalyzer checkpoints.
Even high profile figures such as Manuel Espino, the ex-president of the right-of-center National Action Party, and Sergio Sendel, the actor who provided the voice for Diego in the Spanish-language version of Ice Age, have been detained at the checkpoints and taken to "El Torito." Nearly 100,000 drivers have been detained at alcoholimetro checkpoints since the Driving Without Alcohol program was implemented in 2003. The culture of Mexico City's vida nocturna has already started to change.
After Mexico's economic collapse in the mid-1990s, violence increased in the capital. "There was an explosion of crime," says Eduardo Guerrero, a Mexico City-based security consultant. In 1994, Mexico City's crime rate increased by a third, a jump that was repeated again in 1995. In 1997, in two separate incidents, an American journalist was shot in the spine during a botched kidnapping attempt and two German tourists were shot in a robbery at a restaurant. In 1998, for the first time, the U.S. State Department warned that crime in Mexico City "had reached critical levels," and warned U.S. citizens visiting Mexico's capital that there had been a "marked increase in the levels of crime committed." In 1996, an average of three murders a day was recorded in Mexico City.
Starting in 2000 with the election of leftist politician Andres Manuel Lopez Obrador as Mexico City's mayor, the city began investing in a series of innovative social programs. Shannon O'Neil, a Mexico expert from the Council on Foreign Relations, explained that Marcelo Ebrard, who was mayor between 2006 and 2012, and his predecessor, Obrador, "went street by street in the Centro Historico and got rid of the ambulantes [unregistered street vendors]. It's a variant of the broken windows theme." Ebrard also told the police to focus on ticketing drivers who neglected to wear seatbelts. He installed security cameras throughout the city, and set up the alcoholímetro checkpoints to crack down on drunk driving.
"Accidents caused by drunk drivers are down 30 percent," Perez said. Other types of crime have fallen as well. In 2012, the U.S. Department of State dropped its "critical crime level" warning for Mexico City. Police patrols, security cameras, and a relentless focus on reducing crime in in upper-middle-class neighborhoods such as Polanco, Condesa, and La Roma have helped change the city. In particular, the alcoholímetro anti-drunk driving program has been a success. "People think it's annoying, but it really works, it's lowered the number of drunk driving accidents," Eduardo Guerrero said. In recent years Mexico City has also achieved impressive reductions in assaults, robberies, and violent crime. In 2011, inter-gang conflicts in Mexico City, the largest urban hub in the country, accounted for about 1 percent of the total number of drug-related murders reported in Mexico.
On a warm winter afternoon, Oscar Tapia, a 33-year-old cable technician, took a break from a game of basketball near the glass-paneled Reforma 222 shopping center, not far from where Perez and his team ran the alcolímetro site. Tapia looked up to a row of aging, graffiti-smeared cement apartment buildings with heavy grates over their windows. "This used to be a conflict zone, a point of sale for drugs," Oscar, who grew up in the neighborhood, explained. "It used to be that if you went to visit friends or family you had to leave by eleven or twelve because crystalazos [smash-and-grab robberies] were common." As he talked, a blue and grey police car passed slowly on the street. "Now the patrols pass every twenty minutes," Oscar explained.
Mexico City's success in reducing crime helped fellow PRD politician Miguel Mancera win a landslide victory in the race to replace Ebrard as the city's mayor. During the campaign, Mancera claimed that security was his first policy priority. He promised to put "police by your side in the community" and to "keep reducing crime." He won an overwhelming 63% of the vote.

In Mexico City, the police benefit from a favorable power dynamic. Although there are rumors that some trafficking organizations might be trying to muscle their way into Mexico City's retail drug markets, the city is generally not a focal point for cartel violence. The police enjoy the benefit of being the most powerful armed force on the streets. In other parts of Mexico, where local police offices are short-staffed and poorly equipped to face threats from cartel members, the federal government has used the army and federal police to battle drug traffickers. Aside from a couple of high-profile yet isolated incidents, such as the triple homicide at the capital's airport and the pair of decapitated bodies found at an upscale shopping mall in 2012, Mexico City has largely been spared from the grisly violence affecting other parts of the country.
The first few weeks of 2013, however, have put Mexico City's police on alert. In a 24-hour period between Friday, January 11 and Saturday January 12, a number of disturbing incidents occurred in Mexico's city's more dangerous, outlying neighborhoods. On Friday night, gunmen killed an 18-year-old man near a known outdoor drug depot. An hour later, three men were found blindfolded and tied up, killed by multiple bullet wounds. On January 12, two men were killed while drinking in the street. A few hours later, gunmen stepped out of a car and killed three men in the same area. In total 11 people were killed in the span of 24 hours and 22 people were killed over the course of the weekend.
Still, unlike other parts of the country, Mexico City is not likely to emerge as a narco-violence hotspot. As security analyst Alejandro Hope explained, "Recent killings are mostly about control of the retail drug market. It may have been a flare-up between rival gangs -- rather serious, but nothing that alters the main insight that Mexico City tends to be safer than, say, Monterrey, just because it has far many more cops."
The heavy police presence discourages criminals from operating in plain sight, and a network of public security cameras provides an additional deterrent. Plus, for organized criminal groups, operating in Mexico City attracts unwanted political attention that could hurt their more lucrative smuggling operations in other parts of the country. Mexico City's retail drug market is largely served by an atomized group of local dealers rather than a vertically-integrated mafia-type organization. In the city's gentrifying core, the police patrols enjoy the relatively mundane tasks of thwarting petty crimes and stopping drunk drivers. So far, the community-focused policing strategy has yielded positive results.
Federico, a 26-year-old Mexico City resident who spent a day in "El Torito" after failing a breathalyzer test said people "know the alcoholímetros exist... this is a reason to avoid driving [drunk.]"
Seated at an outside table at an expensive Argentine restaurant at one of the main avenues in La Roma, he added, "now, if I have a friend who is [thinking about driving while intoxicated], I say it's not cool." A late model silver and blue police car passed slowly on the main avenue.
"Do you want another beer?" a waiter asked.
"No, I'm good," Federico said.