China's New Bachelor Class
Gender imbalances in China have created a generation of men for whom finding love is no easy task.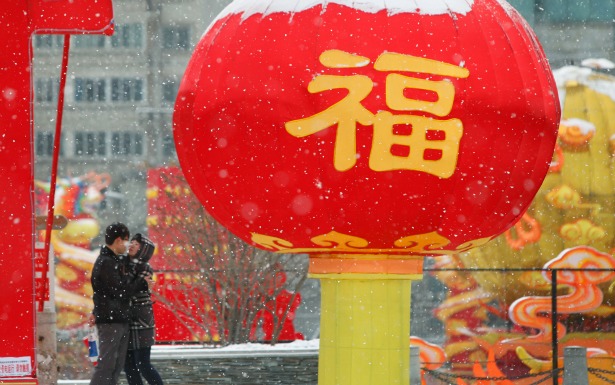 [Aly Song/Reuters]
Cool as glass, a young couple strolls into the Tiffany & Co. attached to Beijing's four-star Peninsula Hotel, elegantly lit with custom crystal chandeliers. She grips his elbow; he's aloof. Epitomizing urban affluence in today's China, this male likely drives a slick car, owns an even slicker high-rise and is more than willing to shell out for a Western-style tuxedo, wedding cake, live music, and, of course, a platinum Tiffany ring.
In other words: he's rich.
By contrast, millions of his fellow rural countrymen will likely never know such splendor or even the joy of matrimony. These young males are known as "bare branches," trees without leaves, involuntary bachelors demographically destined to a life without a wife or child. An estimated 40 to 50 million bare branches are scattered around the nation, and according to Quanbao Jiang and Jesús Sánchez-Barricarte, authors of the article "Bride Price in China: The Obstacle to 'Bare Branches' Seeking Marriage," they tend to be concentrated in rural or poverty-stricken areas.
It's a reversal of hundreds of years of gender discrimination in China. A longstanding preference for boys -- presumed better able to assist in backbreaking farm work -- has played out in sex selection through abortion and infanticide. After the country instituted its One-Child Policy in 1978, it gave most families only one chance at that coveted baby boy.

This only exacerbated the imbalance. Now, an estimated 12 to 15 percent of Chinese men -- a population nearly the size of Texas -- will be unable to find a mate within the next seven years.
This harsh reality has begun to change the country's patriarchal system, yielding the power of choosing a spouse to females. And many are electing for comfort. On the mega-popular dating show "If You Are the One," contestant Ma Nuo perfectly encapsulated China's mood when she famously declared that she would "rather cry in a BMW than laugh on the backseat of a bicycle." Indeed, 70 percent of single women in a 2011 survey said financial considerations ranked above all else when selecting a husband.
The cost of rural females marrying up is leaving the men from their villages waiting and wanting. Hard-pressed to compete with higher-earning males and unable to spring for the car and perhaps the house that some young women see as a matrimonial prerequisite, forlorn bachelors subsequently fall victim to what Jiang and Sánchez-Barricarte deemed the "poor->bare branch->poorer" cycle.
As Deborah Jian Lee and Sushma Subramanian noted in their recent Pulitzer Center report, this cycle is perpetuated by an age stigma. That is, regardless of socioeconomic status, wifeless men over 30 years old are derisively referred to as "leftovers;" the stuff of to-go boxes. Interviews by the Institute of Social and Family Medicine at Zhejiang University found that these societal pressures have led them to feel aimless, angry and alone. Bleaker still, whole villages exist without one unmarried woman. Fueled by sexual frustration, marginalized by neighbors, these islanded bachelors are increasingly likely to drink, fight, gamble, and frequent prostitutes.
"I get very lonely. No one cares about me, and I have no one to speak to when I go home. I sometimes get so drunk that I vomit," a 36-year-old migrant worker told researchers. "When that happens, there's no one to clean up after me."
There are glimmers of hope. Joe Xu, multimedia journalist and co-writer/producer of the upcoming documentary, "The People's Republic of Love," speaks to a digital pursuit of romance that can, in premise, bridge this gender and income gap.
"[Online dating] has greatly expanded the pool for people to choose from without ever having to spend the time to meet the person," he wrote to Tea Leaf Nation via email. "The development of mobile apps in conjunction with the Internet has allowed people to meet each other anywhere at any time. Mobile dating has effectively merged online and offline dating elements to give people more opportunities to meet--and the odds of finding someone is then much higher."
Kitty Bu, host of the online program "Thoughtful China," last month hosted a panel discussion on how young adults differ significantly from past generations in their attitudes toward (digital) dating and matrimony. Tingting Jin, a guest on the show and editor-in-chief of wedding planning website Ijie.com, concluded that status and salary rate higher than starry-eyed love.
Countering this notion, Xu contends that romance is not lost on the less affluent.
"If romance is reduced to just buying expensive things and lavish dinners then, yes, romance is a luxury," he explained. "But just because people in the countryside can't afford luxuries does not mean they are not romantic."
It is a painful irony. In an era of shifting values, splits between consumerism and custom, Tiffany's and traditional gowns, Chinese men bound to family farms and businesses now have more tools for love at their disposal. WeChat, a voice-messaging service that easily facilitates hookups, boasts 300 million users. A location-based app called Momo is also on the rise.
"Chinese people are not straightforward people; they prefer to communicate through a website, communicate through writing," said Momo Vice President Zhang Ying in an interview with The Next Web.
But rather than giving separated soul mates boundless opportunity to find each other, the Internet in practice breaks this social promise. Quantifiers (What model is his Audi?) have been coded into the relationship game, effectually furthering the divide between the haves and have-nots. One thing is for certain: Twenty-four million chances at dates, duds and "I dos!" are doomed to be missed.
---
This post also appears at 
Tea Leaf Nation
, an
Atlantic
partner site.