Can an American Woman Stop Domestic Violence in China?
The landmark court victory of Kim Lee, a victim of domestic abuse from her Chinese husband, may bring discussion of domestic violence out in the open in China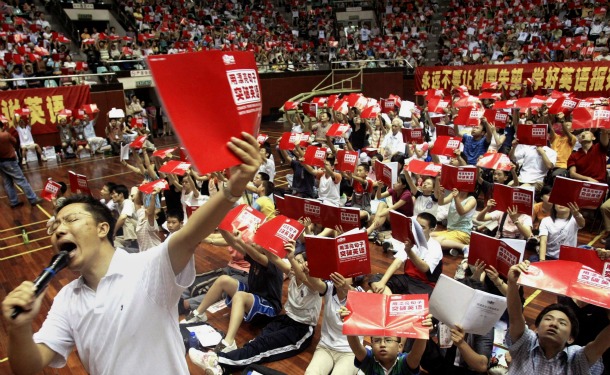 [Li Yang teaches English to several thousand students in Guangzhou, China, in 2004. Li's American wife Kim Lee recently won a court decision following claims of domestic abuse. (Reuters)]
To many outside China, it might have seemed like another straightforward heroine-and-villain celebrity divorce story. He was the founder of a hugely popular English learning program known as Crazy English, and is a household name in China. She was his American wife. But the breakdown of Kim Lee's marriage to her husband Li Yang, which culminated with a Beijing court granting a divorce for reasons of abuse on February 2, has caused many Chinese to reexamine the issue of domestic violence.
After being beaten by her husband for years, and subsequently being denied assistance from the authorities and family friends, Kim Lee finally took to the Internet for help. She first posted photos of her bruised knees and swollen head on Sina Weibo, China's Twitter-like microblogging service, in September 2011.
Shortly after publishing the photos, Lee posted a graphic account of one of their altercations in English: "You knocked me to the floor. You sat on my back. You choked my neck with both hands and slammed my head into the floor. When I pried your hands from my neck you grabbed my hair and slammed my head into the floor ten more times!"
The initial reactions of many who read the post was shock, with users denouncing Li and urging Lee to go to the police. Weibo user @X__小妖 __X commented, "The heavens should split this freak Li Yang in half with lightning!! Kim, use the weapon of the law to protect yourself!!" Another user, @哈佛妈妈微博, posted, "As a woman I can't bear things like this, I know I can't help you personally, but I know together all the women in China can help. Fellow women re-tweet this; we won't bear this kind of insanity!"
Shortly after Lee began posting online, Li Yang also went public, stating : "I hit her sometimes, but I never thought she would make it public, since it's not Chinese tradition to expose family conflicts to outsiders." While these remarks could be interpreted as a calculated move to create a distance between Lee and her Chinese sympathizers, it also reveals the unspoken nature of domestic violence in the country.
For many in China, especially in rural areas, physical violence in the home is an accepted part of a marital relationship. Lee's appeals to her sister-in-law for help, for instance, were met with the suggestion that she should stop provoking her husband. In a separate case, Tea Leaf Nation contributor Thomas Stevenson wrote about how a woman he knew who experienced harassment was told by police, "He obviously cares about you and wants to be with you. You should go back to him." In Sichuan, a woman named Li Yan was driven to murder her husband after years of abuse and having her appeals to the local women's association go unheeded. In an interview with The Guardian, Li's brother Tan stated that "domestic violence is considered to be an issue within the family, and other families have more or less similar situations, so they did not take any action."
Statistics show the extent to which domestic violence is a problem in China. A study carried out by the All China Women's Federation estimated that abuse occurs in more than one third of Chinese households, with women comprising 85 percent of the victims. Worryingly, just 5 percent of the women who reported violence in the survey stated that their marriages were unhappy as a result.
By the time Lee left the courtroom, almost a year and a half after her first posts, her case had received more than three million comments on Sina Weibo alone. While most of those posting supported Lee, there was a sense from some that standing up to her husband was an foreign, not a Chinese act. One user, responding to an article about the case published in the Hong Kong media outlet Phoenix, commented, "American women are strong, Chinese men aren't up to marrying them, they certainly can't afford to offend them." Another user remarked, "Li Yang is admittedly wrong!! But if you look at the smile on this old foreign woman's face...all this money coming to her...it makes you want to throw up. No wonder Li Yang carried out domestic violence."
Kim Lee won an important victory in court, and helped stand up for herself as well as countless other victims of abuse. And while views on domestic violence remain varied in China, this public divorce has, at the very least, helped bring a once private matter further into the light.
---
This post also appears at Tea Leaf Nation, an Atlantic partner site.