Are the Chinese Longing for a New Capital?
Beijing has been the capital of China for about 700 years. Is that about to change?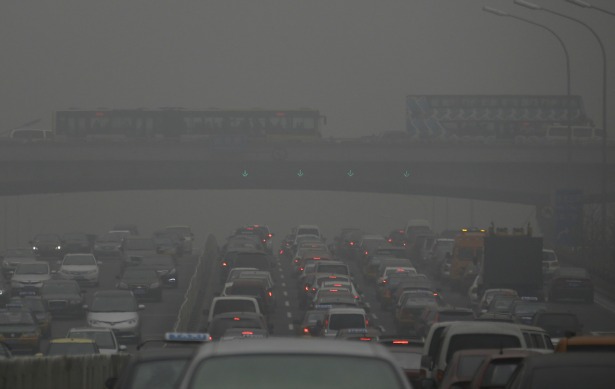 Cars drive on and below Guomao Bridge on a heavily hazy day in Beijing January 30, 2013 (Jason Lee/Reuters)
That a city on the northern fringe of what's considered " China Proper" as the capital of the Chinese empire is something of an accident of history. When the Yongle Emperor moved the capital to his old fiefdom from Nanjing after usurping the throne from his nephew, he could hardly foresee that this place, with its shortage of fresh water and an abundance of dust, would become home to more than 20 million people and 5 million cars.
On February 8, social media user @Victor倪卫华 tweeted on Sina Weibo a rumor that Xinyang, a small city in Henan Province, may become the capital of China in 2016, citing information leaked by a local government website in the city. He claimed that a group of more than 160 experts descended on Xinyang to explore the possibility for the 28th time in July 2012.
The idea may have plenty of backers. A search for "capital move" (迁都) yielded almost 450,000 results on Sina Weibo, China's Twitter.
Sick and tired of breathing toxic air , getting bumped on the subway, and waiting in traffic while government vehicles with special license plates cruise by, many Beijingers fantasize about the day when their fellow countrymen stop crowding into their city to take advantage of its highly concentrated resources. "That's great! Finally Beijing will be saved," wrote @超音速老道. User @ 北京-下马赏花 declared, "This is the most exciting rumor of 2013."
Beijing resident @亚特兰蒂斯Narcissus commented, "Please move soon. Move to wherever, as soon as possible. Over the Chinese New Year holidays, there were just 9 million people left here out of the population of 20 million. There were no traffic jams, the subway cars were quite empty, and the air improved. It was awesome."
And why not? After all, as some Internet users noted, there are many precedents of capitals moving from large metropolises to planned cities, such as in Brazil, Argentina, and even the United States.
However, for China, such a move is unlikely to be taken as lightly as in the New World. Historically, a capital move signified great upheaval and potential dynastic transition in China. Only when the legitimacy of the reigning power was severely imperiled in some way did the emperor pick up and leave for a new home. Surely, that is not the message that the Chinese Communist Party leadership wants to send to its people and the world.
It's also worth asking whether the people of Xinyang actually want their home to become the new capital. User @游离君闭关修炼ING, a current Xinyang resident, wrote, "Please don't come. My great Xinyang cannot take all that pollution. Our current reputation as a livable city is quite nice and I don't want it to change."
---
This post also appears at 
Tea Leaf Nation
, an
Atlantic
partner site.