Why Obama needs to focus on corruption to save America's most reliable Arab ally.
Jordanian gendarme, regime supporters and protestors scuffle in front of a large portrait of King Abdullah in Amman, during a demonstration after the announcement of an increase in fuel prices on November 13, 2012. (Muhammad Hamed/Reuters)
This piece is part of "Obama and the Middle East: Act Two," a series produced with the the Washington Institute for Near East Policy on U.S. foreign policy in the president's second term. See our full coverage here
Two years into the so-called "Arab Spring," the tally is grim for Middle East republics. To date, three nominally republican governments have been toppled, and a fourth -- Syria -- promises to follow in 2013. Despite longstanding governance problems and human rights abuses, the Arab monarchies have largely been spared from the popular revolts that dislodged their autocratic neighbors. Until now this monarchy "red line" has served U.S. interests. After all, Washington would benefit little from a cascade of friendly kingdoms and emirates falling like dominos only to be replaced by inimical Islamist regimes.
But the monarchy red line will not last forever, and Washington will face a series of new strategic challenges when and if this threshold is crossed. The end of the monarchy in Jordan would constitute a particularly serious blow to U.S. interests. Should the regime fall, Washington would lose its best remaining Arab ally, and Israel would lose its last reliable peace partner.
Related Story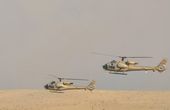 Historically, the regime has been able to weather popular discontent by relying on the support of East Bankers - Jordanians who inhabited the area before the arrival of the first Palestinian refugees in 1948, and who have stood by the Hashemite regime out of fear that a revolution could bring to power the Palestinian-origin majority. But for the past two years, the kingdom has been contending with persistent protests focused on the sluggish economy and corruption - an issue that may, for the first time, unite East Bankers with Palestinian-origin protesters. While Jordan's perennially feeble economy will take some time to improve, in order to ensure the long-term survival of the monarchy, Washington should encourage King Abdullah to take bold steps now to root out the corruption and insulate his regime.