What China's Newly Released Inequality Data Really Means
China says income inequality is dropping. Is this really true?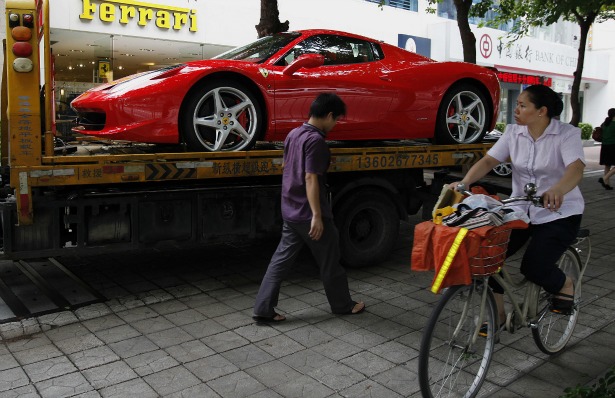 When the National Statistics Bureau announced China's 2012 GINI coefficient -- a measure of income inequality -- on January 21, the figure caught everyone by surprise, like a genie out of a bottle. The reaction was as much about the number itself as about its release: not only was the 2012 index the first official release since 2001, it was also the country's second lowest GINI coefficient in ten years. (On the same day, the government also released missing indices from 2002 to 2011. "A lack of unified survey standards in rural and urban areas," it claimed, accounted for the delay.) At a level of 0.474, the 2012 GINI coefficient was lower than the 2003 figure of 0.479, suggesting that China is, at least numerically, a slightly more equal society today than a decade ago.
The GINI coefficient, according to the World Bank , is the most commonly used measure of inequality. Reported on a scale between 0, which reflects complete equality, to 1, which reflects complete inequality, the figure gauges the distribution of income among a country's residents. The CIA World Factbook, for example, calibrated China's 2009 GINI coefficient at 48 (on a variant scale of 0 to 100), while researchers at the Southwestern University of Finance and Economics in Chengduput the number at an alarming 0.61 in 2010. The official numbers, by contrast, took a middle ground: the indices were reported at 0.49 in 2009, and 0.481 in 2010.
Gloating, to be sure, was hardly the government's intent for letting the GINI out; on the contrary, as social divisions continued to fray bonds between public and private sectors and between haves and have-nots, the coefficient's release was a belated acknowledgment of inequality that had been long-submerged in official discourse until now. "The statistics highlighted the urgency for our country to speed up the income distribution reforms to narrow the wealth gap," said Ma Jiantang, the bureau director, as quoted in a report by Xinhua news agency.
Despite the government's best intentions, however, few social media users were willing to put much stock in the numbers, because many believe inequality has worsened over the past decade based on personal experience and observations. The timing of the release, combined with its doubtful conclusion that showed a lessening of inequality, triggered a wave of skepticism and scorn in China's micro-blogosphere. Many put their disbelief in the harshest terms: "A journalist called me and asked me to comment on today's macroeconomic figures. Wouldn't I be sick in my head to comment on such false figures?" wrote Xu Xiaonian (@许小年), a professor of economics and finance at China Europe International Business School, on Sina Weibo, a Twitter-like platform in China. "That GINI coefficient, in the words of Zheng Yuanjie, a children's story writer in China, is a fairy-tale that no one would dare to write."
In this contested arena of economics and politics, interpretation -- more than calculation -- shaped the restive discourse online. In an attempt to make sense of the statistics, many users pointed to what the GINI coefficient failed to measure. "In a society long mired in corruption, income and wealth are not the same matter; the salary of a corrupt official hardly correlates with his personal wealth. A GINI index calculated from our pay stubs has little practical significance. Instead, what ordinary people feel is the best measure," wrote @ 老徐时评. "In this light, the bureau's number [indicating an improvement of inequality] will in fact derail top-level reform by weakening the officials' resolve to close the gap between rich and poor."
By questioning the number's authenticity, many users inadvertently came to view the index and its release as a barometer of government accountability. Demand for trusted and transparent statistics in China has grown increasingly vocal. Last January, Caixin, a liberal news magazine, ran an accusatory article, "Government Refuses to Release Gini Coefficient," which set the tone for a spate of reports on inequality in China this year, culminating in the official release of GINI coefficient data last week. Central to all these stories was an uncanny truth: the index's delayed response showcased the ruling Communist Party's unease about revealing how profoundly social inequality in China has divided the nouveaux elites from the country's poor majority.
Amid caustic indictments online, however, some raised their voice in the government's defense. Just as skeptics of the coefficient tried to unpack its deficiencies, supporters of the release bolstered its credibility - and that of the government. "The Statistics Bureau reported that income inequality is improving and the GINI coefficient is falling; why do people insist that it is false?" wrote Hu Xijin (@胡锡进), editor-in-chief of the Global Times, a conservative newspaper, on his personal Weibo account. "For those who hire cleaning ladies at home, think about this: does your income increase faster than your cleaning lady's? The Foxconn incident has led to widespread pay raises for low-income workers, but how many high-paying companies had the means to do the same for their employees?"
"It looks like some people are unhappy that China's GINI coefficient is falling," he concluded. "Isn't China allowed to turn a course for the better?"
Yet as the ideological disputes recede, China's reality of inequality - and the challenge to narrowing the gap - remains unchanged: the current coefficient of 0.474 poses a high risk for social unrest. While the newly delivered figure might be uncomfortable at first sight, it nevertheless heralded a positive shift in governance that is almost sure to continue. Like a genie who can no longer return to the bottle, the index and its publication should help to compel China's government to maintain an increased level of transparency, and to take heed of the reckoning that may come if the numbers don't improve.
---
This post also appears at Tea Leaf Nation, an Atlantic partner site.