The View From Moscow: How Hamburgers Explain the U.S. Election
Behind the culinary metaphor being used by the Kremlin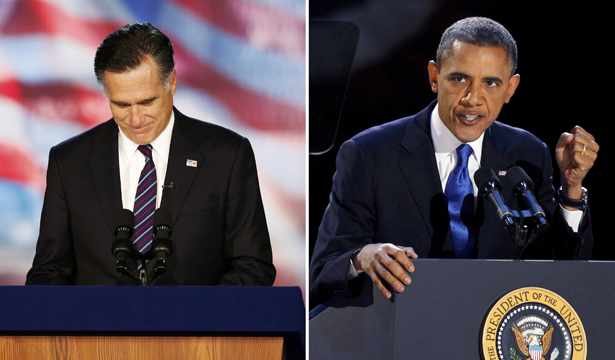 Reuters
Russian election monitors are set to issue their final report on the November 2012 presidential election in the United States. And, as expected from their preliminary reports, they found much to criticize.
"American elections are like a hamburger: It looks beautiful, but the patty inside is artificial," said Igor Borisov, chairman of the Russian Public Institute of Electoral Law (ROIIP), which will issue its full report on January 17. Borisov is also a former member of Russia's Central Election Commission, which ordered the ROIIP report. An advance copy of the report was made available to the daily "Izvestia."
Borisov told the daily that the November election did not conform to most international election standards. In particular, he said the vote fell short in the areas of election law, openness, and fairness.
The report, which was compiled on the basis of "distance monitoring" instead of an on-the-ground observer mission, argues that some 50 million American adults were deprived of their right to vote. This problem, the report says, was particularly acute among "racial minorities."
According to the report, the election was less than ideal in terms of secrecy as well. It claims some states allow voting by fax or e-mail and that employers sometimes "helped" employees fill out their ballots under the threat of dismissal.
'Neither Free Nor Fair'
State Duma Deputy Aleksei Pushkov, a member of the ruling United Russia party, told "Izvestia" that the United States was "most likely the only country that claims to be democratic but does not have direct or national elections." He was referring to the fact that voters in the United States technically vote for electors in the Electoral College, who in turn later cast ballots for president and vice president.
The report's findings should come as no surprise. The think tank behind it already predicted back in early November -- before voters even started casting their ballots -- that the U.S. election would be neither free nor fair.
The Office for Democratic Institutions and Human Rights from the Organization for Security and Cooperation in Europe (OSCE) sent a limited observer mission to the election and concluded it was "vibrant and highly competitive." The OSCE, however, expressed "real concerns" over voting rights, the accuracy of voter lists, the transparency of campaign financing, and recount procedures.
But even this assessment of the presidential vote by the OSCE was challenged by Russian official Sergei Chumaryov, a senior counselor at Moscow's embassy in Washington, who claimed its observers visited only polling stations "where you were allowed to visit."
The November 6 election in the United States was won by incumbent President Barack Obama. Obama will be inaugurated for his second term on January 21.
---
This post appears courtesy of Radio Free Europe/Radio Liberty.