Why Israel's next elections will be more important than this one
Israel's Prime Minister Benjamin Netanyahu (R) hugs Meir Dagan on January 2, 2011 (Ronen Zvulun/Reuters)
In the lead-up to the 2009 Israeli elections, I mused to a high-ranking Israeli official that Israel seemed to be picking from the same pool of over-the-hill recycled politicians, and perhaps what they needed was a truly fresh face from outside the political or security class. "What Israel needs is a Barack Obama," I said. "It would never happen," he shot back to me. The stakes are too high in their part of the world, he argued. Israelis would never take a chance on a newcomer, only willing to trust someone with an established security record.
The surprising second-place finish of former newscaster Yair Lapid's centrist party is probably the closest Israel has come in recent years to an Obama-style newcomer. But it won't be enough to oust the current prime minister, Benjamin Netanyahu, whose Likud-Beiteinu coalition received the most votes and will likely be asked to form the next government.
Related Story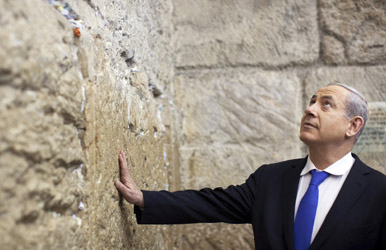 The center-left may get a rematch sooner rather than later: As Michael Koplow convincingly argued in The Atlantic yesterday, regardless of whether Netanyahu turns left or right to form his coalition, his government is unlikely to last very long. The problem is that the parties as they stand now have little chance of presenting a viable alternative to Netanyahu. Lapid and Shelly Yachimovich (the Labor party leader, also a former journalist) are not seen as realistic candidates to be prime minister; in this election, they largely coasted off of issues related to the 2011 economic protests in Israel, but had little, if anything, to say on broader issues of peace and security. "A TV anchor can't be prime minister; it just doesn't work in Israel," said Natan Sachs, a fellow at the Saban Center for Middle East Policy in Washington. "They have to sit in a cabinet meeting, hear what a general says."