The Revolution Will Not Be Terminated
Egypt's streets were filled this week with demonstrators who believe Mubarak's successor is no better.

Andrew Katz
CAIRO -- The scene downtown on Friday morning was like any other: shops were open, vendors were hawking their wares on the side of the road and traffic cops were out in full-force, chain-smoking and sipping from small white cups as they signaled taxi drivers to weave through the lane-less web of streets extending away from the hotspot of celebration, protest and violence that was due to arrive after the early afternoon prayer. The only sign of what was to come was near the Ramses Hilton Hotel, just before crossing over the 6 October Bridge, where pockets of young men carried dozens of Egyptian flags to be waved later in the day as demonstrations marked the second anniversary of the revolution.
Two years after the beginning of the 18-day uprising that overthrew Egyptian President Hosni Mubarak, who, at 84, is now under guard at a hospital in the resort town of Sharm el-Sheikh, the country remains deeply fragmented by power grabs, political polarization and a fast-weakening economy. A report issued on Thursday by Amnesty International found that no senior official or security officer has been convicted or appropriately punished for the 840 deaths and 6,600 injuries that occurred during the clashes between January 25 and February 11, 2011. Today, amid a lack of closure and seven months after Mohamed Morsi was elected president -- a move that transferred power from the military to the Islamists -- Morsi's government would see the largest demonstration against its rule since coming into office.
At 1:15 p.m., a pre-planned march from Mustafa Mahmoud Square began streaming down Arab League Street. "The people demand the fall of the regime," they shouted. Their detest for Morsi and the Muslim Brotherhood came down to illegitimacy and in their view, the constitution was "invalid." They proudly waved Egyptian flags above their heads and held signs high in English and Arabic. "Down with the occupation of the Ikhwan," one read. Upon passing several towering apartment complexes and seeing residents peer out from their balconies, they screamed "Inzil! Inzil!" or "Come down! Come down!"
The march grew over the next two hours as it snaked over to the 6 October Bridge, past the charred National Democratic Party headquarters along the Nile River and into Tahrir Square, the symbol of the revolution where thousands of other people had spent the morning and afternoon prepping for a long few days of celebratory protest.
Eric Trager, a fellow at The Washington Institute for Near East Policy, was in Tahrir Square when the revolution began -- when the military embraced the everyday Egyptian, and kissed their babies, and let protesters on their tanks. He saw that people wanted an end to Mubarak's rule, but today he's not surprised the dictator's fall didn't yield better results. The issue at stake is not the post-Mubarak institutions, but rather the players who are destabilizing Egyptian state and society by not being capable of meeting the public's basic needs, doing more to prevent the ongoing economic crisis, or feeling a need to respond to their own people's concerns about the future.
"The optimistic, photogenic, Facebook-loving, youth revolutionaries have faded and in their place you have the emergence of an Islamist regime that in fact is quite hostile to the very revolutionaries that helped them come to power," Trager said early Friday morning. "Their government doesn't care about them; their government sees them as counterrevolutionaries and as enemies of Islam; and it will use that rhetoric to justify any kind of violence that protesters will be confronted with."
A more brutal crackdown to these types of protests is justified now more than it was two years ago because the officiators were elected by their own people, he continued, adding that Mubarak's Egypt was more stable than originally thought by proponents of his ouster, and more so than it is now. "Everything is not fine," he said. "This is a transition that has had no rules, in which hundreds of people have been killed, in the context of an economy that is in sharp decline. So, two years later, where does Egypt's revolution stand? In a very sad place."
In Tahrir, men shouted "Alam! Alam!" ("Flags! Flags!") for protesters to purchase and others offered to paint faces black, white and red. Nearby, a few hundred people were staking out the intersection of Youssef El-Guindy and Mohamed Mahmoud Streets, where security forces killed dozens of protesters in November 2011. A group of policemen were believed to be throwing rocks and blasting tear gas canisters from a roof down the block. Some in the group here, about 1,000 men who skewed young, were pointing green lasers at the officers while others held up video cameras to document what was playing out. One deployment of the gas as night began to fall led small contingents of men to carry away demonstrators who had fainted from inhaling too much smoke, leaving them with helpers on the sidewalk.
A fair amount of the group this week appeared to be Ultras, or the sometimes-militant super fans of the al-Ahly Club soccer squad, who seemed to be using the two-year mark of the revolution as a precursor for Saturday, when a verdict could be handed down in the trial of people purportedly responsible for the deadly attack in Port Said last February. Mostly teenagers, they turned out en masse on Friday because they wanted him out of office.
Morsi's "not good," said Ayman, a slim 17-year-old who was sticking close to a friend as the scene grew more heated. Another young man, Omar Darek, said their goal was simple: "We want Mohamed Morsi to go out as Mubarak did." Darek wasn't in Tahrir Square two years ago but said he favors new, actually democratic elections to find a replacement more suitable for bringing Egypt back from economic collapse. Darek also hopes a new leader won't politicize the transition as much as Morsi has in hopes of improving overall stability. A third man, a short 22-year-old, expressed dissatisfaction with Americans because he's convinced they're the ones supplying security forces here with the tear gas, but added that he had "changed as a person because of the revolution."
Then, just after 6:10 p.m., more canisters. One had landed mere feet from where these men were standing. It was both the farthest back the tear gas had reached yet and perhaps the most successful in clearing out the intersection all afternoon. As hundreds of people scrambled back down Mohamed Mahmoud Street, they attempted to cough out the smoke they inhaled and wash their eyes out to stop them from stinging. And then, as is normal here, dozens of pairs of men linked arms as they helped each other hobble to safety -- before returning for another round.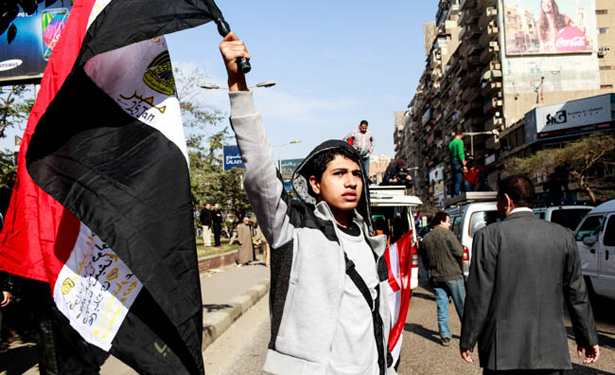 A young boy waves an Egyptian flag during a demonstration on Arab League Street in Cairo as people across the country celebrated the two-year mark of the revolution and protested against Egyptian President Mohamed Morsi on Friday, Jan. 25, 2013. (Andrew Katz)
---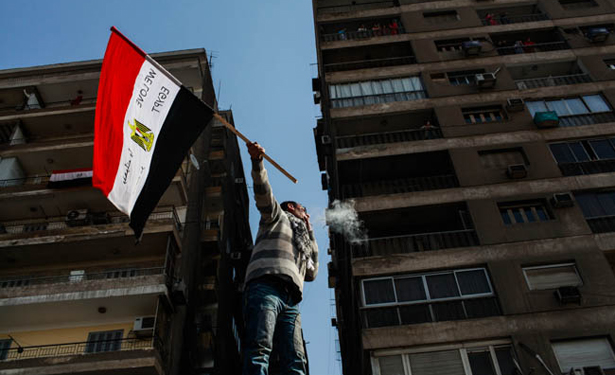 A man grabs a better view and a smoke break during a demonstration on Arab League Street in Cairo. (Andrew Katz)
---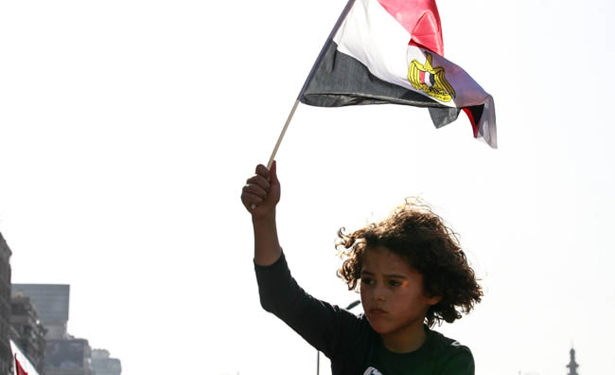 A young boy waves an Egyptian flag during a demonstration on Arab League Street in Cairo. (Andrew Katz)
---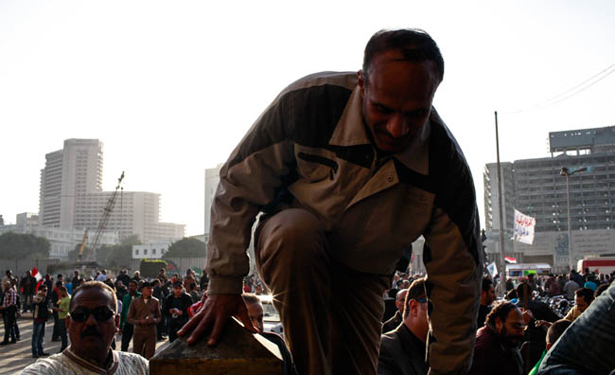 A man climbs over a ledge and out of Tahrir Square. (Andrew Katz)
---
Three spectators watch the goings-on in Tahrir Square.(Andrew Katz)
---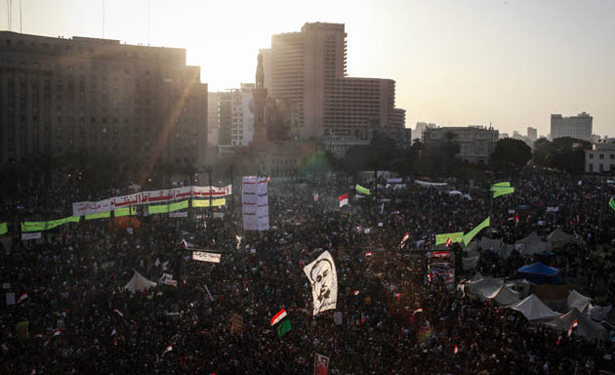 An overhead view of Tahrir Square on Friday, Jan. 25, 2013. (Andrew Katz)
---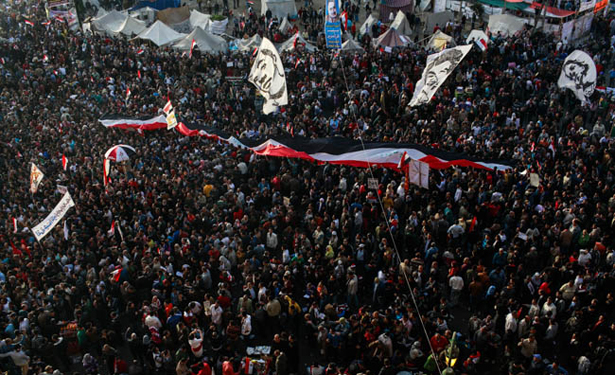 An overhead view of Tahrir Square on Friday, Jan. 25, 2013. (Andrew Katz)
---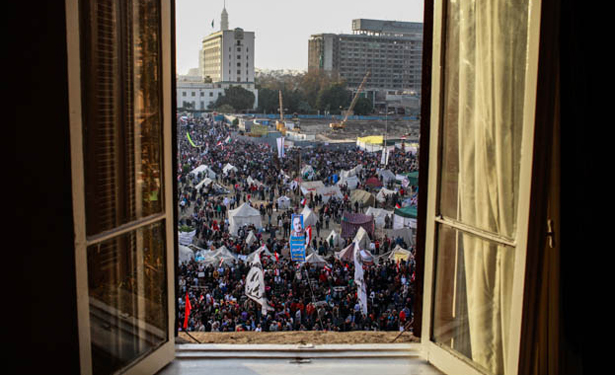 An overhead view of Tahrir Square on Friday, Jan. 25, 2013. (Andrew Katz)
---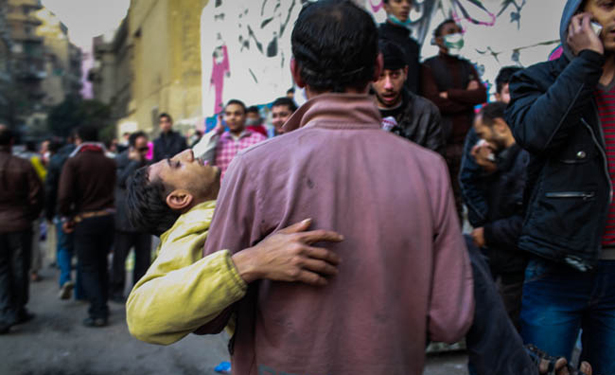 One man carries another man who had fainted during clashes with police that involved tear gas deployment on Mohamed Mahmoud and Youssef El-Guindy Streets in Cairo. (Andrew Katz)
---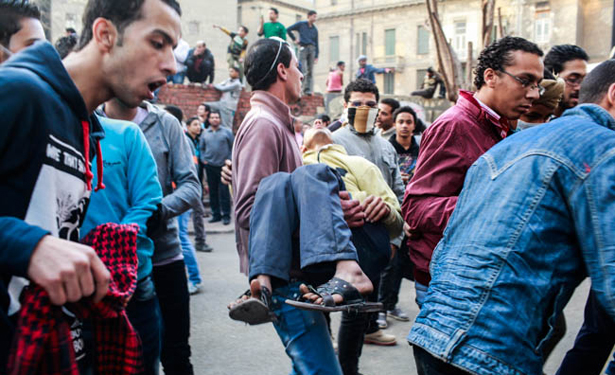 One man carries another man who had fainted during clashes with police that involved tear gas deployment on Mohamed Mahmoud and Youssef El-Guindy Streets in Cairo. (Andrew Katz)
---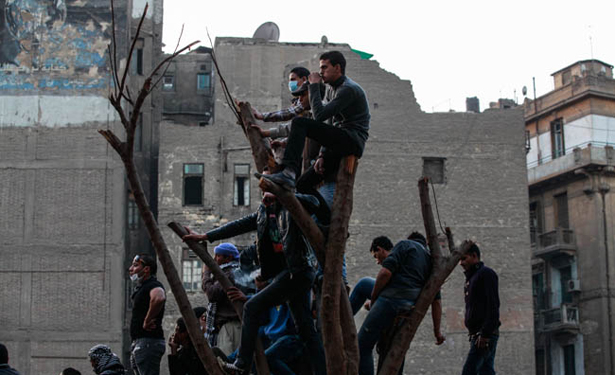 A group of protesters climbed walls and trees near the intersection of Mohamed Mahmoud and Youssef El-Guindy Streets during clashes with police in Cairo. (Andrew Katz)
---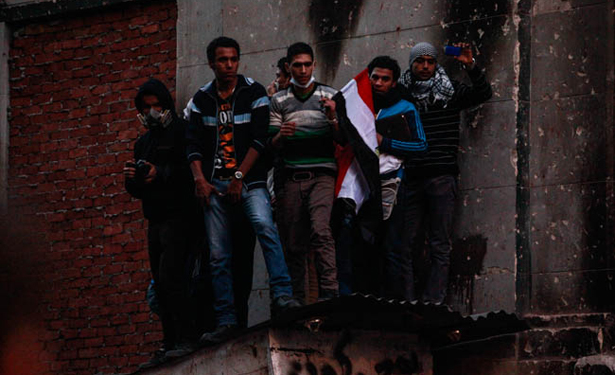 A group of protesters are elevated above a large demonstration near the intersection of Mohamed Mahmoud and Youssef El-Guindy Streets during clashes with police. (Andrew Katz)
---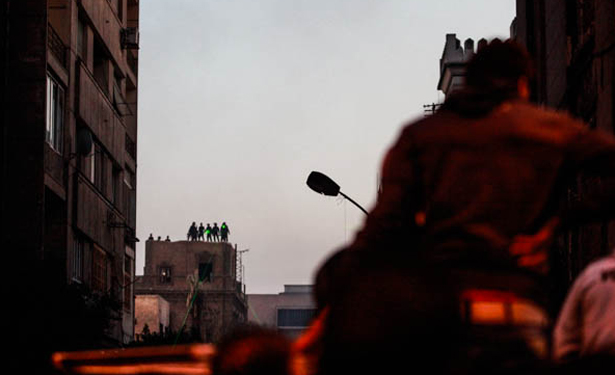 A group of police officers stand atop a building near the intersection of Mohamed Mahmoud and Youssef El-Guindy Streets in Cairo as they clashed with protesters and dispersed tear gas. (Andrew Katz)
---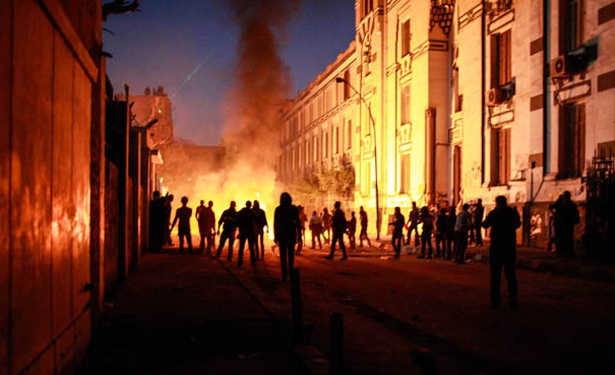 A group of protesters set fires near the intersection of Mohamed Mahmoud and Youssef El-Guindy Streets in Cairo during clashes with police. (Andrew Katz)
---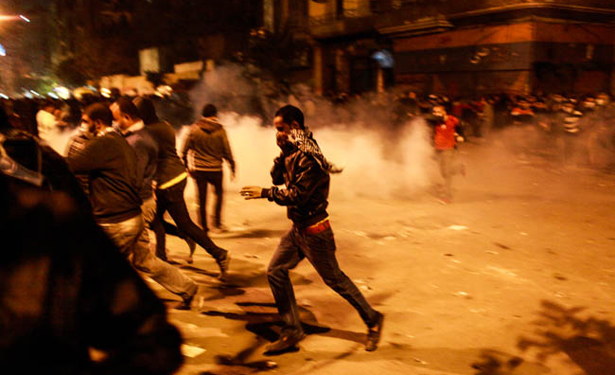 Protesters briefly clear the intersection of Mohamed Mahmoud and Youssef El-Guindy Streets in Cairo on Friday evening seconds after police officers shot tear gas canisters from a roof on Friday, Jan. 25, 2013. (Andrew Katz)