The Death of Fatah and the Future of Palestine
On its 48th anniversary, the storied political party grapples with endemic failure and no way forward.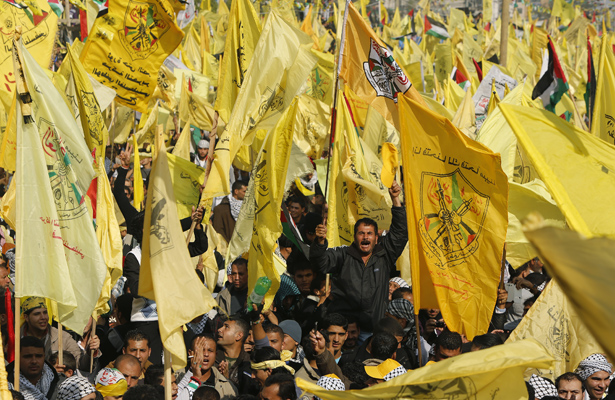 RAMALLAH -- After nearly a half-century of existence, Fatah has left many loyalists and critics alike pondering its accomplishments. On New Year's Eve, the Palestinian political party -- which has led the Palestine Liberation Organization (PLO) for decades and currently holds the presidency of the Palestianian Authority (PA) -- celebrated its 48th anniversary. In Ramallah, a few thousand mostly young men marched across the West Bank city to the Muqata', the headquarters of the PA president and Fatah leader, Mahmoud Abbas. The streets were lined with the party's younger supporters, some elderly veterans clad in military fatigues and several high-ranking members of the group's leadership who are based in the West Bank.
As the marchers converged upon the headquarters -- once a ravaged icon of the second Intifada, today it stands a revamped modern military compound -- many started to trickle away. Addressing the enthusiastic group that remained, Abbas, looking every day of his 77 years, spoke of Palestinian leaders of years past. He started with Yasser Arafat, a Palestinian figure unrivaled in his persona, then moved on to Abu Jihad and Abu Eyad -- both icons of Palestinian resistance -- and Sheikh Ahmed Yassin, Hamas's late spiritual leader, whose group Fatah has been at loggerheads with since it wrested control of the Gaza Strip in 2007.
Abbas recited the litany of names as if lamenting his party's failure to deliver a unifying leader since Arafat to guide Palestinians through exceptionally troubling times: a moribund peace process, dire economic circumstances brought about by dwindling international aid, mushrooming Israeli settlements, and a political and geographical rift with the Gaza Strip.
Besides the marching band and the rally, few people in town seemed aware, let alone interested, in the festivities. Discussion of the economy and the E1 Israeli settlement plan dominated TV and radio station talk shows and café conversations. On the domestic political front, Fatah hasn't been faring as well as should be expected on its home turf. During last October's municipal elections, only 54 percent of eligible voters turned out to cast their ballots. Despite a Hamas boycott, Fatah was unable to present a unified front and many of its members broke with the party line by running on independent platforms.
During that election season, few running candidates spoke of resistance and liberation, instead focusing mainly on economic issues, services, and development. Palestinians have increasingly become frustrated with their volatile financial situation, which sent them pouring into the streets in protest a few months ago, only to be met by baton-wielding PA police officers. Many demonstrators report being detained for questioning by security services before they even reach Israeli checkpoints or military bases, prompting some to label the PA a tool for crushing internal dissent at best -- and Israel's security guards at worst.
There are several other issues on the table that Fatah has to address besides an angry constituency, but none as pervasive and urgent as the discord with Hamas. The feud has been lingering since 2007, punctuated by several attempts at reconciliation with Egyptian and Qatari mediation, all of which have failed to materialize. The recent between Hamas and Israel has ushered some conciliatory steps between the two Palestinian groups that so far only secured the release of many incarcerated members and loosened restrictions on public visibility. As a direct result of this, hundreds of thousands of Fatah supporters rallied in Gaza City earlier this month to commemorate the group's 48th anniversary. This was the first time since 2007 that Fatah has been allowed to publicly celebrate its founding in the coastal enclave, in a move some attribute to Hamas' newfound confidence in light of redefined regional dynamics in favor of political Islam.
But aside from authorizing festivities on each other's turf, the split has so far proved irreconcilable. Hamas still retains hold of the Gaza Strip while Fatah controls the West Bank, and the two maintain different visions of how to resist Israel's occupation of Palestinian territory. Without a unified Palestinian front or a future strategy, Fatah has been going it alone, using whatever means it has available outside of armed resistance. Each of its strategies has failed, calling into question its viability.
The UN Status Bid
Months ago, Abbas described the pitch to upgrade the Palestinians' UN status to non-permanent observer as "the only way to address the assault of settlement activity and to save the two-state solution." But in stark contrast with the hullabaloo of last year's bid for full statehood recognition at the international body, sentiments were a mixture of ambivalence and skepticism. While a feat in its own accord, some Palestinians dubbed it a publicity stunt aimed at shoring up legitimacy for the PA -- the governing entity backed by Fatah -- after years of outliving its mandate. Others were angry that the UN move meant giving up on the right of Palestinian refugees to return to Israel. In the Gaza Strip, Palestinians questioned the benefits such a move would have on narrowing the chasm between the two groups.
Resorting to the ICC
In just one December week, the government of Israeli Prime Minister Benjamin Netanyahu pushed forward proposals to build more than 11,000 settlement units. Faced with this unprecedented flurry of plans to build mostly in and around Jerusalem, Abbas and numerous officials threatened to turn to the International Criminal Court (ICC). It was not long, however, before Abbas clarified his position to Ha'aretz: "I won't do anything as long as there are diplomatic negotiations." Even if the Palestinians did turn to the ICC, there's no guarantee that the court would take up their request to begin with. As David Luban notes in the Boston Review, the ICC prosecutor could cite the existence and capability of the Israeli legal system to handle such matters as a reason for it not to hear the case. And should it hear the case and indict Israeli officials, the court has no policing arm, and detaining them would be left to Israel or its allies--a move also highly unlikely to happen.
Threats to Dismantle the PA
On the heels of the ICC threats came threats from Abbas of dismantling the PA and forcing Israel to resume responsibility for the West Bank's Palestinians if peace talks don't recommence. The likelihood of Abbas turning over the keys of the Muqata' is inconceivable at a time when Fatah has yet to recover from the strategic loss of the Gaza Strip to Hamas. The Islamic movement quickly picked up on Abbas's threats: In a Facebook post, Hamas Deputy Politburo Chief Mousa Abu Marzouk wrote that his group would be a better option for managing the West Bank since "it has managed to survive the siege imposed on the Gaza Strip, and achieved victory in several wars waged against the movement."
The frequency of Abbas' threats, dating back to 2008, also leaves room for doubting their seriousness, instead showing them to be a form of saber-rattling. Should such a move actually be taken, it could spell the end of tens of thousands of Palestinians' dependency on the PA for their livelihoods, such as in 2006, when a Hamas/Fatah unity government was cut off by its international donors. Further, it is not at all likely that Israel would step in and assume responsibility for the 2.7 million Palestinians it occupies in the West Bank. The more feasible scenario regarding the PA's dissolution is that the authority may fall apart on its own without the resumption of international aid and the transfer of the monies Israel collects as taxes on its behalf. This too is unlikely, as Israel has no interest in returning to the pre-Oslo responsibility of administering the daily lives of Palestinians in the West Bank again.
Emphasis on Non-Violent Resistance
There is a chasm between Fatah's old guard and some of the younger loyalists, who, despite their allegiance to the party, are unhappy about Abbas's sidelining of Fatah's central committee. His work on ensuring the implementation of security coordination with Israel mentioned above has left some members dismayed and earned him a reputation of resorting to empty rhetoric that does not resonate with the Palestinian street. More Palestinians are growing weary of his sole emphasis on civil disobedience and nonviolence, calling it outdated at a time when Hamas is flaunting its ability to fire rockets into Tel Aviv and Jerusalem and extracting concessions from Israel as a result.
These various maneuvers, combined with a general apathy prevailing on the streets, have put the group's future in question. Its elite is not interested in paying the price, which would result from a return to armed resistance, and its younger members are growing wearier of the usual slogans and tactics, all the while a resurgent Hamas is gaining momentum. It is a precarious time for the Palestinians' largest political organization. The PA and arguably the peace process are depending on a strong, guided movement. In its absence lurks an increasingly emboldened political Islam, waiting in the wings.