The 6 Most Important Things Chuck Hagel Will Tell the Senate Tomorrow
Key statements from the Obama nominee's testimony, today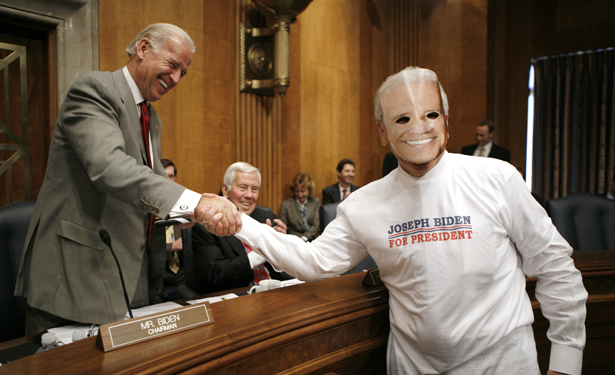 Senator Chuck Hagel (R-NB), (R), dressed up for Halloween as Sen. Joe Biden, shakes hands with the real Senator Biden (D-DE). (Kevin Lamarque/Reuters)
Obama's nominee for secretary of defense jumps into the hotseat Thursday to answer Senate questions as part of his confirmation process in what is basically the longest, most public job interview ever -- except that many of the questions Hagel will have had access to beforehand. The Atlantic managed to obtain a copy of the questions, as well as Hagel's prepared responses, and here we've highlighted the more noteworthy passages. Some are more interesting for the questions than the answers; Hagel gets grilled on cybersecurity in addition to the anticipated sequester, private military contracting, the dangers of allowing foreign companies to invest in U.S. defense, and the recently repealed "Don't Ask, Don't Tell" policy on gays in the military. We've underlined the interesting bits in red.
EMBASSY SECURITY

It's important to point out that embassy guards' key job is, a little counterintuitively, not to defend the compound -- it's to help destroy sensitive stuff in an emergency. Hagel may be interested in changing that.
DON'T ASK, DON'T TELL

Hagel bore the brunt of some criticism early on when his left-wing critics brought up his opposition to a gay Clinton-era appointee. Earlier this month, Hagel apologized for those comments, which he made over a dozen years ago. Now he offers a rock-solid commitment to gay and lesbian members of the military.
CYBERSECURITY

There are two things worth pointing out here. First is Hagel's open statement that the United States has "successfully deterred" major cyberattacks. This is in contrast to repeated warnings that Washington is in danger of suffering a cyber-9/11 or a cyber-Pearl Harbor. The threat is still a big concern (and how would you know, anyway, that you'd "deterred" an attack if it wasn't attempted? Does he mean "defended against"?) but it's comforting to know the news isn't all bad.
The second cyber-related item is one of those that's more interesting for the question than the answer. Here, the Senate hints at the future of America's Cyber Command. CYBERCOM is what's known as a sub-unified command, meaning that each of the armed services contributes jointly to the organization. If the following question is any guide, the Pentagon may soon elevate CYBERCOM to the same status as the U.S. Special Operations Command:

FOREIGN INVESTMENT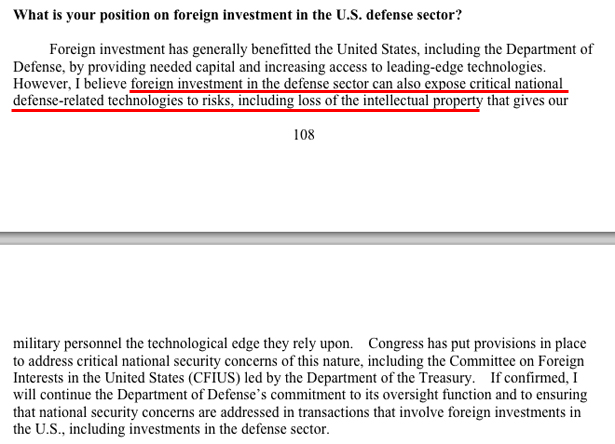 In another revealing example, the Senate committee later asks what Hagel thinks about foreign investment in the U.S. security sector -- a veiled reference to recent Chinese attempts at gaining access to U.S. markets. Back in October, the House launched a broadside against Huawei and ZTE, two Beijing-linked telecom firms, over worries that their wireless equipment could be used to spy on American activities. It's interesting to see how greatly corporate security figured into Hagel's confirmation interview.
CONTRACTING AND PRIVATE SECURITY

A surprising share of the questions directed at Hagel concerned the overuse of contractors (a few more examples here, here, and here). Hagel walked the line between "we need them!" and "let's not get carried away." Above, he makes a remarkably specific case for when and when not to use private security that is ruthless about setting out the agency's core functions.
Hagel on the sequester is about what you'd expect. He's also says all the right things about his commitment to Israel, something that Hagel's right-wing critics took him to task for. And in an echo of outgoing Defense Secretary Leon Panetta, Hagel even makes reference to the "hollow force" that would result if deep budget cuts take effect.
Hagel still has to sit before his former Senate colleagues tomorrow. But this early look at what he plans to say suggests he's on the right track.