Secret Memo: Maybe Syria Really Did Gas Its People
The circumstantial evidence unearthed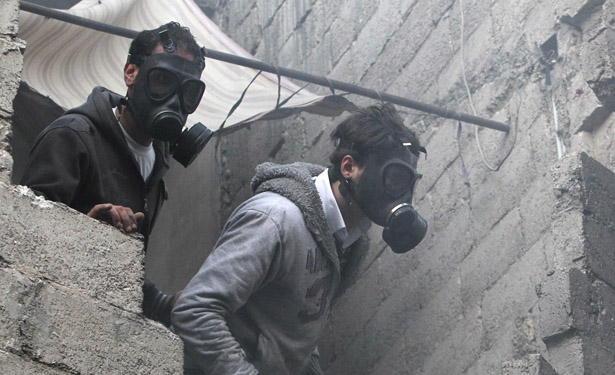 Muzaffar Salman/Reuters
Over at Foreign Policy, Josh Rogin reveals the text of a secret diplomatic cable allegedly showing that Syria did, in fact, use poison gas against its people. Although U.S. consular officials stopped short of confirming the use of chemical weapons, the investigators cited in the report shine some light on a situation that had previously been almost totally opaque.
Charges of chemical weapon use in Syria have been a longstanding issue. Reports from last month narrowed down the list of possible deployed substances to Agent 15, which isn't as deadly as other gases like sarin or mustard gas but can lead to paralysis, breathing difficulties and nausea.
It's already clear the Obama administration won't be getting involved despite its early indication that chemical-weapon use represented a "red line." Earlier this month, State Department spokesperson Victoria Nuland may have alluded to the cable obtained by Foreign Policy when she dismissed as not credible reports from doctors who'd treated patients with symptoms "consistent with poisonous gas inhalation.
Here's the relevant part of the leaked cable:
"CSO officers spoke with three contacts, including a former Chief of Staff of the Syrian Arab Republic Government (SARG) chemical weapons arsenal, and confirmed the events and the symptoms and the number of casualties. CSO is not able to definitely say whether chemical weapons were in fact used in the December 23 attack." ...
Rogin adds:
The consulate's report also noted that one contact did not believe the gas could have been tear gas or phosphorous because none of the victims had burns on their bodies, as would be common with a phosphorous attack.

The consulate's contact also reported that most victims had dilated pupils, which contradicts the account the two doctors gave to The Cable, in which they said that most victims had pinpoint pupils, also known as miosis.


BASMA and SLN contacts reported to the consulate that seven people were killed by the dispersed gas and 50 more victims were treated in a field clinic. The seven dead were buried and videos of their burial "clearly show the absence of visual injuries," the cable stated.