Nigeria's Presidential Campaign Has Started—Two Years Early
A controversy over mysterious posters for incumbent president Goodluck Jonathan, who hasn't said whether he will run in 2015, offers a window into the country's fractious politics.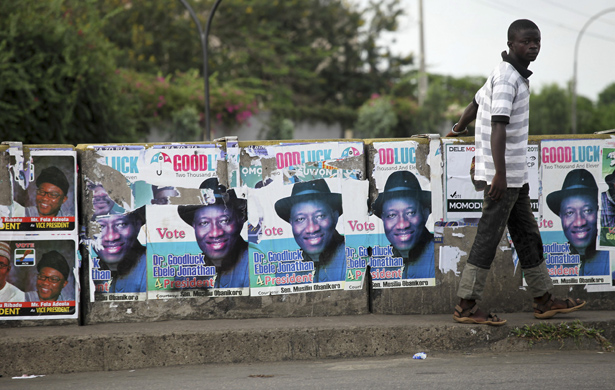 Nigeria's presidential elections are over two years away. Elite politics are already focusing in on them, however.  Opposition parties are negotiating a possible united front against President Goodluck Jonathan's Peoples Democratic Party (PDP), while the president's intentions remain the stuff of political gossip.  Up to now, Jonathan has refused to say whether he will run in 2015.

On New Year's Day 2013, however, campaign posters supporting a second term for Jonathan mysteriously appeared in many prominent places around Abuja. The president has denied any knowledge of them and reiterated his refusal to declare whether he will run again. His spokesmen are saying the posters are the work of those who want to embarrass the president. The Nigerian newspaper Leadership "gathered that the president is seriously upset with the development because he felt it was a ploy by mischief makers to make it look as if it was another shocker from the presidency, just the way the fuel subsidy episode emerged in January 2012."
Opposition figures, however, are saying that the posters are designed to "draft" the president into running. Some of them are taking the poster episode as a hook to criticize the president.
Jonathan supporters are calling on the security services to launch an investigation.
Two, contrary hypotheses suggested themselves. One is that Jonathan's supporters were, indeed, trying to press the president to run and building support for him. Another is that it was a deliberate effort to embarrass the president.  Jonathan's opponents appear to support the first, while his allies support the second.
Nigerians are politically outspoken and freedom of speech is usually respected.  So why is this a tempest in a teapot? At least part of the answer may be the power any incumbent president has to shape the Nigerian political agenda, and the virtual certainty that he will be re-elected if he chooses to run again. But, Jonathan is widely unpopular in many circles, and may wish to announce his candidacy (which as of now I think is virtually assured) at an optimal time of his own choosing.
---
This post appears courtesy of CFR.org, an Atlantic partner site.