More on the Chen Guangcheng Speech
1) Here is a beautiful photo by Patrick Yuen, used with his permission, that captures the mood and drama of Chen Guangcheng's presentation at the National Cathedral last night.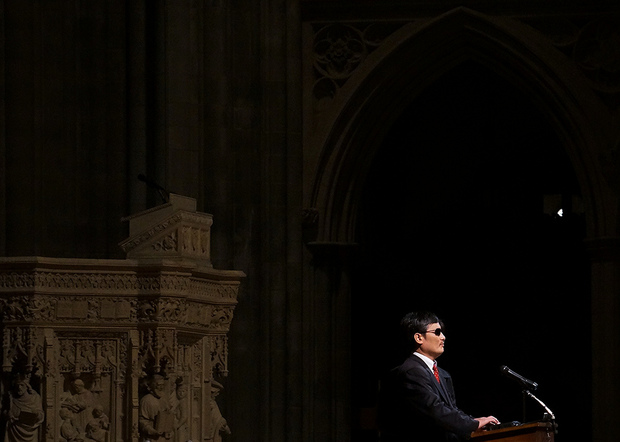 The picture is from more or less the place where I was sitting and distills the hold that Chen Guangcheng had over the audience as he spoke.
2) In addition to the Washington National Cathedral's own webcast of the event, another MP4 video of the whole session is available here.
When I find a transcript of the speech as a whole, I will mention it. But here is another sample section, about the role and potential influence of foreigners:

I'm often asked what the international community can do to help promote democracy and rule of law in China. I sincerely hope that people around the world will lose their fear of offending China because it's rich and powerful. I want people to stop turning a blind eye to the abuses that people throughout China are suffering. Stop supporting the myth that anyone who urges the Communist Party to abide by their own laws will be retaliated against and be treated as an enemy of the state. Don't do anything on the basis that China's rulers will be pleased or not pleased

In the last part of the panel discussion, Jerome Cohen, Cheng Li, and Dorinda Elliott enlarge on what this means in practice.
3) The latest Chinese-based hacking attacks against the New York Times, the Wall Street Journal, CNN, and other news outlets may well have occurred at a level where passwords on individual accounts don't offer protection. Nonetheless, I've used this as an occasion to change all my important passwords, which I've done today. (Background point one: this piece. Background point two: I use and like LastPass.)
Of course, we must maintain an open mind about these episodes. Heed the words of the Chinese foreign ministry, which says that the idea of Chinese hacking is "groundless":

"To arbitrarily assert and to conclude without hard evidence that China participated in such hacking attacks is totally irresponsible," said spokesman Hong Lei.

"China is also a victim of hacking attacks. Chinese laws clearly forbid hacking attacks, and we hope relevant parties takes a responsible attitude on this issue."

Noted. For the record, here is Chen Guangcheng last night on what Chinese laws "clearly forbid." Let's hope his assessment proves too harsh:

In China, the law is optional, something that those in power use when it suits them and ignore when it doesn't. The law in China is nothing more than empty words, just scraps of paper.