Mokhtar Belmokhtar, the Terrorist Behind Algeria's Hostage Crisis
Turns out the al Qaeda-affiliated militant has been on a UN watchlist since 2003.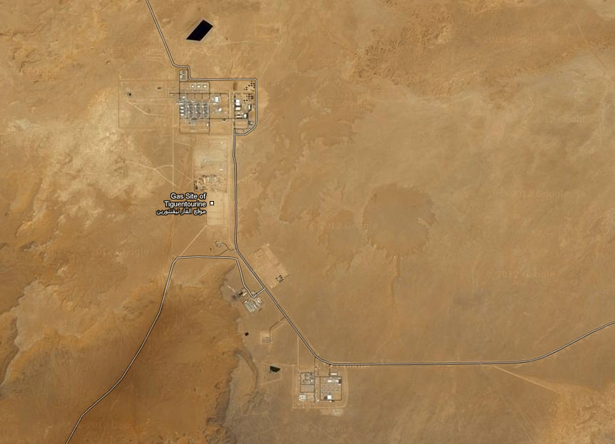 Google
The energy company BP is now pulling non-essential personnel from Algeria in the midst of an ongoing hostage crisis that so far has resulted in the death of at least 34 captives:
ALERT: BP is withdrawing non-essential workers from Algeria, says situation remains unclear, seeking updates.

-- CNBC (@CNBC) January 17, 2013
The Atlantic Wire's Dashiell Bennett is tracking new developments in real time, but here's what news reports generally agree upon: shortly after 4 a.m. GMT on Wednesday the 16th, militants attacked a gas plant operated by the energy giant BP, taking 41 foreign workers hostage as well as hundreds of Algerians. Some have managed to escape on their own; others were reported accidentally killed by Algerian forces in a military operation that took place early this morning Eastern time.
In Washington, policymakers are still trying to figure out how to respond. Defense Secretary Leon Panetta has called the incident a "terrorist attack." Michigan congressman Mike Rogers, who heads the House Intelligence Committee, told Politico that the militants behind the Algeria crisis will only become more threatening if the United States doesn't deal with them "swiftly and effectively."
Who exactly is responsible? Reports indicate these guys, al-Mua'qi'oon Biddam, whose leader, Mokhtar Belmokhtar, is thought to be among the dead:
Belmokhtar, who is also known as Khalid Abu al Abbas, long served as an al Qaeda in the Islamic Maghreb (AQIM) commander, but had a falling out with the group's senior leadership. Late last year, he formed his own splinter group, but that group still answers to al Qaeda's senior leadership.

Belmokhtar was designated an al Qaeda-affiliated terrorist by the United Nations in 2003. The UN described him as "a former Algerian soldier with experience in training camps in Afghanistan" and explained that he had belonged to the Salafist Group for Call and Combat (GSPC), as well as its successor, al Qaeda in the Islamic Maghreb.

Belmokhtar has compiled an extensive dossier of illegal activity, according to the UN, including kidnappings, gunrunning, robbery, "forming terrorist groups," and murder. He also reportedly runs an extensive cigarette smuggling operation.
And here's part of an interview on Belmokhtar's beginnings, via France 24: