Khomeini's Granddaughter Gives Iran Some Tough Love
And she believes that the Islamic Republic has no choice but reform.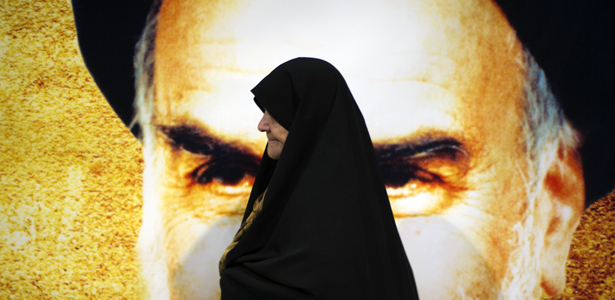 According to Zahra Eshraghi, whose grandfather, Ayatollah Ruhollah Khomeini, founded the Islamic republic, Iran "is on the edge of the precipice."
Eshraghi -- who is married to Mohammad Reza Khatami, the brother of former reformist President Mohammad Khatami -- recently gave an interview to the Iranian website Anarpress and said, "Everyone knows that the country is facing a critical situation."
She said politicians should find a solution quickly to the crisis the country is facing, though it may be too late.
"Maybe they thought we could act independently and that we don't need the world," she said. "We should be up front. As much as [the West is] likely to need us, we need them."
The 49-year-old mother of two also talked about the negative impact sanctions are having on the Islamic republic.
"For example, Tehran's air pollution," she said, "for which the sanctions -- and the bad gasoline that is being used - are to blame. This pollution should be considered a silent death, meaning that we in Tehran are breathing poison every day."
Eshraghi said the country is in a "red" -- or high -- alert situation. Cars and traffic are the main contributors to Tehran's critical level of air pollution and Western sanctions on fuel imports have forced the country to rely on locally produced gasoline, which is said to be more polluting. Asked whether she feels hopeful about Iran's future, she answered that only reforms can save the country from the crisis it is facing.
"If these people remain with the same thinking, nothing will change because this way of thinking does not want Iran to progress and bring peace and calm," she said. "The only way for them is to accept reforms."
​​Eshraghi, an active Facebook user with a large following, also said she has heard that the social-networking site will soon be unblocked by the regime.
"Only now [authorities] have understood that [such a] platform cannot be harmful," she said, adding that she has learned much from her interactions with young Iranians on Facebook.
The social-networking site is a good tool for gauging public sentiment, she said.
"From the number of likes and comments I get on pictures I post, I can understand whether that individual is, at the time, popular or not," she said. "For example, I posted pictures of Hassan Khomeini (Khomeini's prominent grandson) and [Mohammad Khatami]. I've told them many times that their pictures received few likes, and it shows that their popularity has decreased."
Elsewhere in the interview, Eshraghi, who under Khatami headed the youth department of the Interior Ministry, criticized President Mahmud Ahmadinejad for preventing the work of nongovernmental organizations, which had flourished under his predecessor.
She said she and many other people in the NGO field were forced to stop their activities after Ahmadinejad came to power.
Eshraghi also said that because of the vetting of election candidates by the powerful Guardians Council, reformists cannot introduce any strong candidates.
"[Reformists] cannot present anyone because there is a filter called the Guardians Council," she said.
Asked about pressure by the regime on former President Akbar Hashemi Rafsanjani, she said Khomeini once referred to him as "a pillar" of the 1979 revolution.
"I've heard [Khomeini] tell [Supreme Leader Ayatollah Ali Khamenei], "When you and [Rafsanjani] work hand in hand together, the revolution will be. And when you separate from each other, the revolution will disintegrate."
Rafsanjani, whose influence has significantly diminished in recent years, has come under criticism for refusing to speak out against the opposition Green Movement.
Rafsanjani's daughter, Fazezeh, is currently in jail and his son, Mehdi Hashemi, is free on bail.
---
This post appears courtesy of Radio Free Europe/Radio Liberty.