In Mozambique, a Glorious Inn Becomes a Slum
Beira's once-elegant Grande Hotel has become the world's largest squatter village.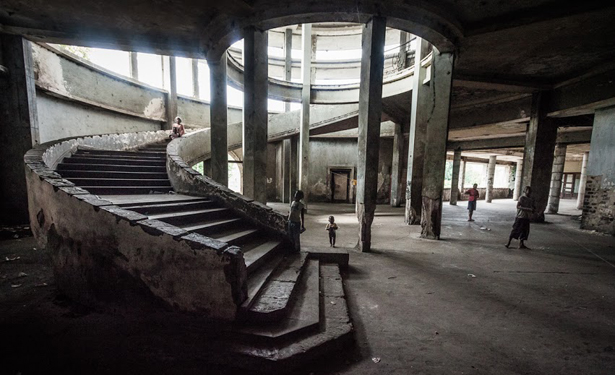 Vlad Sokhin
Over the course of any given day, people move constantly through Mozambique's Grande Hotel, retracing the steps of guests who used to climb staircases curved like seashells, and ate meals with a view of the Indian Ocean. Once billed as the "Pride of Africa," the hotel still throbs with the activity of a place where thousands eat and sleep -- but no one here is a guest or employee. Instead, the building stands ransacked and crumbling. Its walls are etched with mildew, and its residents are squatters: a veritable city of roughly 6,000 people who've transformed the space into the biggest squatter community in the world.

At the start of each day, several dozen people set up shop throughout the hotel, swatting flies from tables piled with items like cookies and bananas, as well as condoms and bootleg gin, which they sell to other residents. Some people take bucket baths in their rooms, or behind makeshift curtains in hallways and courtyards, and a few make their way into the city of Beira to work coveted jobs as maids and truckers. For many others, a day becomes an exercise in burning time.
"All we want is to work so we can go back to our homes, but there are no jobs," says Arlindo Wafero, who's lived in the hotel for over 30 years. Wafero passes the time teaching himself French, a broken pair of women's reading glasses on his nose.
Ramah McKay is an anthropologist who works in Mozambique; she says that this lack of opportunity illustrates growing pains that are still being felt two decades after the end of a civil war.
"In many ways, post war recovery has been really successful; violence ended in a dramatic way, the economy is growing," says McKay. "But that growth has been unequal, and one of the effects is that some people have changed their lives dramatically, but other people are stuck in limbo."
Limbo could be the motto of the Grande Hotel. When it opened in 1954, the modernist building was meant to be the most opulent tourist destination on the continent. Situated on a major port not far from booming South Africa, Beira's graceful architecture and Mediterranean climate made Portuguese developers believe it would be the perfect spot for a hotel, as well as a magnificent casino to lure even more visitors.
But the Catholic Church pressured them not to build the casino, the wave of guests never arrived, and the cost of maintenance proved too high. After less than a decade, the Grande Hotel was shuttered in 1963. Subsequent plans to revive it as a resort were then shelved as the country tumbled into war in the early 1970s -- first a war for independence from Portugal, then a civil war that lasted until 1991. The hotel was appropriated by the military, which used the basement for holding political prisoners, while officers lodged their families in the guest rooms. Meanwhile, the relative security that troops provided the city attracted thousands of refugees. As the military vacated the hotel, those refugees moved in; current residents estimate that by that point there were several thousand people living inside.
About a decade ago, ownership was transferred from private hands to the city of Beira. Yet even municipal employees admit little has been done for the building or the people inside. Residents say that from time to time, there was talk from the government about selling it to international investors, or from the residents themselves, who thought a NGO should take it over. None of that happened.
Walking through the building today, it's hard to imagine the hum of guests waiting in the lobby, or bellhops whisking luggage into elevators -- or a lobby or elevators at all. After the end of the civil war, the furniture was carried off, and the parquet was gradually pulled up. Eventually, as people got more desperate, doors even were pried from their hinges, plaster torn from walls, glass knocked from windows, and plumbing and wiring ripped out to hawk. Even the elevators have been taken away, leaving gaping shafts that claim a few lives each year. The place has been stripped to bare concrete, often echoing with idle shouting.
Once, some semblance of order and self-government held sway in the form of a residents' association; about a dozen members elected to do things like coordinate space, security, and access to water. But things changed in recent years, according to João Gonçalves, the association's current leader. "We had meetings, we picked up trash together; we made decisions," he told me, as we crouched over my flashlight in the windowless basement chamber he shares with a dozen family members. After a few decades, he says, residents have finally gotten burned out. Crime is on the rise, and organization is non-existent. "Now when I try to speak up or organize people, my own neighbors insult me."
Ramah McKay, the anthropologist, says that this sense of lost solidarity is common throughout the country. McKay believes the Grande Hotel is an extreme example of the challenges that stalk Mozambique's post-war recovery -- and the disparity recent foreign investment and economic growth has only highlighted.
"People say, 'There was a moment where we all felt we had something shared and at stake,' and that it's faded. And their nostalgia for the past is a way of talking about the present, too. About how the present is very much every man for himself."
---
Annie Murphy reported this story during a fellowship with the International Reporting Project. More photos of the Grande Hotel by Vlad Sokhin are available on his website.