How Not to Beat the Rush for Chinese Train Tickets
One couple thought they had a foolproof method. The law disagreed.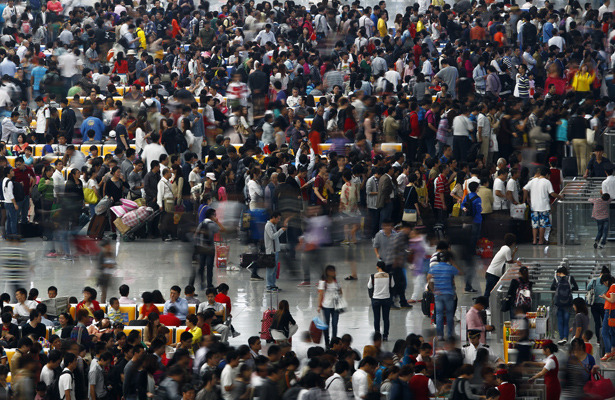 In freewheeling and fast-growing China, providing an innovative service might be enough to get rich. In the case of China's tightly regulated train ticket market, however, it is enough to get arrested.
The story begins with the approach of China's most important holiday the Spring Festival, which this year falls on February 10. Every year during the holiday season, more than 2 billion passenger journeys are made over a period of 40 days, placing tremendous strain on China's trains, planes and automobiles, and leaving train tickets in scarce supply. While those with Internet access can purchase tickets online with increasing ease, for millions of migrant workers who can't get on the web, the only choice is to spend hours -- even a whole day -- lined up outside for a ticket which may already be sold out. Many who don't get their tickets in time are forced to buy from illegal scalpers, who often charge 100 RMB (about US$16) extra -- or worse, sell them counterfeit tickets.
So when newly-wed couple Mr. Zhong and Ms. Mo began offering a 10 RMB (about US$1.60) ticket-buying service in the provincial capital of Guangzhou, hundreds of busy migrant workers in the city were only too happy to spring for the fee, which is roughly the price of a bowl of noodles in a typical Guangzhou noodle shop. But on January 9, the couple -- who openly advertised their services outside their small shop -- were arrested for selling train tickets without a license, which is illegal under Chinese law.
While the authorities were quick to defend the couple's arrest, saying that strict regulation was necessary to prevent fraud and ticket scalping, many of Mr. Zhong and Ms. Mo's customers were eager to speak out on their behalf. "They didn't charge us an exorbitant fee," a factory worker named Mr. Zhang told Sina News. "A 10 RMB service fee for getting a train ticket is a real deal, why have they been arrested? A round trip to the train station [to buy a ticket] would cost me more than 10 yuan, and I might not even get a ticket."
Another worker was concerned about how he was going to buy his ticket home now that the young couple's services were no longer available: "I have to work everyday, and have no time to go stand in line. At the factory, I have little opportunity to access the Internet."
The issue also received a great deal of attention on Sina Weibo, a Chinese microblog platform similar to Twitter, receiving well over 10,000 comments. Weibo users also rushed to the couple's defense, with some also expressing frustration with the rigid bureaucracies that allow consumer needs to go unheeded in this, and many other, sectors of China's economy.
Many users lamented that ticket regulations were too strict, or thought that they needed to be adjusted so that market needs could be met. @一肚子坏水0 wrote, "As long as there exists an immense need among the people, regulations just can't be too rigid. This [type of service] shouldn't be attacked, but rather made use of." @徐亚晶commented that you can't "touch or argue with" bureaucratic monopolies.
Others were frustrated that the couple was arrested for providing a service badly needed by some of China's poorest citizens. @Oover嬌O wrote, "How many migrant workers can get online? ... The system has got problems; you can't blame people when they take advantage of an opportunity!" @移不动联不通2012asked rhetorically whether the authorities could "tell the difference between a 10 yuan service fee and a scalper ripping customers off? Both sides were perfectly satisfied but the government just had to get involved and screw things up."
Whether these calls to make train tickets more accessible to China's migrant workers are heeded by the powers that be, they likely provide cold comfort to Mr. Zhong and Ms. Mo who will spend their holidays in detention.
---
This post also appears at Tea Leaf Nation, an Atlantic partner site.