Hillary Clinton and the Case for De-politicizing Foreign Policy
She effectively implemented the president's foreign policy, but but the next Secretary of State likely won't be as influenced by domestic political concerns.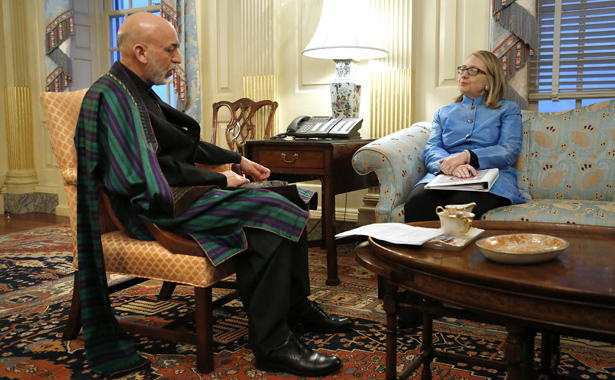 WASHINGTON - Secretary of State Hillary Clinton Thursday hosted a working dinner here for Afghan President Hamid Karzai - one of her last official meetings with a foreign head of state.
On paper, Karzai's talks with Clinton are historic. A famed American political figure is helping negotiate the end of the longest war in U.S. history -- a 12-year odyssey that has claimed 2,100 American lives and more than $600 billion in treasure.
But Karzai's visit is being greeted with a yawn. There has been more media coverage of Clinton's exhaustive travel, physical appearance and political prospects in recent days than her wartime diplomacy.
Clinton is partly to blame for this dynamic. She has been a very good but very cautious secretary of state, who kept her distance from Afghanistan and other seemingly intractable conflicts. Clinton established a strong relationship with President Barack Obama, was innovative and worked tirelessly, but her position as a potential 2016 presidential candidate clearly influenced her performance.
One State Department official praised Clinton's tenure, but talked about looking forward to the arrival of her presumed successor, Senator John Kerry.
"I came to admire Clinton as secretary of state," this official said, "her focus on women and innovation in particular. But am really happy to have someone in the job who does not retain political ambitions."
A former State Department official said much the same. Clinton was "brilliant," but her aides' primary concern was how her actions as secretary of state would affect her political standing in the U.S.
"They were running the State Department like her Senate office," said the official, who asked not to be named. "It was a political minders' approach."
Clinton, of course, is one of hundreds of politicians to serve in presidential Cabinets. Outgoing Defense Secretary Leon Panetta is a career politician. As is incoming Defense Secretary Chuck Hagel. And to Clinton's credit, she has made sweeping reforms at the State Department and modernized the staid world of American diplomacy.
Still, her tenure is a marker of how politicized our approach to foreign policy has become. Clinton is not alone. Obama and his inner circle have politicized foreign policy as well.
After promising a sweeping break with the approaches of President George W. Bush, the Obama White House has proved just as insular and controlling of foreign policy as the Bush administration. In fact, Obama and his inner circle has arguably proven more political.
Loath or love Bush, he embarked on a risky, unpopular and open-ended troop surge in Iraq. The Obama administration, by comparison, backed an 18-month surge in Afghanistan - just long enough to protect it from charges of being soft on terrorism. And just short enough to telegraph to the Taliban and their backers in Pakistan's intelligence service  that they simply needed to wait the U.S. out.
I support Obama's plan to draw-down U.S. troops in Afghanistan. Karzai has proven enormously corrupt and failed to assemble an effective government despite vast amounts of foreign aid. The best hope for the country is a new leader, peace talks with the Taliban, a small American residual force and continued U.S. funding of Afghan security forces.
But with the exception of the Libya intervention and the raid that killed Osama bin Laden, Obama's first-term foreign policy was marked by cautious, political calculation. Members of his foreign policy team rightly point to the president's re-election as proof that their approach worked. A more decisive Obama approach in foreign affairs, though, may have helped him at the ballot box.
To be fair, Obama and Clinton are reacting to Bush's disastrous invasion of Iraq. But the pendulum is now swinging too far toward a smug isolationism, driven by short-term domestic political calculations. As Clinton departs, worrying trends are emerging in the way America engages with the world.
The new U.S. weapon of choice is the drone strike -- a tactic that spreads anti-Americanism abroad but carries zero political risk at home.
Foreign policy conundrums that threaten American security in the long-term are increasingly seen as "entanglements" best avoided. There is also a convenient view that there are no "good guys" in the complex conflicts and political struggles now emerging throughout the post-Arab Spring Middle East.
The lesson of Iraq is that American invasions are not the answer. But neither is isolation.
Traditional American diplomatic engagement is needed in the Middle East, including efforts to resolve the Israeli-Palestinian conflict. At the same time, new means of diplomacy -- what Clinton called "smart power" -- should be carried out as well. U.S. trade, technology and private investment - not simply drones - should be used to counter militancy.
Clinton deserves credit for restructuring the State Department and embracing innovative new forms of diplomacy. Stephen D. Krasner, a Stanford University professor who served as the State Department's director of Policy Panning under George W. Bush, praised Clinton for restructuring the department for a changed world.
"It was organized for a world of fairly well-governed states," Krasner said. "Now, we have a number of states that are not well governed. It's really a different situation."
Kerry will be an able secretary of state. But whether U.S. diplomacy changes in Obama's second term depends on the president himself. Since his re-election, Obama he has shown flashes of boldness on the domestic front. He should do the same abroad.
---
This post also appears at Reuters.com, an Atlantic partnter site.