Don't Expect China to Abolish its Labor Camps
... Not anytime soon, anyway.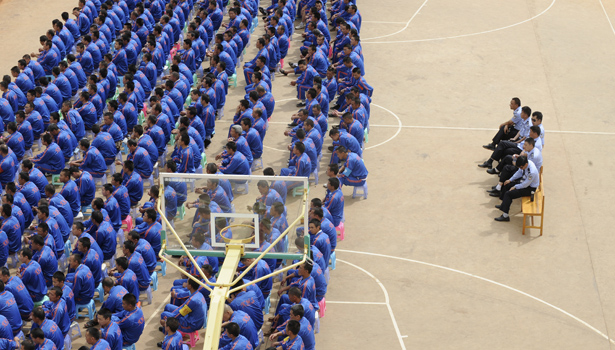 Last week, china's "Re-education Through Labor" system returned to the center of public attention.
Re-education through labor, or laojiao in shorthand Chinese, has long been a reviled means for police to jail Chinese citizens without due process. In 2011, laojiao was used to sentence a young man named Ren Jianyu to two years in prison for re-posting online sentiments critical of the government. In August of 2012, it was used to sentence a woman named Tang Hui to 18 months in prison for protesting what she felt was a too-lenient sentence given to two men who raped her daughter and forced her into prostitution.
Things may soon be changing. On January 7, right after China's Annual National Conference on Politics and Law, state-run China Central Television wrote via its account on Sina Weibo, China's Twitter, (@央视新闻) that the widely-reviled laojiao system might come to an end. Meng Jianzhu, the secretary of the Committee of Political and Legislative Affairs of the Party, proclaimed at the conference that if approved by the Standing Committee of the National People's Congress, the laojiao system would be stopped in 2013. The Xinhua News Agency confirmed the news later that day.
But this auspicious tweet was deleted within a few hours, as were relevant news articles on major portals. According to a revised Xinhua News Agency release, the laojiao system was to be "reformed" rather than "ended." China's web users, immersed in joy and celebration when the original news came, were left in confusion.
The hurried change of wording may reflect policymakers' ambivalence towards laojiao. On one hand, public opinion, inflamed by a series of infamous laojiao cases in 2012, consistently calls for an end to the system. On the other, with 60 years of history, the system has become part of China's institutional structure, such that any reform could incur strong resistance from authorities and interest groups at all levels.
For those who support reforming the system, the truly knotty question is "how." Some argue that all criminal justice can and thus should be meted out within the framework of the Criminal Law (for felonies) and the Security Administration Punishment Law (for misdemeanors). Others insist that a reformed version of the laojiao system is still needed to fill the gaps between the Criminal Law and the Security Administration Punishment Law. According to China Radio International (CRI) Online (@国际在线), the National People's Congress and its standing committee prefer the latter. It is already on the legislative agenda to institute a new system to replace laojiao, tentatively titled the "Rehabilitation Act for Illegal Activities."
In an interview with CRI, Hong Daode, professor at the China University of Political Science and Law, explained the People's Congress' reasoning. "There are criminals in our society who, if handled by the Security Administration Punishment Law, cannot be fully educated and rehabilitated, yet the Criminal Law is overly harsh for them. Drug users are an example. So we need something in between. "
It follows that the oft-discussed question of whether authorities are calling for laojiao to be "reformed" or "ended" makes no substantive difference. Intead, the key is ensuring that the Rehabilitation Act, once implemented, will not leave loopholes for abuse as the laojiao system has done. Lawyer Si Weijiang (@斯伟江) pointed out that the new Act must integrate sufficient checks and balances: "If the law, no matter in what form, still gives police the final say, or makes no room for powerful checks and balances from the judiciary, it will still share the essence of the laojiao system." Mr. Si adds that it must also be clear to whom the Rehabilitation law applies.
In an interview with the Beijing Times, lawyer Li Fangping (@李方平律师) emphasized that a well-functioning law can only emerge from a transparent legislative process that shows due respect to citizen opinion: "If the legislature decides to substitute the Rehabilitation Act for the laojiao system, I hope that it will consult all public spheres and sectors. In this way, the renamed system, with substantial reform, could enhance protection of human rights. If the legislation procedure is secret and speedy, I will not be optimistic."
With the future of the laojiao system now in serious doubt, this much is clear: Preventing tragedies like those befalling Tang Hui and Ren Jianyu is not an easy task. Ending "reform through labor" is a laudable goal, but cannot be fulfilled through a simple announcement. Instead, a set of complicated institutional arrangements will be required. Much struggle, effort, and perhaps frustration awaits those Chinese human rights advocates hoping to make laojiao nothing more than a bad memory.
---
This post also appears at Tea Leaf Nation, an Atlantic partner site.