Corruption and Cover-Up in the Kremlin: The Anatoly Serdyukov Case
How Russia's fired defense minister got away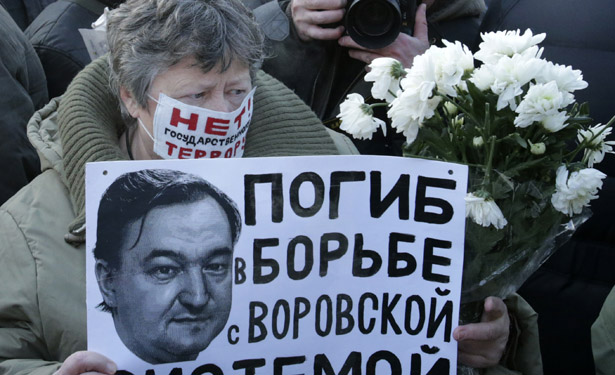 A woman holds a placard with a portrait of Sergei Magnitsky during an unauthorised rally in central Moscow December 15, 2012. (Tatyana Makeyeva/Reuters)
At the World Economic Forum at Davos on Wednesday, Russian Prime Minister Dmitry Medvedev was asked the inevitable question about Sergei Magnitsky, the Russian attorney who exposed a $230 million tax fraud perpetrated by organized criminals and Russian state officials, only to then be blamed for the crime himself. He died in prison in 2009, when Medvedev was president, after being tortured and denied medical attention, as Medvedev's own Presidential Human Rights Council concluded. Magnitsky's name has since been woven into US human rights law following the passage and presidential signing of a bill that would sanction and blacklist Russians complicit in his persecution as well as any other individuals credibly accused of "gross violations of human rights," such as, say, Chechen dictator Ramzan Kadyrov. This legislation has driven the Kremlin to paroxysms of anti-American hysteria, culminating in the Duma's recent ban on American adoptions of Russian orphans.
Nevertheless, the Russian prime minister was unimpressed. Although he professed to feel "pity" for Magnitsky, Medvedev described him as no " truth seeker," just "a corporate lawyer or an accountant and he defended the interests of the people who hired him" -- a reference to Magnitsky's former client, William Browder, whose investment fund, Hermitage Capital, was used as the vehicle for transacting the tax fraud. (Browder is almost singlehandedly responsible for turning the plight of his slain lawyer into an international human rights scandal and, consequentially, an American law).
Given that Medvedev was meant to represent the more liberal end of the ruling "tandem" he once constituted with back-again President Vladimir Putin, these comments were telling for two reasons. First, by Medvedev's own admission, state corruption is one of the gravest problems besetting modern Russia and Magnitsky did little more than seek -- and find -- the truth about one of the most encompassing instances of it. Second, since Putin's own belated attempts to address this national pandemic with a cosmetic anti-corruption campaign, focusing on the former Defense Minister Anatoly Serdyukov, the Kremlin has quietly legitimated a major aspect of Magnitsky's findings, rendering its response to the act which bears his name as hypocritical as it is histrionic. It was Magnitsky who first identified Serdyukov as the apex of a Russian pyramid of state and non-state actors who conspired to steal the $230 million.
The Serdyukov downfall, which has been covered extensively in the Russian and international press, broke in November when Yevegeniya Vasileyva, the Defense Minister's blonde and pouty 33-year old mistress, was charged with fraud related to more than $100 million in stolen funds from Oboronservis, the ministry-owned military real estate company owned of which Vasileyva was a director and Serdyukov the chairman up until a year ago. Russia's Investigative Committee, which is tantamount to the Federal Bureau of Investigation, alleges that Vasileyva liquidated state assets at drop-down prices in order to pay kickbacks to government officials. It certainly didn't help that when police raided her 13-room apartment in downtown Moscow, they discovered Serdyukov there, dressed in his bathrobe. Over $1 million in jewelry, cash, antiques and 19th-century artwork confiscated from the Ministry's museum were recovered. Vasileyva is now under house arrest, yet may have had the conditions of her confinement lessened, said now to include occasional visits by Serdyukov. (The Russian press has made the most of its fallen cabinet official's clear tastes, nicknaming the women he surrounded himself with the " Amazons.")
The Oboronservis case has so far led to the charging of three of his former subordinates (including Vasileyva), and the firing of Serdykuov and the Chief of the General Staff Nikolai Makarov. But it's also prompted further investigations into the "misallocation" of state funds. In total, the Russian government reckons that close to half a billion dollars went missing thanks to officials who had no difficulties supplementing their meagre public salaries -- though this is still just a fraction of the estimated $300-$500 billion siphoned off the country's $1.5 trillion GDP. According to Transparency International, Russia as tied for 133rd place -- alongside Iran, Honduras and Kazakhstan -- as the most corrupt out of 174 nations. Perhaps owing to what even Putin and Medvedev admit is a national pandemic, Russians polled believe that the Serdykuov case hints at a pervasive state corruption. It is this issue, above all, that the stifled but by no means dead anti-Kremlin protest movement managed to turn into a populist plaint, which is why, less than a year into his new presidential term, Putin has tried to co-opt it albeit according to his own caprice and personal definition of justice.
Already the dragnet had snared some big players. The Ministry of Regional Development, for instance, is said to have skimmed millions from accounts designated to host APEC's annual summit in Vladivostok last year. The state satellite navigation system saw around $200 million disappear from its budget. And recently another high-ranking official has fallen under suspicion: Yelena Skrynnik, the former Minister of Agriculture and chairwoman of RosAgroLizing, who was implicated in an embezzlement scheme in a recent state television broadcast.
Yet Serdyukov is the gift that keeps on giving, with more and more pilfered money turning up with each news cycle. $3 million was allegedly stolen from Russia's Strategic Missile Forces (RVSN), "with high-level Defense Ministry officials and commercial executives suspected of involvement," as RIA Novosti reported Friday. Yesterday, it was disclosed that a dacha belonging to Serdyukov's brother-in-law had extensive renovations projects paid for by the Ministry; according to the Moscow Times, an "entire battalion" of army conscripts was apparently tasked with constructing a road, two bridges and seeing to the attendant landscaping, to the cool sum of $3.3 million. All so the boss had a nice place to visit with his sister on the Volga delta.
Serdyukov's problem wasn't really that he oversaw massive graft. Rather, it was that he is married to Yulia Pokhlebenina, the daughter of one of Putin's closest friends, Viktor Zubkov, today the 71 year-old chairman of state gas giant Gazprom but formerly the head of the St. Petersburg Tax Office from 1999 to 2001. In 2000, the same year that Serdyukov, hitherto a furniture salesman, married Pokhlebenina, Zubkov named his son-in-law his deputy. (Zubkov is now treated as an Iago-like figure by Russian analysts; it was his hatred of Skrynnik and the fact of her retirement from public service, they insist, that drove the RosAgroLizing scrutiny.)
Serdykuov's career advanced quickly from there. In July 2004, he was appointed Minister of the Russian Federal Tax Services and brought along with him all of his underlings from the St. Petersburg office. These included Mikhail Mokretsov and Tatiana Shevtsova, both of whom became Serdyukov's deputies; Nadezhda Sinikova, who became the head of the Moscow City Tax Service, and Olga Stepanova, whom Sinikova duly appointed the head of that city's Tax Office 28. Other officials under Serdyukov's protection were Olga Tsymai, the head of Audit Department #1 of Tax Office 28, Ekaterina Frolova, head of Bookkeeping, Reporting and Planning in that office, and Olga Shargorodskaya, the manager of that office.
The former furniture peddler's tenure as head of Russia's IRS entered suspicion in 2006 when the Federal Tax Office authorized a $107 million refund to subsidiaries belonging to RenGaz, a fund created by Renaissance Capital, Russia's largest investment firm, for the express purpose of enabling foreign investors to buy shares in Gazprom. The refund, said to be owed to the subsidiaries based on fabricated civil judgments they claimed reduced their declared annual profits, was just $1 million less than the exact amount these subsidiaries paid in taxes for 2006. In a manner that would later be replicated in the Hermitage Capital fraud, the scam was facilitated by the re-registering of two corporate subsidiaries of RenGaz -- Selen Securities and Financial Investments -- from an old tax jurisdiction (Smolensk) to Moscow, where they then fell under the remits of Tax Offices 25 and 28. It was these offices that processed the refund.
Serdyukov became defense minister in February 2007 and his number two, Mikhail Mokretsov, immediately replaced him as the head of the Federal Tax Service.
Nothing came of the RenGaz refund, and the evidence of the entire transaction was hidden -- until, that is, Sergei Magnitsky began investigating the Hermitage fraud, which was committed in December 2007. What Magnitsky found was that at the heart of this crime was a petty crook turned syndicate boss named Dmitry Klyuev, who had been hired in 2002 by Renaissance Capital's president Igor Sagiryan to act as a "tax advisor who had skills in arranging tax refunds through the Russian court system," according to one Renaissance executive who later testified in court. Klyuev's designated pencil-pusher was his own attorney, a man named Andrey Pavlov, who participated in lawsuits against the former RenGaz subsidiaries. Collectively, the Klyuev Group, Magnitsky uncovered, was working with officials in the Russian Interior Ministry who had formerly investigated a prior corruption case which the Group had orchestrated, and with Moscow city tax officials overseen by first Serdyukov, then by Mokretsov. Olga Stepanova, the head of Tax Office 28, featured largely in all of the Group's illicit activities, as did her subordinates.
The Hermitage fraud was perpetrated almost exactly like its predecessor involving RenGaz tax payments. Bogus civil judgments were put forward claiming that the Hermitage subsidiaries owned money to shell companies and applications were made to the tax authorities alleging that they had "overpaid" taxes and were therefore entitled to $230 million from the Russian state. These subsidiaries, too, had also been re-registered from their old tax jurisdictions to those of Tax Offices 25 and 28. Stepanova and other tax officials authorized the refund in one day on December 24, 2007.
On October 13, 2009, Hermitage, acting on the evidence amassed by Magnitsky, filed a complaint with Mokretsov explaining how his office was complicit in both the RenGaz and Hermitage tax frauds. "The facts uncovered by our client," wrote Hermitage's law firm, "suggest the that frauds detailed below would not have been possible without the direct involvement of officials from Moscow Tax Services, in particular from Moscow Tax Authorities Number 25 and 28." Serdyukov's old appointee Tatiana Shevtsova, who was now the deputy head of the Federal Tax Service, responded to the complaint by claiming that it didn't concern her agency as it was alleging criminality, which was the Interior Ministry's remit. Magnitsky then testified on June 5, 2008 and named two Interior Ministry officials -- Major Pavel Karpov and Lieutenant Colonel Artem Kuznetsov -- as well as active Russian judges as the key players in a conspiracy to defraud the Russian taxpayer. There followed Magnitsky's own arrest by the Interior Ministry as a suspect as in the very crime he had exposed. He spent about a year in pretrial detention, under abject conditions that he described in his own prison memoirs. He was repeatedly denied urgent medical treatment and physically tortured to death in custody on November 16, 2009.
In 2010, in tacit response to mounting building from an intense international media campaign devoted to the Magnitsky affair, Serdyukov's entire team at the Federal Tax Service was fired, from Mokretsov on down to Stepanova and her team at Tax Office 28. But rather than be investigated or arrested for their involvement in criminal actions, the team was simply transferred into the defense ministry, to be looked after by their once and future krysha, Serdyukov. Mokretsov became deputy defense minister; Nadezhda Sinikova became head of RosOboronPostavka, the federal defense contractor, and Stepnova became Sinikova's "adviser." Tsymai, Frolova and Shargorodskaya all went to work for Stepanova. All four of them, plus the now "retired" Major Karpov and Lieutenant Colonel Kuznetsov, are listed in Senator Benjamin Cardin's list of 60 individuals -- the so-called " Magnitsky List" -- involved the Hermitage tax fraud. (Though the Sergei Magnitsky Rule of Law Accountability Act has far broader application -- human rights abusers in other past or future cases in Russia are liable under the legislation's wording -- these 60 are, collectively, the moral and legal impetus behind the new law.)
Documents obtained by Hermitage and published on the website Russian Untouchables show that Stepanova and her now divorced husband Vladen Stepanov, despite having an official joint income of just $38,000, have amassed assets closer to $39 million since the 2007 tax fraud. These include offshore companies in Cyprus and the British Virgin Islands, an architectural award-winning dacha in the Arkhangelskoe suburb of Moscow, a villa in Montenegro, and three properties in Palm Jumeirah, Dubai, which is where the Stepanovs are rumored to now reside full-time. (According to a U.S. official with intimate knowledge of the Magnitsky affair, some wonder if Stepanova is still alive following earlier reports that she was suffering from terminal cancer.)
The Russian government that aided and abetted this tax official's self-enrichment hasn't forgotten about her. According to the Russian press, the Investigative Committee has now re-opened a long-dead criminal investigation into the illegal reimbursement of more than $266 million in valued-added taxes on imported goods when Stepanova was still at Tax Office 28. Is it just a coincidence that Stepanova has come under suspicion in the midst of her proposed American blacklisting and Serdyukov's sensationalized firing?
One can usually predict the Kremlin's moves based on what state-controlled television puts out. A recent "documentary" aired on the Rossiya channel chose not to deal with the krysha himself but rather the satellites he maintained in his orbit, most especially of course, his mistress Vasileyva.
Moreover, both Putin and Medvedev have already exonerated the disgraced defense minister. On November 16, Putin indicated that criminal charges wouldn't be forthcoming against Serdyukov because "[n]o investigators and no courts have made any claims against Serdykuov personally. If he wants to find work and someone takes him in, I don't think we should prevent that." Medvedev went further, defending Serdyukov's oversight of the defense ministry as " rather effective." (One of the most sweeping reform efforts was the elimination of the generals' aristocratic authority and the bifurcation of the ministry into military and civilian departments; reforms which are now being unspooled by Serdykuov's successor, Sergei Shoigu.) Medvedev conceded that Serdyukov made "mistakes," but insisted that he was still "considered innocent" until the investigation into Oboronservis was concluded.
Yet even as a witness in the criminal investigation of his subordinates, Serdyukov has acted with the hubris of a man still very in much in good odor with Putin. In December, he refused to the Investigative Committee's answer questions related to the corruption case; his lawyer said this was owing to illness. Following his subsequent appearance at an inquiry two weeks ago, Serdyukov evidently gave the authorities "a few sheets of paper with explanations," but declined to answer follow-up questions, according to an Investigative Committee statement. His defiance drew an ambiguous threat from Committee spokesman Vladimir Markin, who said, "Serdyukov's position does not guarantee that his status as a witness will remain unchanged. It is quite probable that it will be altered." If that happens, though, Serdyukov likely won't be charged with anything stronger than "exceeding his authority."
To date, only one Russian cabinet official has ever been prosecuted during Putin's reign: Yevgeny Adamov, the former Minister of Nuclear Energy, who had a five-year sentence that began in 2008 suspended that same year. His crime? Stealing $9 million in grant money meant for securing Russia's nuclear facilities. (The irony that it was the United States which first blew the whistle on Adamov is evidently lost on a Kremlin intent on keeping Washington out of its dirty business.)
The Magnitsky, meanwhile, continues to unfold or unravel, years after the lawyer's demise. Thanks to disclosures by Alexander Perepilichny, a former member of the Klyuev Group who has given evidence of the syndicate's financial dealings to Swiss prosecutors, four European countries -- Switzerland, Cyprus, Latvia, and Lithuania -- have launched money laundering investigations into the stolen funds from the Hermitage tax fraud, with the Swiss freezing several bank accounts including some at Credit Suisse in Zurich registered to Vladlen Stepanov. Last week, it was reported that Estonian authorities had uncovered that $10 million of the $230 million had passed through Estonian banks.
In yet a further sign that a single case of state theft, coverup and murder has reverberated around the world, Perepilichny was found dead by a roadside near his home in Surrey, England, in early November. He was 44 years old and in good health. So far, British forensic investigators have yet to conclude the cause of his death.