China's Poison-Filled River
Why did it take five days for government officials to report an ecological and public-health disaster?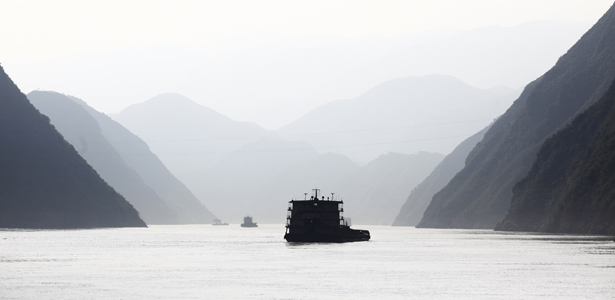 The river had a charm that its name lacks. "Zhuo Zhang River," people call it in Chinese, dubbing this tributary of the Yellow River with a murky hue, zhuo (浊), that would not wash away. It was an uncanny epithet, endowed as much by the browns of the Loess Plateau as by its dusted geopolitical location in China's industrial inland. Flowing eastward from headwaters in Shanxi, Zhuo Zhang River was the floor of factories nestled along the border of Henan and Hebei, two of the country's most populous provinces.
On December 31, 2012, the name of Zhuo Zhang River suffered a more deadly taint. Thirty-nine tons of aniline -- a toxic derivative of benzene used in dyeing processes -- sliced through a crack in pipeline in Changzhi, Shanxi, and quickly spewed downstream. Within days, both the river and a reservoir were contaminated. (According to official accounts, the reservoir was disused and absorbed 30 tons of the leaked aniline.⁠) At a time when the flow of information was crucial, politics trumped life: The water supply to Handan, a major downstream city of more than one million residents, was not cut off until January 5, five days after the accident, when Changzhi officials notified the Shanxi provincial government for the first time.
Anger and Panic
Like the toxins, panic quickly spread. "When I opened the tap this morning, there was first water in the color of rusted copper; even after half an hour, the sink was still a pool of yellow milk," a Sina Weibo, a Chinese micro-blogging platform user named @牛巍NIUNIU wrote on January 6, the first day of the mass water stoppage that crippled thousands in Handan. "Do you dare to cook with such water? I should have joined the water raid last night and bought some bottled water!"⁠ But even with gouged prices, the precious liquid was hard to find. Rumors⁠ circulated on the Internet that the city would be without water for three more days. Many residents -- who literally woke up to a crisis -- rushed to stores and bagged any beverages they could find.
As anger roiled, authorities hastened to restore the city's water supply. Underground reservoirs were opened. Workers, nearly 5,000 in number, were called for an immediate clean-up. By January 7, water in Handan flowed again from taps, though many residents continued to voice fears about its safety. Popular online were treatment solutions at home: "Aniline is absorbable through skin contact, so even water for rinsing vegetables must be filtered," wrote Weibo user @环保董良杰, an environmental activist. "Filter and boil bath water for your children thoroughly to ensure maximal evaporation of the chemical."⁠
Yet no home remedy was able to check the torrents of anger over the official handling of the crisis. On January 7, the mayor of Changzhi apologized for the delayed notification, which, he claimed, was a result of authorities' underestimating the extent of the damage⁠. But for many Web users who had been consuming the tainted water unawares for five days, the authorities' silence was a grisly act of cover-up.
"As a Handan resident, I am simply outraged. The government treats its people with no respect at all. Why did Shanxi report the incident only after five days?" Columnist @连鹏 wrote, exasperated. "Even with limited information, I ask why the chemical plant was located right next to the water source? Was there rigorous oversight? I have to say: We are not taking heed of water pollution. One day, we will pay a hefty price."⁠
The Cost of Progress
The price, however, is already being paid. According to Caixin, the chemical spill in Changzhi on December 31 was the latest in a series of 18 major water pollution accidents in the span of just eight years⁠. From Jiling to Guangdong, Jiangsu to Yunnan, industrial centers across China have been embroiled in a spate of water calamities whose damage and frequency are staggering. For ordinary people who depend on these water sources, however, the crisis last week -- and the hasty cover-up that ensued -- only revived their misgivings about government accountability. Suppression of news from the source, a common practice of local officials, was arguably more deadly than the contamination itself.
As fear was raised, so were soul-searching questions. Many Web users demanded to know why the country seemed unable to reckon with frequent pollution outbreaks. While many blamed local governments for blindly pursuing economic growth, some focused on bureaucratic obstacles that had held sway for too long in China. "The company in question [Tianji Coal Chemical Industry Group] committed such an atrocity, but it was also commended multiple times as one of the country's top 20 in pollution reduction," wrote @王微, a crisis management consultant. "County authorities cannot rein in provincial state companies and provincial authorities cannot rein in national state companies. What is outside the law in China? The answer is state enterprises."
Even as toxins seeped in, altering the fate of residents who depended on it, Zhuo Zhang River continued its normal flow -- slow, steady, as if nothing had changed. The human lives that it traversed, however, changed course suddenly, though the full impact of spill on human health and the environment will take years, if not decades, to reveal. In the meantime, however, some have chosen to decisively shape the flow of events that follow: On January 9, @吴喆华, a journalist of Radio China, reported on his Weibo account that the Winter Swimming Association of Handan had decided to sue Tianji Coal Chemical -- the first civil litigation after the crisis. More, he suggested, will follow.
---
This post also appears at Tea Leaf Nation, an Atlantic partner site.