China's Growing Appetite for New Kinds of Luxury Goods: Illegal Drugs
The country's economy has exploded over the past quarter-century. And so has the market for narcotics whose use was once virtually unheard of.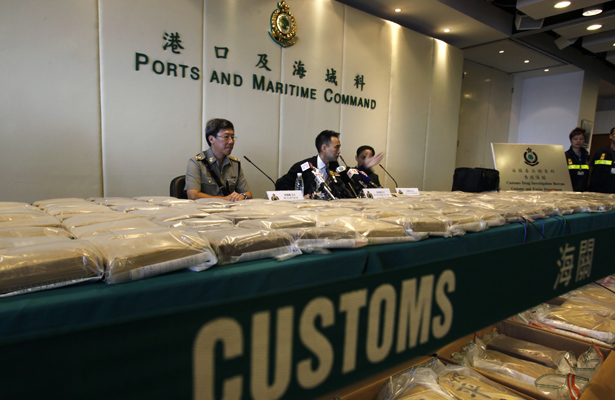 An exponential curve seems to describe most things in modern China -- cars, housing, Louis Vuitton handbags, ice cream, iPads.
It also describes the growth of drug use and addicts. Only 25 years ago, narcotics and illicit drug use were nearly unheard of. Today, Chinese society and government authorities are increasingly grappling with the explosion in drug use and drug addicts, as well as how to respond to the phenomenon. With more relaxed borders, increased wealth, and greater individual freedoms, drug addiction and its consequences threaten to become a permanent fixture within Chinese society. As the Brookings Institution notes in a recent report on U.S.-China counter-narcotics cooperation, what was once called "the American disease" is now a global one.
Drug Growth in China
Drug consumption has grown rapidly in the past few years. According to the Brookings Institution, the number of officially registered addicts increased from 70,000 in 1990 to more than 1.79 million at the end of 2011 -- a 16 percent annual growth rate. In reality, the number of actual addicts may run as high as 12 million, although the distinction between addicts and users in China is not clearly made in these statistics. Moreover, about 32 percent of China's HIV-positive population contracted the disease via intravenous drug use. In comparison, about 18 million people in the United States reported that they needed treatment for a drug abuse problem in 2009.
Drug use trends have been shifting away from heroin and toward designer and club drugs. Yunnan province, as part of the Golden Triangle, a hotbed of opium production since the 1920s, has also been a hub for heroin trafficking. A heroin fix could run as low as 70 cents in China-Burma border towns. This made drug addiction particularly cheap. Heroin remained the drug of choice among more than 70 percent of registered drug addicts up until 2010.
However, the share of heroin among registered addicts dropped to 64.5 percent in 2011. Meanwhile, China's Xinhua news agency reports synthetic drugs such as methamphetamines, ecstasy, and ketamine accounted for 32.7 percent of registered addicts, while other hard drugs such as cocaine have also grown in popularity. Synthetic drug trafficking is not centralized within Yunnan, with drugs instead coming from North Korea, international transport hubs, and home-grown labs. Crucially, China is a huge source of precursor chemicals like ephedrine and pseudophedrine, which are used to create methamphetamines.
The influx of drugs into China has demanded more attention from law enforcement authorities. Record-breaking drug busts happen frequently, with Hong Kong making the city's largest-ever cocaine bust just last week. In June 2010, Chinese officials seized 1,032.36 kg of heroin and arrested 16 suspects including eight Pakistanis, two Nigerians, one Kenyan, and one Ghanaian. It was the biggest drug trafficking case in the history of Chinese drug control since 1949.
Who's Using?
Young, wealthy urbanites as well as rural youth are driving the popularity of synthetic drug use, with people under 35 years of age comprising more than 80 percent of all addicts. Urban areas like Shanghai, for example, reportedly experienced a 20 percent increase in the number of drug addicts just last year.
But illicit drug use is not confined to one single demographic, nor to one single purpose. In late April, a commercial bus driver who later tested positive for illegal narcotics crashed his bus, killing 14 people. A national drug testing campaign soon followed, with authorities suspending the licenses of 1,436 coach and truck drivers because of drug use between March and May of 2012. While urban youth may use drugs for partying, long-haul drivers oftentimes need uppers to help stay awake. Sometimes they unwittingly consume the stuff, in forms like methamphetamine-laced cigarettes.
Changing Perceptions
China has historically held to a hard-line, black-and-white view on narcotic drugs. For example, Lin Zexu, a Qing Dynasty official who initiated a war against British opium when most Chinese authorities tacitly allowed it, is widely honored and respected in China today.
Modern Chinese attitudes towards drugs, at least among the older generations, still contain strains of Lin's approach. Chinese President Hu Jintao initiated a "National People's War on Illicit Drugs" in 2005. And as one Chinese sociology professor stated in the Global Times, "In my opinion, the sub-culture created by new drug users stems from the youth's pop culture of hedonism and consumerism...to many Chinese youths, Western pop culture means experiencing happiness, physical pleasure and an open attitude toward sex. All these could be realized through taking designer drugs."
But online, the addict is slowly acquiring a human face. The most popular documentary currently available on Youku, a Chinese video sharing site, is titled "Fenghuang Road" (凤凰路). Debuting this year with sponsorship from the Guangdong regional government, Fenghuang Road has received nearly 7 million views. The series follows nine women addicted to heroin, who prostitute themselves and purposely get struck by cars to make money in order to feed their habit.
The documentary is so popular in part because it puts a human face on a rapidly growing problem. As one Youku user writes, "Every single one of them at times display great depravity and at other times pure innocence." Another comments, "They are all ordinary, commonplace people, but all travel less-than-ordinary roads. Society's indifference --  we never see the corners and nooks..." Indeed, one of the women in the video became addicted because her mother was locked up in jail and her father died when she was young.
The growth of the illegal drug problem is visible even in Chinese censorship. On China's Twitter-like weibo platforms, searches for marijuana (大麻) and specific slang for other drugs such as ketamine (K粉) are blocked, perhaps owing to the growing use of the Internet to facilitate drug sales. But official names of drugs along with non-specific slang such as "ice skating" (溜冰, referring to crystal meth) or "postage stamp" (邮票, referring to LSD) are still searchable.
Government response
In light of the recent growth in drug use, several governments are sponsoring online dialogues and information campaigns, especially those targeted at youth.
For example, various civic organizations are partnering with the Tianjin city government to host a viral anti-drug campaign on Weibo, asking youth to retweet anti-drug messages to three of their friends. Participants are entered in a raffle for the chance to win an iPad, iPods, and other electric goods. These efforts should bear some fruit. Reports indicate that much misinformation currently circulates regarding designer drugs, including the pernicious myth that such drugs are not addictive.
One thread asks netizens to contribute their own ideas to stem the growing popularity of drugs among youth. Though netizens are quick to offer ideas, there's also an acknowledgement that drug use may be here to stay and societal attitudes must adapt. As @只有我俩的分组  states, "I have many friends who do pot...I won't ever do it and I'll try and convince my friends otherwise. I think this problem depends a lot on how society is developing. It will be very difficult to stop this problem quickly."
In what may be a sign of changing attitudes, some netizens argue that drug use touches on certain root problems beyond a mere lack of self-control. As @草儿922 writes, "Education about the generation gap is crucial. Adults don't understand what kids are thinking, leading to internal dissatisfaction from kids...adults should connect with their kids, know their thoughts; and not let their lives seem hollow so that they are led to a path that they don't want to travel."
---
This post also appears at Tea Leaf Nation, an Atlantic partner site.