China's Censors Edited Skyfall—So What?
Chinese viewers will see a different version of Skyfall than everyone else. Does it matter?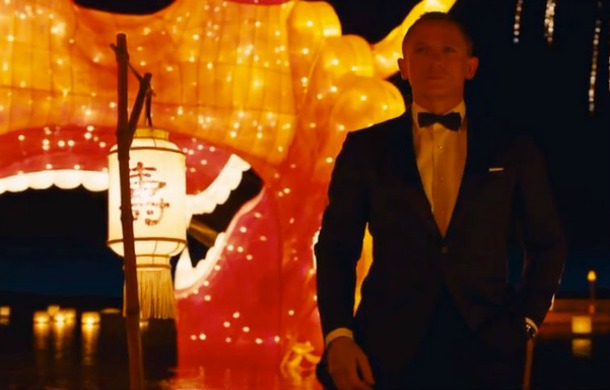 In a scene from the ultra-popular James Bond film Skyfall, a French killer coldly dispatches a Chinese security guard in the lobby of a skyscraper. In the ensuing moments, the killer then tussles with Daniel Craig's Bond on a high floor before tumbling precipitously to his death.
The sequence, shot entirely in Shanghai, is a pivotal plot development in 007's latest cinematic adventures. Yet
according to
the
Hollywood Reporter
, viewers watching
Skyfall
in Chinese cinemas -- the film opens in mainland theaters Monday -- will see a modified version of the scene, as China's redoubtable censors cut the part involving the security guard.
Why would the Chinese government bother censoring a film which, if anything, paints Shanghai and Macao in a flattering light? It's difficult to imagine the sight of a slain rent-a-cop inflaming the nationalist passions of even the most sensitive Chinese moviegoers. Plus, those who are aware of the change know that a full, uncut version of the film is just a download away. Why not just leave it alone?
On a basic level, the purpose of film censorship is simple: to prevent people from seeing content the government doesn't wish them to see. On another level, though, censorship perpetuates an image of the Communist Party as a benevolent organization that protects its citizens from a chaotic world. And while this doesn't mean that the Chinese population is particularly fond of censored films -- most undoubtedly aren't -- a large number do appreciate reminders that the government is still doing what it claims to be doing.
Film censorship is hardly unique to China. Since the dawn of cinema, countries of all kinds have found it necessary to snip, tweak, or ban films altogether for political reasons. In fact,
Skyfall
isn't even the first James Bond film to run afoul of a nanny state: South Africa's apartheid-era government cut an
interracial love scene
from the 1973 Bond classic
Live and Let Die
.
So while it's tempting to view China's
Skyfall
censorship in the context of the government's broad-based repression of speech, the comparison is inapt. Beijing's systematic suppression of media, including
the widespread intimidation and detention of journalists
, represents a gross human rights violation. Altering a film to remove an objectionable scene, while irritating, represents little more than a government tailoring a popular film for its audience.