I think most members of the (very large) crowd that came (through thunderstorms) to the Washington National Cathedral to hear Chen Guangcheng tonight had the sense of witnessing a moment they will remember.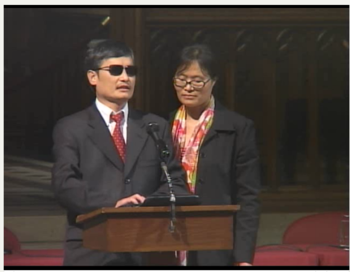 Just now I see that a video of the whole session has been posted on
the National Cathedral's site
. I don't see a way to embed it, but here is a shot of how things looked in real time.
Anyone interested in China, anyone interested in democratic change and the power of individuals and groups, will find Chen's presentation moving, and inspiring. His presentation starts at around time 7:40 of the video; the standing ovation that followed his remarks begins about 30 minutes later; the post-speech panel, featuring Cheng Li, Dorinda Elliott, and Jerome Cohen and moderated by me, starts at around time 39:00.
The power of Chen Guangcheng's statement, and the subject of most of the post-speech discussion, was its combination of harsh realism and idealistic confidence. A sample of the harsh assessment (my notes, not official transcript -- which I'll provide when available):

The current situation in China works against the long-term stability of the Party, and senior officials are aware of this--they just can't do anything because the Party refuses to relax its grip on power. As long as China's rulers use mafia-like suppression to maintain stability, rather than legitimacy, China will only become increasingly unstable. The Communist Party officials are leaders in name only, in reality closer to our nation's kidnappers.

And of the contrasting confidence:

Courage is starting to spread as Chinese citizens become more aware of the issues via the Internet and more willing to speak out about injustices. They are no longer afraid,

According to a Chinese saying, there are no difficult tasks, but rather only people who lack the courage to act. And as more and more Chinese people speak out and demand their rights, change in China will become unstoppable. ...

 Our fate is in our own hands. People are overcoming their fears and when this number reaches a critical mass change will become inevitable. Nothing could scare the Chinese government more than the fact that the people are losing their fear.  In the past, threats and violence were effective.  But when people are no longer afraid, violence and threats lose their power.  Instead of silencing people, it motivates them. 

I don't think anyone filling the recesses of the Cathedral regretted the effort of getting there on a difficult night. Jerome Cohen also pointed out the the very act of gathering a large crowd for Chen in America offset one of the standard fears of the exile civil-liberties crusader: that once he is sent away from the homeland, people will stop paying attention. Chen deserves close attention, and respect.