Anti-Trust Victory for China's LCD Makers, but Where Is the Money?
What an anti-trust case says about the country's legal system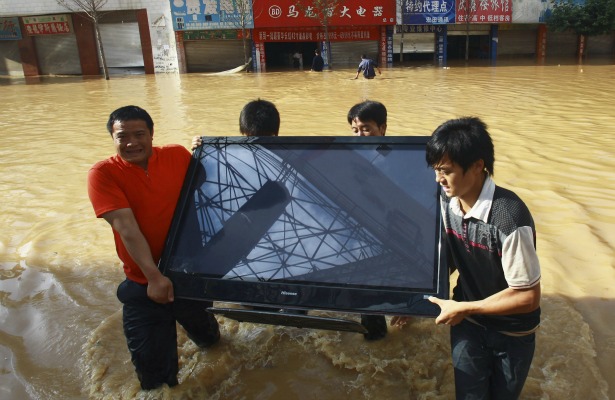 Mainland China's legal system has taken a step forward -- even if it was followed by a step backward.
In early January, Chinese authorities imposed anti-trust penalties against foreign corporations for the first time. China's powerful National Development and Reform Commission (NRDC), which exercises control over large swaths of China's economy, hit Korean companies Samsung and LG and four Taiwanese companies with a US$56 million fine for manipulating the price of flat panel screens. Through the China Video Industry Association, nine Chinese television makers had brought a suit before the NRDC.
The NDRC found these six companies, who together comprise 80 percent of the total market share, had regularly colluded on pricing strategy for the global LCD panel market during 53 rounds of "crystal conferences", held between 2001 and 2006.
Of the total fine, 172 million RMB (about US$27 million) is supposed to be refunded to nine Chinese TV makers, including Konka Group, Changhong Electric, Skyworth Group and TCL Corp. After the ruling, Samsung and LG immediately issued statements conveying their apologies to Chinese TV manufacturers, promising to abide by Chinese laws in the future and to deal with buyers fairly.
A more integrated and advanced legal system has become an urgent need within China as its economy expands, creating a gap between legal requirements and existing applicable laws. Officially, the case is the first brought against foreign firms by the NDRC, and it indicates China's determination to seek more global clout in the legal arena. Previously, China has never punished a foreign entity on anti-trust grounds. save for an investigation of Unilever in 2011. Xu Kunlin, Director of the anti-trust division of the NDRC, told China News that the penalty shows that China is accelerating the construction of its legal system and protecting Chinese manufacturers' interests.
In 2006, authorities in China, the E.U. and the U.S. all received the same complaint alleging an LCD cartel. At that time, China had no anti-trust law on which to base a ruling. Moreover, investigating the LCD makers' claim demanded a level of manpower and technical expertise that a Chinese civil court could not muster.
Instead, the NDRC launched its own inquiry. Even when the ultimate fine was announced, it was tiny compared with the 648 million euro and US$1.2 billion fines levied in the E.U. and the U.S. against the same LCD manufacturers. That's because the manipulation occurred between 2001 and 2006, and China's 2008 anti-trust law could not be retroactively applied. Instead, the judgment was based on China's Pricing Law. An NRDC spokesman noted that if the case had been decided based on the anti-trust law, the offending companies would have faced fines comprising between 1% and 10% of their global revenues, which would have been much higher.
According to Michael Han , an anti-trust partner at Freshfields, a British law firm, the NRDC's 6-year investigation into the LCD makers had built up a staff with experience in evidence collection and analysis, and China is now confident that its enforcement can catch up to that in Europe and the U.S., where governmental authorities had decades or even more than a hundred years of anti-trust experiences.
Edward Lehman, a foreign lawyer and managing partner of Lehman, Lee & Xu Law Firm, suggested that in the future, Chinese authorities need to consider processing similar anti-trust cases in civil court, not under a regulatory authority. Part of the reason may be the business culture in China. Lehman suggested that although settling disputes between business partners through litigation is part of Western business culture, in China companies are always afraid of jeopardizing their relationships by heading to court.
Writng on Sina Weibo, China's Twitter, users commenting on the ruling complained that the fine was not hefty enough to deter future manipulation. User @ 王福重 raised questions about fair dealing. The NDRC is also involved in setting prices of key items domestically, such as refined oil, so it is ironic that it cracks down on price-fixing of some companies while setting the prices for others. User @ 柯荆民, however, is more hopeful that the NDRC would flex its newfound muscle against domestic companies, such as the liquor-maker Maotai and its peers, which often draw ire among Chinese consumers for the high prices of their products.
Three days after the ruling, it was reported that all of the 172 million RMB refund had been kept by the CVIA, the industry association that had led the suit, and CTU-Tech, a video industry consulting firm.
CVIA was supposed to keep only half of the refund for its next fiscal year according to a private agreement between the organization and the nine plaintiff LCD makers. But a person familiar with the case told Yangcheng evening news that the companies had not received any of the refund.
Stranger still, all parties involved declined to comment. Only later, Bai Weimin, secretary of CVIA, issued a confusing statement that the association is a joint venture started by these nine firms and these owners had authorized the organization to utilize the refund for its daily maintenance. However, the statement did not dispel the uncomfortable suggestion that the CVIA kept the fines for itself without consulting the plaintiff LCD makers.
No matter who benefitted from this case, the unseemly aftermath to what could have been a landmark ruling has both analysts and microbloggers disappointed. Chinese TV makers had the wherewithal to band together, avail themselves of the regulatory system, and win. But the confusion surrounding the amount and distribution of damages shows that it is not enough for China's legal regime to modernize; the private market must do so as well. China's legal system has been playing catch-up to the international standards for some time, but with transactions and dealings built around the Chinese concept of relationship-based business, there is still a long way to go.