Al Shabaab Has Been Dismantled ... on Twitter
Reports of the Somali militants' digital demise are absolutely true. 
In Somalia, the Internet is a precious thing. Only 1 percent of the population can access the Web. Still, you don't necessarily need to be online to run a Twitter account, and Somalia's most notorious Islamist group, al Shabaab, has taken advantage of that and made a name for itself on the service using the handle @HSMPress.
But don't bother clicking that link -- the account has been suspended. A spokesperson for the group told Reuters today that al Shabaab's Christian "enemies" shut down its online activity because "they could not tolerate the grief" being heaped upon them.
From a Google-cached version of @HSMPress's page, it's still possible to see what may have led Twitter to ban the account. This is what their profile looked like as of 8:50 a.m. Eastern time on January 24: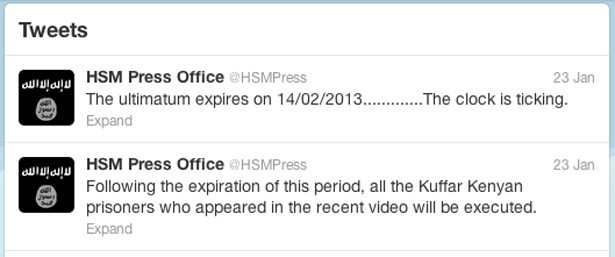 In their final tweets, the militants threatened to execute a handful of Kenyan prisoners unless the Kenyan government released Muslims detained on terrorism charges. Officials in Nairobi denied to Reuters that they requested al Shabaab's account be deactivated.
This isn't the first time a media platform has considered intervening in a political conflict playing out online. Last year, YouTube briefly took down this video showing Israeli jets assassinating Hamas' top military leader.
Although the video was later restored, the incident raised questions over when and how strongly social networks should enforce their terms of service -- and whether the legalese ought to cover acts of war.
The conflict brewing between al Shabaab and the Kenyan government isn't technically a war. But the episode is another example of the way that successfully taking politics to the Web -- whether violently or not -- depends a great deal on the complicity of content platforms. You can't have a social media war without the gatekeepers to host it.