A Russian Fishing Hole That Does the Catching For You
Watch.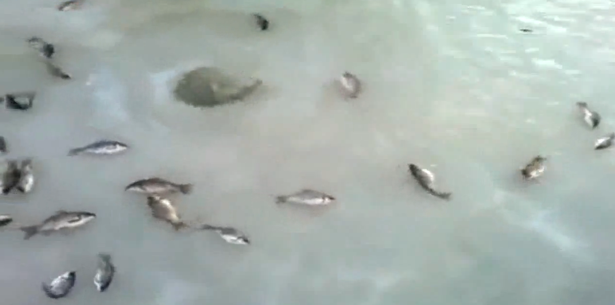 Fishing. It's one of the greatest forms of relaxation known to man.
Not commercial fishing or trolling, mind you, but just good old-fashioned sitting and waiting for a tug from the end of your baited line.
Mark Twain's great protagonist invoked fishing to describe his love for nature in the folksy terms that helped place "The Adventures of Huckleberry Finn" among America's greatest novels. "It was kind of lazy and jolly, laying off comfortable all day, smoking and fishing, and no books nor study," the young Huck says reverently.
"Gone fishin'" is an American expression that counsels patience from both sides. Either you're trying to reach someone who clearly doesn't want to be pestered, or you yourself don't expect to be disturbed because you're away, you're not picking up your phone, and it's nobody's business what you're doing anyhow.
Now, there's a hardier breed of "sportsmen" called ice fishermen, who brave the bitterest cold to clear a hole on iced-over waters and sit in a temporary shelter -- perhaps "warming" themselves with an occasional swig from a bottle -- in pursuit of that same lack of adrenaline.
So imagine their disappoinment when a group of Russians came across fish spewing out of a "fishing hole" in the ice faster than they could scoop them up. Just about ruining their fishing trip, if you ask me.
The video, called "In Russia, The Fish Come To You," was uploaded to The Tubez, a channel on the anonymous Prochan video-networking site. So it's not clear where the video was made.
---
This post appears courtesy of Radio Free Europe/Radio Liberty.