A Malian Quagmire? In Defense of French Intervention
In any crisis, western military intervention should be treated as a last resort. But in the Sahel, the price of passivity would have been unacceptably high.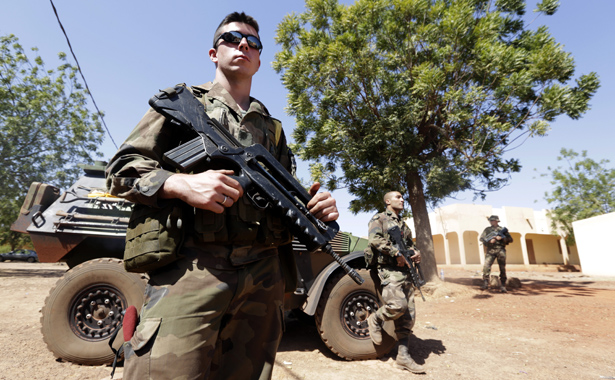 The question from a colleague -- one whose work I admire -- could have come from anyone in the United States.
"So the French," he asked, "now have their own Afghanistan?"
The answer is yes and no. Western military interventions should be carried out only as a last resort. But Mali today is a legitimate place to act.
Several thousand jihadists threaten to destabilize Mali, Niger, Nigeria, and Algeria. Beyond the human rights abuses, their attacks will discourage foreign investment, paralyze local economies and produce vast numbers of refugees. Skeptics play down the threat, but the instability these extremists create will spread over time.
The tragic kidnapping in Algeria, where many hostages appear to have died in a botched rescue attempt today, is already prompting oil companies to pull foreign workers out of the region. Islamists can't be ignored and won't disappear. They should be confronted or contained. The question is how.
To ensure that Mali is not another Afghanistan, it is vital that France and the international community have reliable allies on the ground. They should mount diplomatic and economic efforts ‑ not just lethal force ‑ against the jihadists as well.
Many commentators immediately dismissed France's intervention. Some denounced it as "militarism." Others declared it "neo-colonialism." The most common phrase was "quagmire."
In Washington, even some Obama administration officials played down the threat that Mali represented, arguing that Western troops may have made things worse. Isolationism is politically easy but the wrong course. No American ground troops should be deployed, but the Obama administration should assist the French with logistics and intelligence support. 
Lost in the so-far skeptical response to the intervention is a clear truth on the ground. For now, public opinion in Mali and across West Africa is hugely supportive of the French intervention. Press reports indicate that before the French arrived, the 1.8 million people of Bamako, Mali's capital, were increasingly terrified that Islamists would take the city.
"People have started to smoke cigarettes and wear long pants!" one taxi driver declared after France intervened. "They're playing soccer in the streets!"
From a military standpoint, the French had to act. More than 8,000 French citizens live in Mali, many of them in Bamako. And last week militant groups were on the verge of seizing a militarily vital airfield in the town of Sevare. Had the field been overrun, it would have been enormously difficult for troops from France or a UN-mandated West African force to have moved into Mali.
Gregory Mann, a Columbia University history professor and an expert on Mali, has written the best analysis I have found of the intervention. The crisis "needs diplomatic intervention every bit as urgently as it needed military intervention," he argues. 
"Mali's troubles come largely from beyond the country's borders, as do most of the jihadi fighters," Mann told me in an email message. "It will take a coalition of countries to confront them, and building and maintaining such a coalition should be the diplomats' first priority."
Fears of a quagmire are understandable. The problems that have plagued Mali in recent years after decades of stability sound familiar: government corruption, ethnic and separatist tensions, drug trafficking, meddling neighbors and increasingly weak national institutions, particularly the army.
A previous American effort to train the Malian army to fight Islamists failed spectacularly. And the French intervention is likely to spark retaliatory attacks like the seizure of dozens of foreign hostages in Algeria on Wednesday. Post-Iraq and Afghanistan, skepticism about any Western military intervention is healthy. And France's record of intervention ‑ from Algeria to Vietnam ‑ is poor. But Malians are calling for help, and a UN effort to counter the militants has stalled.
The Islamist fighters have taken control of northern Mali with surprising speed, are well organized, heavily armed and in control of a desert area the size of France. Their fighters include members of al Qaeda in the Islamic Magreb, a North Africa-based group allied with al Qaeda. In the future, they could easily use Mali as a base to carry out attacks in France and Europe.
Until now, the group has not said it intends to carry out attacks in the United States, but members of the groups are believed to have been involved in the murder of the American ambassador to Libya, Chris Stevens, and three other Americans. They have also amassed an estimated $100 million by kidnapping Westerners and demanding enormous ransoms. 
Robert Fowler, a Canadian diplomat who was kidnapped by the group in 2009, said his captors told him their hope was to create an Islamic emirate that spanned Africa. Their goal was to spread chaos from the Atlantic to the Pacific.
"They would tell me repeatedly that their objective was to extend the chaos of Somalia across the Sahel to the Atlantic coast," Fowler said in a telephone interview Wednesday. "They believed that in that chaos their jihad would thrive."
My perspective is not neutral. Four years ago two Afghan colleagues and I were kidnapped by the Taliban and held captive for seven months in Pakistan. I saw their brutality, ignorance and determination first-hand.
I believe economic growth is the best way to counter militancy, not massive Western military interventions. To me, a threat exists from militancy, it is not manufactured. Yet we declare that there is no threat or grow impatient when it is not quickly solved.
France faces months of casualties and conflict, but that should be expected. Quick solutions are illusory. So are claims that we can ignore violent militants. Countering militancy involves a combination of limited military force, expansive diplomacy and patience. We rarely show those qualities. I hope the French do.

---
This post also appears at Reuters.com, an Atlantic partner site.