A Fascinating Look Inside North Korea
If you haven't yet seen Sophie Schmidt's chronicle of her recent high-level visit to North Korea, by all means check it out. It's full of atmospheric photos like this one (from her site) and acute observations.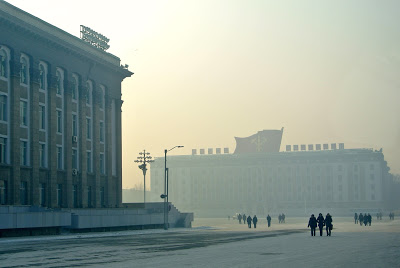 Part of what she reports reminds me very much of China back in the early days of its opening up. Eg:

I can't express how cold it was... The cold was compounded by the fact that none of the buildings we visited were heated, which meant hour-long tours in cavernous, 30-degree indoor environments. It is quite extraordinary to have the Honored Guest Experience in such conditions: they're proudly showing you their latest technology or best library, and you can see your breath.

Part of it is like nothing most of us have ever seen or experienced before. Schmidt, who is in her 20s, made the trip in the company of her father Eric, of Google, and former ambassador/governor Bill Richardson. Very much worth reading.
__
Routine disclosure: my wife and I first met the Schmidts when Sophie was a young girl, and we've been in touch and have followed her accomplishments since then. But this will be interesting to anyone.