A $16 Million Bet on the Future of Chinese Retail
Two of the country's most successful businessmen have differing views on how China will shop in 10 years -- and almost made a gigantic wager with one another.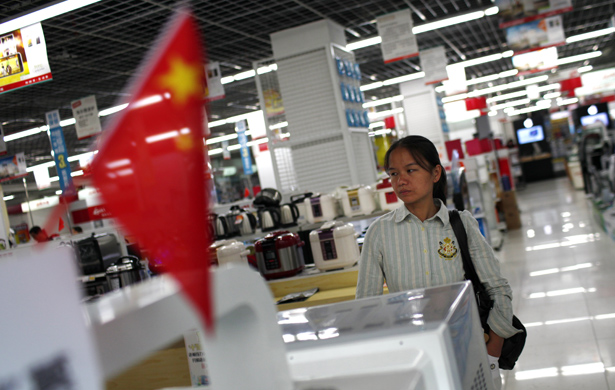 It's a bit like China's Oscars for business types. Over the past 13 years, state-run China Central Television has awarded its "Economic Figures of the Year" to prominent economic and social achievers, usually entrepreneurs. Past honorees have included Hong Kong tycoon Li Ka-Shing, former Chief Economist and Senior Vice President of the World Bank Justin Yifu Lin, and a rural farmer. There are ten honorees annually, and their acceptance speeches often define the awards ceremony. This year, however, besides thrilling pep talks, an unexpected hundred million RMB on-stage bet between two tycoons made the broadcast unforgettable.
Two Tycoons, Two Visions
The widely-discussed moment occurred when Jack Ma, president of e-commerce giant Alibaba Group, and Wang Jianlin, head of Dalian Wanda Group, a leading privately-held conglomerate, were called up to the stage together. As the father of Chinese e-commerce, Mr. Ma is recognized as a spokesperson for the Chinese Internet community. Ma has long argued that Chinese bricks-and-mortar businesses will be replaced by on-line shopping in the near future. By contrast, Mr. Wang thinks that the twain shall meet in the middle, re-enforcing one another to create a "win-win" scenario for both. Wang's company, which began as a real estate company and has subsequently diversified, recently acquired U.S. movie theater chain AMC Entertainment Inc., and brought it back to profitability.
After their acceptance speeches, Ma and Wang were asked to venture a prediction on the future Chinese commerce. Not surprisingly, Ma challenged Wang about the need for physical storefronts. Suave and self-promoting as always, Ma encouraged the young audience, telling them that the new era calls for a revolution against the established economic order. Wang retorted that even with a historic one trillion RMB in online sales from January 2012 through November 2012, e-commerce only comprised 3 percent of total market share. An experienced investor, Wang went through the top ten U.S. e-commerce businesses one by one, noting they all had their genesis in brick and mortar.
The Bet 
To conclude his riposte, Wang offered a one hundred million RMB bet on this proposition: In 10 years, if online consumption has surpassed 50 percent of total retail volume, Wang said he would give Ma 100 million RMB, or about US$16 million in today's money, if Ma would agree to give Wang the same amount should online consumption fall short. (Ma ultimately demurred.)
Beneath the showmanship, Wang's dramatic bet is a reflection not only of different approaches to investment, but the schism between younger and older Chinese. Young and low-income Chinese constitute a great proportion of Ma's believers. Taobao's past dramatic growth over the past decade has drawn millions of small businesspeople onto the site, while disabled Chinese have used the platform to find ways to earn money. Those with a low level of education or those hailing from outlying mountain areas have found a new pathway to wealth. Meanwhile, mainstream consumers still seek conspicuous consumption and rich in-person shopping experiences, a specialty of Wang's Wanda Group.
The contrast between Wang and Ma's projections is not quite as stark as Wang's wager implies. Both admit to the rise of e-commerce, with their disagreement centering on the speed and extent of the change. Both domestic and foreign investors in China are working to revise their business model to integrate the online and offline shopping experience, which may assuage worries about customers leaving fitting rooms or show rooms to buy the products they covet at a lower price online. Earlier this year, foreigner Wal-Mart increased its holding of shares in Yihaodian, a rising Chinese e-commerce startup; meanwhile Wanda, Wang Jianlin's empire, reported a large-scale recruitment of experienced e-commerce promoters.
But radical expansion in Chinese e-business would cause other concerns. In a saturated market, a price war of some sort is virtually inevitable, with better-funded firms selling at a loss in order to drive cash-strapped competitors out of business and grab a larger market share. In a recent interview, Xiong Xiaoge, head of IDG China, a media and research company, stated that price wars are likely to end as investors and venture capitalists become increasingly cautious about a possible bubble. 
Whatever becomes of Wang's heady bet, one outcome is relatively certain: Regardless of the speed of its transformation, the future of retail will be a more convenient and efficient one. As Jiang Qiping, head of the Information Research Center at the Chinese Academy of Social Sciences, told Internet Weekly, "Once [online retail] reaches 5 percent of total sales revenue, the industry will [reach a tipping point], leading the retail industry into an entirely new era."
---
This post also appears at Tea Leaf Nation, an Atlantic partner site.