'Égalité!': France's Historic March Toward Gay Marriage
Thousands turned out Sunday to hold French President François Hollande to his campaign promise.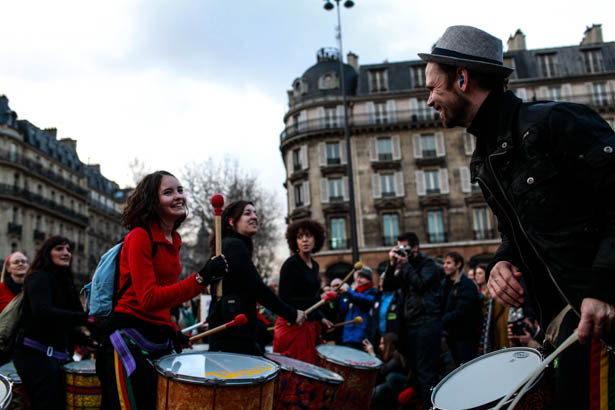 Andrew Katz
PARIS -- Walking up the steps and out of the Métro station at Place Denfert-Rochereau at 1 p.m. on January 27 was like strolling by the Eiffel Tower -- the grounds filled with people at a standstill. These weren't tourists, though. The rainbow flags, the pop music from 1999, and the placards all gave them away. "I shouldn't have to be here," one sign read, while on another was written: "Proud to be on the right side of history." Instead, they were the thousands of people who had begun gathering for a mass show of support for same-sex marriage and adoption.
On Tuesday, the French parliament is set to begin mulling a reform bill that would legalize gay marriage, fulfilling an election promise made by President François Hollande during his campaign against incumbent Nicolas Sarkozy that he won in May. Since then, the public has kept the matter in the news and on his radar by holding large and frequent protests for or against the issue, especially with the debate starting so soon. Hundreds of thousands of people rallied in opposition of the bill on January 13, but a recent poll by Ifop, an international marketing firm, found that 63 percent of France is in favor of same-sex unions.
At 2 p.m., as university students were shuffling next to members of left-leaning political factions like Front De Gauche and other groups, including the Association of Homosexual Parents, protesters took off for a 2.5-mile trek through Paris that other large demonstrations have used for its straight-shot nature. Some people had red hearts on their cheeks drawn with lipstick and others used black markers to draw the symbols for the male and female sexes. As the march carried on, they shouted "égalité" -- annunciating every syllable to elongate their demand -- and cheered loudly when seeing support from people on the apartment balconies that lined the route.
After nearly three hours, the demonstrators began filing into Place de la Bastille, a large square centered by the towering, bronze July Column, which commemorates the Revolution of 1830. Once many of the protesters had arrived, heads of the groups in attendance began giving brief speeches about the importance of legalizing same-sex marriage and adoption, in an echo of the more intimate conversations going on in the crowd.
Pascal Fonquernie took part in the demonstration to support his friends and because he believes same-sex unions should have the same legal benefits as traditional marriages. "Most of the people who will protest [against marriage equality] are people from the countryside who don't know any gay people and who are completely out of reality," he said, laughing. "Even if I'm not married and even if I'm gay, not only straight people should enjoy divorce and pensions and sexual harassment from their wife. Gay people should have it, too."
Fonquernie, 50, manager of a major tourism website for Paris, added that he voted for Hollande specifically because of the candidate's campaign vow to tackle gay marriage.
So did Pauline Oriot, a 24-year-old who works in an audit firm. "I'm here to fight to have the same rights as everybody," she said. "I just want to be able to marry my girlfriend and maybe be able to have children with her -- legally." Oriot, standing next to her girlfriend, Aurelie, was motivated to join the movement in pressuring parliament to act in their favor because the opposition voice had grown so large recently and because most countries in western Europe have already approved legislation for their people, including Belgium, Portugal, the Netherlands, and Spain. "I think it's a pity that France is still fighting for this right," she continued.
Like the other tens of thousands of supporters around them, Fonquernie and Oriot are hopeful that a full bill legalizing same-sex marriage and adoption will pass into law later this year. Until then, they're eagerly anticipating the beginning of the parliament's debate. During the march, police had reported that total attendance had peaked at 125,000, well below the organizers' estimate of 400,000. As night began to fall, the crowd cleared out of the square and piled into nearby cafés, bars and restaurants to reminisce about the day's events.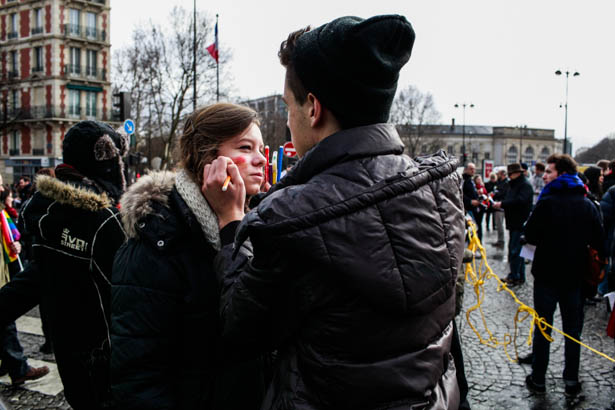 A man paints a rainbow on a woman's face at Place Denfert-Rochereau before the massive pro-equality demonstration in Paris on Jan. 27, 2013. (Andrew Katz)
---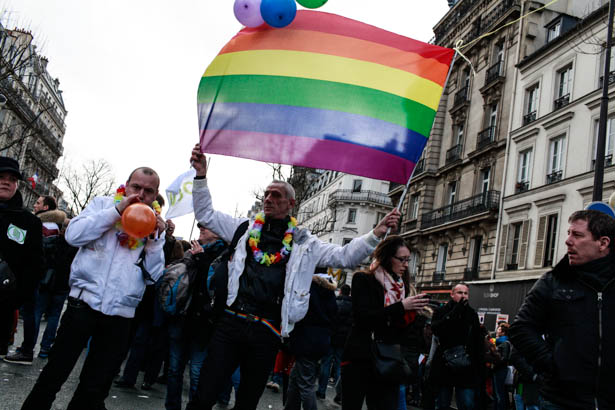 A man holds up a rainbow flag at Place Denfert-Rochereau before the massive pro-equality demonstration in Paris on Jan. 27, 2013. (Andrew Katz)
---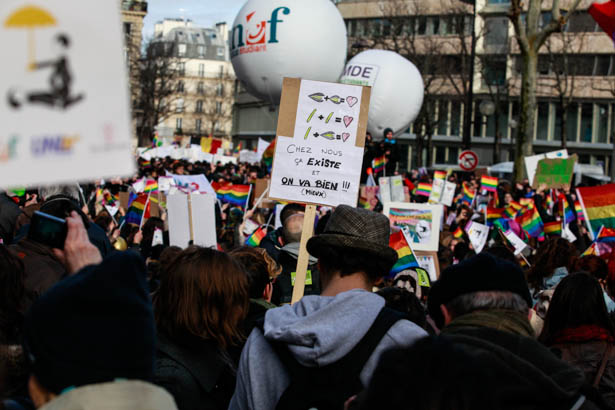 A woman holds a sign reading "Where we come from, it exists and we're fine!!! (Better)" during the massive pro-equality demonstration in Paris on Jan. 27, 2013. (Andrew Katz)
---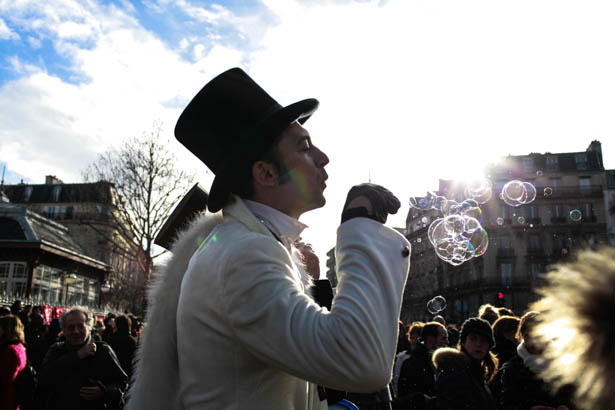 A groom blows bubbles during the massive pro-equality demonstration in Paris on Jan. 27, 2013. (Andrew Katz)
---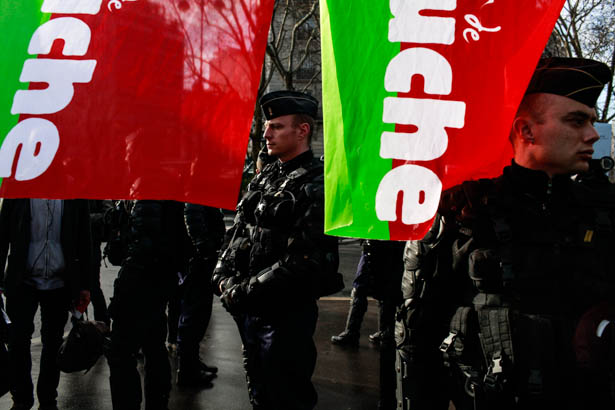 Policemen guard a group of protesters pretending to be Catholics and conservatives during the massive pro-equality demonstration in Paris on Jan. 27, 2013. (Andrew Katz)(Andrew Katz)
---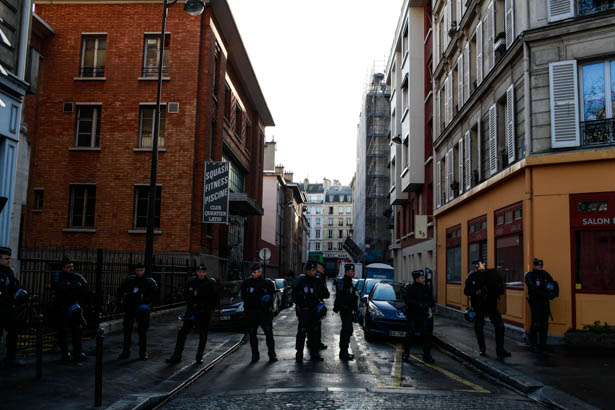 A line of policemen along the route of the massive pro-equality demonstration in Paris on Jan. 27, 2013. (Andrew Katz)
---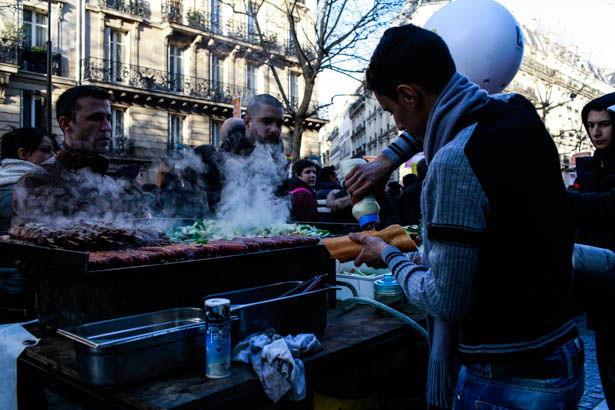 ---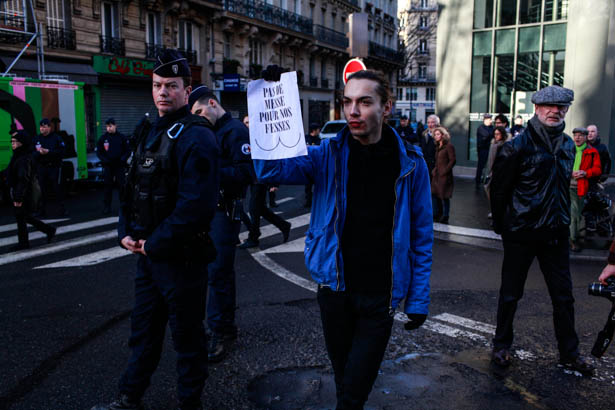 A man holds a sign reading "No mass for our asses" next to a police officer during the massive pro-equality demonstration in Paris on Jan. 27, 2013. (Andrew Katz)
---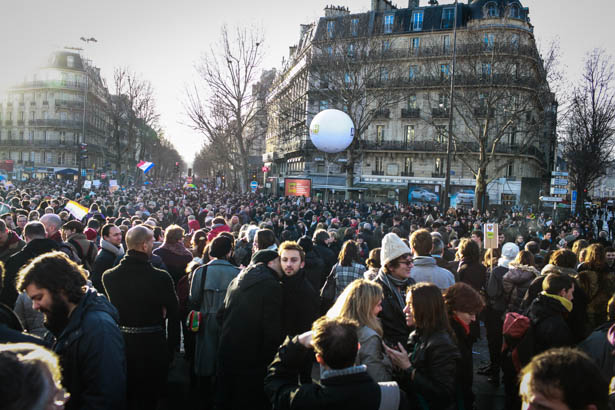 Tens of thousands of people gather at Place de la Bastille for the end of the massive pro-equality demonstration in Paris on Jan. 27, 2013. (Andrew Katz)
---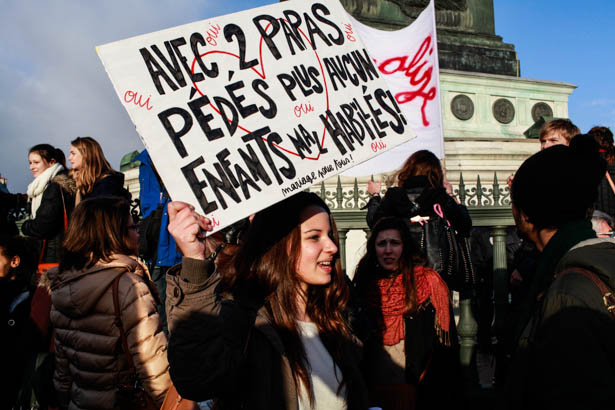 A young woman holds a sign reading "With two gay dads, no more poorly dressed children" at Place de la Bastille during the massive pro-equality demonstration in Paris on Jan. 27, 2013. (Andrew Katz)
---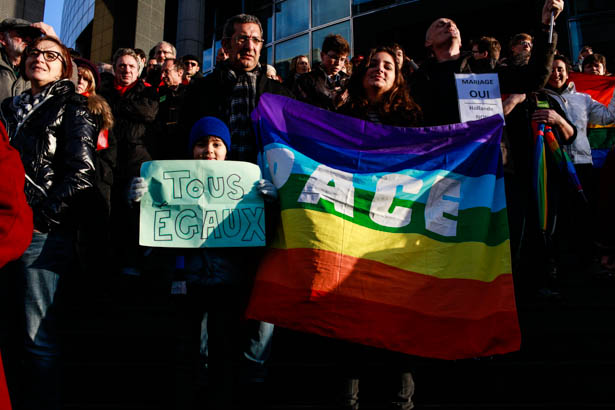 A young boy holds a sign reading "All equal" at Place de la Bastille during the massive pro-equality demonstration in Paris on Jan. 27, 2013. (Andrew Katz)
---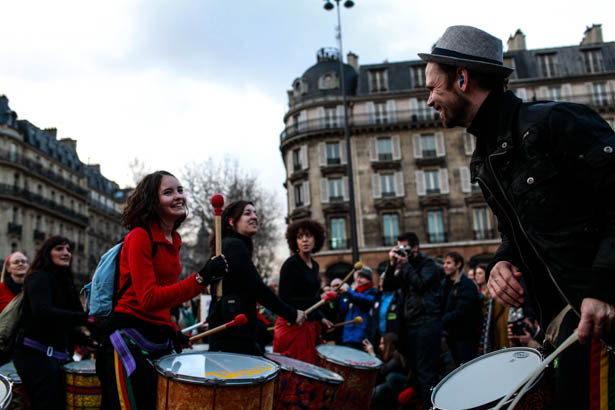 A group of drummers play at Place de la Bastille during the massive pro-equality demonstration in Paris on Jan. 27, 2013. (Andrew Katz)
---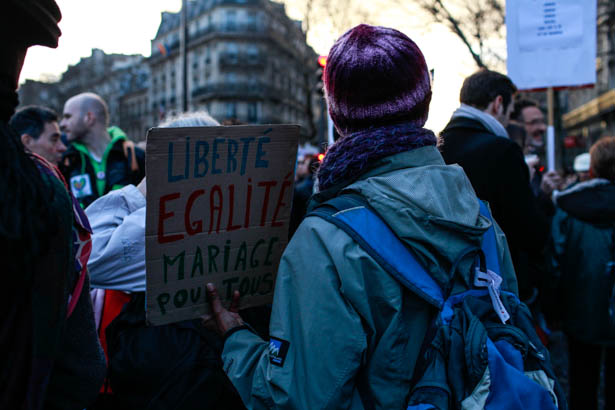 A protester holds a sign reading "Liberty, equality and marriage for all" at Place de la Bastille during the massive pro-equality demonstration in Paris on Jan. 27, 2013. (Andrew Katz)
---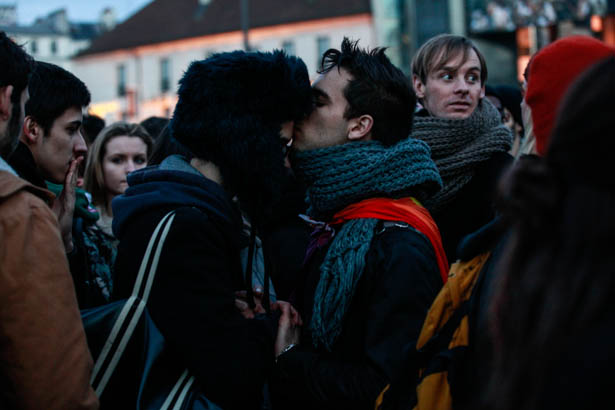 A couple listens to speeches at Place de la Bastille during the massive pro-equality demonstration in Paris on Jan. 27, 2013. (Andrew Katz)
---