What a Bosnian Mass Grave Can Teach Us About Syria's Civil War
As the Syria conflict rages, a recent war-crimes trial might offer a preview of things to come.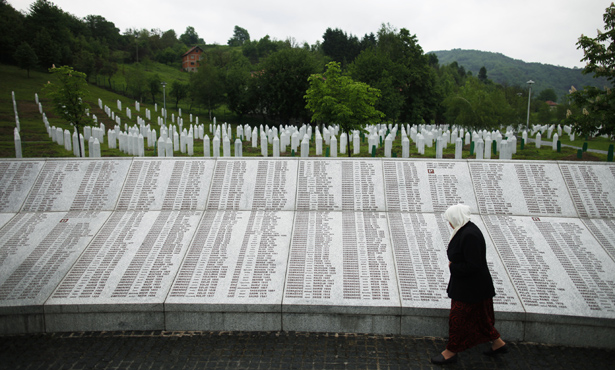 Nearly a decade has passed since I first visited a mass grave in Bosnia, but I can still remember it vividly. Not just because of the sight of the decomposing bodies, as our outstanding investigators and expert exhumation team helped free them from their earthen coffin, but because of the scent. The scent of death is oddly sticky, and sweet. It nauseates -- as if we are preconditioned to object to death and destruction. It clings to your clothes, even after you've left an exhumation. And the smell trails you around -- as if to remind you that -- as you live your life -- others have been cut short. It is this scent -- and memory of the approximately 8,000 lives that were cut short -- that came to mind when l learned that Zdravko Tolimir had been sentenced to life by the U.N. war crimes tribunal in The Hague.
I know what you might be thinking: "who is Zdravko Tolimir?" That is a fair question, because much of the world's media left Bosnia long ago, to cover more recent tragedies, including the current tragedy-in-slow-motion in Syria, so it is unlikely that you know his name. And but for his role in the worst atrocity in Europe since the Second World War, few of us would.
Zdravko Tolimir is a former assistant commander and chief for intelligence and security of the main staff of the Bosnian Serb Army (VRS). And in July 1995, when the U.N. "safe area" of Srebrenica fell to the VRS, Tolimir and his fellow henchmen, including General Ratko Mladic, undertook largest murder operation in Europe since the Holocaust.
In the days following the Bosnian Serb's capture of Srebrenica, thousands of Bosnian Muslim men and boys were rounded up and murdered, at the hands of Mladic and Tolimir's comrades. Some were killed opportunistically, but most were murdered in a full-scale military operation: hands were tied, eyes were blindfolded, and men and boys were lined up before freshly dug mass graves and shot in the back. In some cases, lighting was set-up, so the killings could continue through the night.
When time didn't permit the digging of mass graves, their captors chose to murder them where they were detained -- opening up fire with machine guns and rocket-propelled grenades -- within a warehouse in Kravica and theater in Pilica -- slaughtering thousands of unarmed civilians, just up the road from Srebrenica. Later, earth-moving equipment would be used to remove the dead -- and perhaps some living -- and deposit them into mass graves.
It is estimated that over 8,000 men and boys were executed after the July 11, 1995, fall of Srebrenica.
But the trial of Zdravko Tolimir was not just about the slaughter. As the tribunal judges stated: "the suffering these men went through in the moments leading up to their deaths must have been unbearable. On many occasions, those who were waiting to be shot saw others before them executed. The few survivors who lived to provide their testimony before the Chamber gave harrowing accounts of what they had to endure."
In their judgment, the judges found that the crimes committed "were massive in scale, severe in their intensity and devastating in their effect."
And the effect has an impact not just on the dead, but on the survivors as well. Indeed, the tribunal's judgment considered "the extreme suffering of the approximately 30,000-35,000 women and children forcibly removed from both enclaves, and their inability to live a normal and constructive life to this day."
So whether you were slaughtered, or you survived Srebrenica, the effects are permanent. And what pains me, as a witness to the international community's belated response to Srebrenica, and as someone who helped, in some small way, investigate and prosecute this slaughter, is how the international community, again, is mostly standing by, watching in Syria, as we did in Bosnia.
For all those who worked on the case -- the investigators, the analysis, the prosecutors, and of course, the witnesses who risked so much to tell their stories in The Hague, the genocide conviction and life imprisonment of Zdravko Tolimir is a huge victory of justice -- and one hopes -- some small solace to those who were slaughtered, and those who survived, the genocide. But perhaps the greatest justice could be found in ensuring a way for the international community to act, to prevent such slaughters. For whether they are yesterday's mass graves in Bosnia, or today's mass graves in Syria, the sick, sticky scent of death will linger, long after the international community fails to act.