The Year in Vladimir Putin
At the end of 2012, Russia is uneasily suspended between one political era resisting its end and another struggling to begin.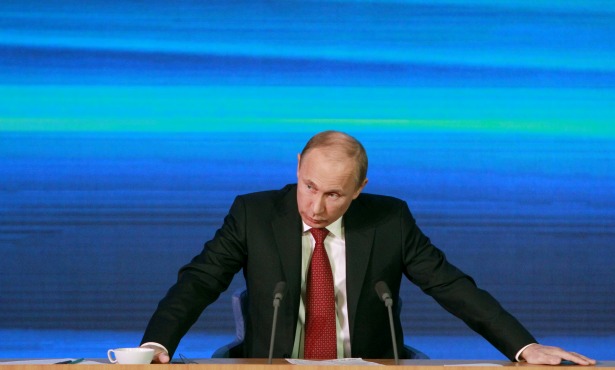 Maxim Shemetov/Reuters
It was the year everything changed. It was the year nothing changed. A longtime ruler lost his aura of omnipotence, but reclaimed his throne nonetheless. His adversaries grew in stature, but squabbled and struggled to find a common voice. And long-docile citizens woke up and demanded something new, but remained impotent in the face of an overbearing state.
Welcome to Russia's new normal. A country deadlocked in an uneasy holding pattern as one political era enters its death throes, but a new one has yet to be born. Vladimir Putin is back in the Kremlin. But with divided and bickering courtiers, a restless public, and an increasingly assertive opposition, his invulnerability is a thing of the past. But while Putin may be severely weakened, no viable alternative has emerged to his rule -- nor to the suddenly rickety authoritarian system he constructed over the past decade. 
The result, says Nikolas Gvosdev, a Russia expert and professor at the U.S. Naval War College, is uncertainty -- and potentially instability. "We end the year with more questions than we began the year with. Are we looking at clan wars? Are we looking at a purge? Are we looking at a complete reshuffling of the system? Coming into 2013, we have to say that all bets are off," Gvosdev said. 
Getting Restless
To be sure, Putin remains by far the most powerful force in Russian politics. As president, he has the full power of the Russian state at his disposal. He can use obedient courts to imprison his opponents and deploy administrative methods to rig elections. His cronies control the traditional media, the energy sector, and much of the country's heavy industry.
But Putin's inner circle, and the wider elite in general, is getting restless. As the year progressed, splits in the ruling class over Russia's political direction became increasingly evident. Technocrats like government chief of staff Vladislav Surkov favor a political thaw to accommodate a changing society. Security service veterans like Kremlin chief of staff Sergei Ivanov and Investigative Committee chief Aleksandr Bastrykin want the regime to crack down hard and stifle dissent. The calls of Western-oriented economists like former Finance Minister Aleksei Kudrin and Deputy Prime Minister Arkady Dvorkovich to diversify Russia's economy away from oil and gas are staunchly opposed by the powerful Putin cronies like Rosneft CEO Igor Sechin who dominate the energy industry.
​​With all the bickering and intrigue at the top, Putin's vaunted "power vertical," the top-down authoritarian system he constructed to maintain control of officials across the country's vast territory, looks increasingly wobbly. And as Putin appears politically weakened, it jeopardizes his traditional role as Russia's ultimate decider -- the indispensable broker who can adjudicate among the Kremlin's various clans and interest groups.
 
Edward Lucas, international editor of the British weekly "The Economist" and author of the recently published book Deception: Spies, Lies, and How Russia Dupes the West, says it's "absolutely clear that Putin is back in charge. ... But in charge of what? And how? He seems to be losing his role as the unquestioned arbiter of Russian politics. We have all these intrigues bubbling away in the background with no one really clear about who is on whose side and why these things are happening."
 
In the first half of this year, the opposition -- which found its voice with the mass protests that followed the disputed December 2011 State Duma elections -- was driving the national conversation. National celebrities like socialite-turned-activist Ksenia Sobchak, actor Aleksei Devotchenko, and crime novelist Boris Akunin lent their star power to the drive for change. The opposition successfully managed to pressure for reforms, albeit watered down, restoring the elections of governors and easing the rules for registering political parties.
 
But soon after Putin returned to the presidency in May, Russia's brief thaw gave way to a vengeful Thermidor as the regime moved to stifle the growing dissent. From the imprisonment of members of the feminist punk collective Pussy Riot to restrictive new laws targeting foreign-funded NGOs and public demonstrations to the ongoing criminal cases against opposition figures Aleksei Navalny and Sergei Udaltsov, it was clear that the hard liners were winning the argument in the Kremlin and the gloves were coming off.
 
Sean Guillory, a fellow at the University of Pittsburgh's Center for Russian and Eastern European Studies, says the "Putin regime was confronted with a political movement that it had not experienced yet in its existence since the beginning of the 2000s. ... How they actually responded to a genuine opposition has been heavy handed and not well thought out. The Putin government is searching for an agenda and they have yet to find what that agenda is."
 
Soft Power
 
But regimes like Putin's can't survive on repression alone. To be stable and successful, they also need, for lack of a better term, soft power -- the ability to win not just the public's obedience, but also its consent; to rule not just through fear, but also through inspiration.
 
During Putin's first stint as president, from 2000-2008, the Kremlin excelled at this. It doesn't anymore. The Kremlin's narrative about reviving Russia's lost national pride and overcoming the chaos and deprivation of the 1990s seems worn and dated in the second decade of the 21st century. Putin's trademark PR stunts, like diving for deep sea treasure or hunting and fishing bare-chested, once captivated the public imagination. But as Lucas explains, these efforts now fall flat, especially as Putin ages and amid recent rumors that his health is failing. "He needs to be able to construct a public narrative of success, competence, and authority of leadership, which is where his own physical fitness and Russia's return to economic health are very much overlapping," Lucas says. "It's very hard for him to do that now. It's very hard to fill the role of a symbolic receptacle of people's hopes. He's a fast-decaying asset."
 
Toward the end of the year, Putin attempted to seize the initiative by launching an anticorruption campaign that, to the surprise of many, actually snared some top officials -- including Anatoly Serdyukov, who was sacked as defense minister over a procurement scandal. But much of the public and the independent media remained unconvinced that the effort was much more than a settling of scores among the Kremlin's warring clans.
 
A fundamental part of the Kremlin's problem, analysts say, is that Russian society is evolving rapidly and the political class has not kept pace. The unprecedented prosperity of the Putin years has led to the emergence of a middle class that, in turn, has formed the basis for a fledgling civil society that is now demanding its political rights. Confident, well-traveled, highly informed, and connected by social media, this newly empowered "power horizontal" is now ready to challenge Putin's "power vertical."
 
And as Masha Lipman of Moscow Carnegie Center says, it is not going away anytime soon. "The Kremlin continues to control the political space but they can't control the civil space. This civic awakening in irreversible. The Kremlin's policy toward this seems to be to bottle up this civic energy that emerged a year ago. I don't think this is possible," Lipman says.
---
This post appears courtesy of Radio Free Europe/Radio Liberty.