The Worst Holiday: New Year's Eve Is Overhyped and Anticlimactic
An absurd mix of international traditions would be better than how we celebrate it in America.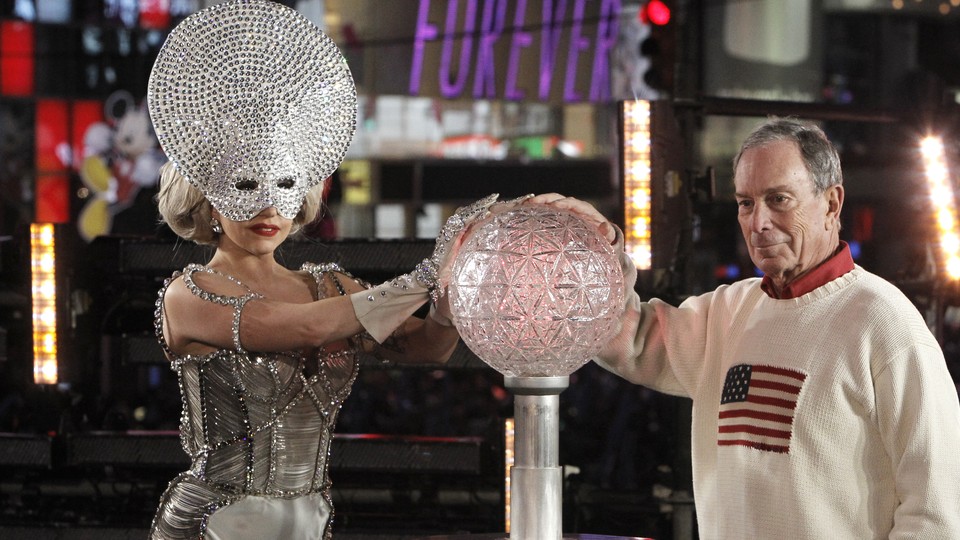 New Year's Eve is the worst holiday.
On Christmas, gifts are exchanged, carols sung, and peace and goodwill extended toward all humankind. Done right, Thanksgiving includes a Turducken, traditional sides, and pie. The Fourth of July ends with choreographed bursts of pyrotechnic delight exploding in the warm summer sky. Whereas here in America, New Year's Eve is a too expensive exercise in affected frenzy and anticlimax. How fitting that the Y2K scare fizzled on the biggest New Year's Eve of our lives, a night that Prince had been singing about for 17 years. Did your night live up to the hype?
On December 31, mediocre restaurants throughout America string absurd velvet ropes outside their doors, inflate black and white balloons as decoration, and charge three times the usual price for the same old fare plus bad champagne. Is it any wonder that our elders, as they grow older and wiser, opt to stay home and turn in before midnight? America's most iconic New Year's Eve celebration, the one that captures the attention of the whole country, has massive crowds gathering in New York City's most garish neighborhood, where they watch a large ball drop as C-list celebrities narrate on TV. The typical NYC dweller can't be lured to Times Square for dinner on an ordinary evening, so I can't imagine how pre-New Year's conversations go for those who attend. "Would you like to stand out in the freezing cold for hours with no place to sit or use the bathroom and drunks pressed against you on all sides?"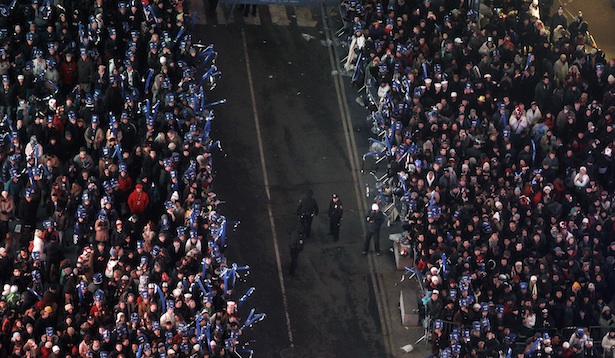 Reuters
Even more bizarre is the fact that Californians watch a tape-delayed rebroadcast of the spectacle as the clock strikes midnight on the West Coast, with whole parties pausing to gather around the television. "Hey, quiet down," people actually say, "Ryan Seacrest is about to come on!"
We can do better, America.
We excel at nothing if not co-opting foreign traditions to enrich our own culture. Next year, I should like to attend a New Year's Eve Party that takes the "New Year's Eve"
Wikipedia page
as its lodestar. The object would be to incorporate as many world traditions as possible in the same party.
Don't worry about having to give up Auld Lange Syne. It's borrowed from the Scottish and can be retained, though it's hardly the best they've got to offer us. The custom of "first-footing" is premised on the idea that the first person to cross the threshold of a home on New Year's Day brings good fortune for the coming year. "The first-foot usually brings several gifts, including perhaps a coin, bread, salt, coal, or a drink (usually whiskey)," Wikipedia tells us. As a minor variation, I'd suggest carrying a new keg of beer, or better yet, a vessel of whiskey punch across the threshold of a residence at 12:01 am, an event that would help avert anticlimax at any party.
3.
The most memorable New Year's Eve of my life happened in 2004, when the holiday sneaked up on me. I'd been shivering my way through central Europe with no particular reason to consult a calendar. Why wasn't the usual crowd sprawled out in the lounge drinking cheap hostel beer? "They've all got New Year's plans," the bartender replied. Soon enough cliques of travelers headed out into the streets, destined for pub parties that required reservations weeks in advance or discotheques demanding admittance fees far higher than anything I could then afford.
Alone on a bar stool I sipped Augustiner because it felt less awkward than sitting empty-handed. This year I'm looking forward to a quiet New Year's Eve with my wife. In my early twenties, staying in as everyone else went out made me ache for all the imagined fun I was missing.
But that isn't why the evening was memorable.
4.
In Wales, an annual New Year's Eve foot race is held to celebrate the life of Guto Nyth Bran. According to
legend
he was so fast that he could blow out a candle and be tucked into bed before the light faded. "One such legend has him running from his home to the local town of
Pontypridd
and back, a total distance of some 7 miles (11 km), before his mother's kettle had boiled," Wikipedia avers. In the town of Mountain Ash, where the race is held, there is a statue of Bran. Imagine scaled down models of that statue carved into Duraflame logs or a generic equivalent.
Now hold that thought.
5.
Eventually a surfer dude from San Diego joined me in that Munich hostel lounge. He didn't have plans either. We were resigned to staying in but decided after two beers that maybe we ought to wander out into the city. Surely two backpackers on a budget could find something to do.
Crowds thronged the downtown streets, everyone bundled against an impending overnight freeze. Families congregated near the ice skating rink, children gliding on its glassy surface, their parents huddled in stalls clutching steaming hot Glühwein. Teens clustered farther on, the girls standing in groups, the boys waving sparklers in outstretched hands or setting off firecrackers to startle passersby. Chaos built the nearer we got to the Marienplatz. Bottle rockets whistled to and fro, deafening pops exploded at our feet and pyrotechnic flashes lighting the scene.   

The San Diegan and I, buzzed on beer, relished the excitement. We felt impervious to harm by explosive powder, but weren't having any luck finding a bar that would let us in. There we were, the clock ticking toward midnight, both of us wanting a warm place to have another beer, neither of us at all wanting to kiss the other at midnight, wondering whether we should have gone out. Our hostel was warm and sold beer. But going back somehow seemed as if it would be a defeat.
6.
In parts of Scandinavia, it's common for everyone to stand atop chairs and to jump off together at midnight.
7.
10:47 p.m. We wandered rather frantically, but every establishment was closed for a private party, filled to capacity, or prohibitively expensive. Hostesses ignored us. Bouncers turned us away. We thirsted for beer, and the merriment inside so many establishments left us craving our own.

I thought to try the beer hall where I'd eaten dinner, which took a few minutes to find, and then we peaked into the window, watching tables packed to capacity with Germans hoisting beer steins and vacationing Italians joining the merrymaking. A five piece band played German drinking songs, patrons swayed to and fro and a man at the door apologized for barring our entry.

"All filled," he said, trying his best at English. "Maybe come back after midnight."

The San Diegan took it hard. He looked forlorn. Inside I think he wanted to cry. Any minute, I knew, and he would head back toward the hostel, giving up on the night. "Let's sneak around back," I said.

I remembered a door near the bathrooms that looked as though it led into an alley. It took some exploring, but we finally found the alley. All those Germans and Italians inside, and I joked to the San Diegan that it was the opposite of The Great Escape, but he didn't seem to be familiar with the film.
8.
"In Japan, New Year's Eve is used to prepare for and welcome
Toshigami
, the New Year's god," Wikipedia states. "People clean their home and prepare
Kadomatsu
or
Shimenawa
to welcome the god before New Year's Eve. Buddhist temples ring their bells 108 times at midnight ... The rings represent the 108 elements of
bonō
, mental states that lead people to take unwholesome actions. A popular TV show on New Year's Eve in Japan is
Kōhaku Uta Gassen
... a 62-year-old tradition involving a singing contest between male and female teams of celebrity singers."
9.
11:15 p.m. Within the beer hall were long wooden tables packed to capacity. The main room was roughly as large as a regulation basketball court. We couldn't find any seats, and we wandered past the same tables a dozen times, fearing that if we didn't keep moving we'd be caught loitering and kicked out. The San Diegan eventually suggested that we remove ourselves. "It's 45 minutes to midnight on New Year's Eve," he said. "I doubt anyone's going to leave."

"There is no place else," I said. And the band began to play another German drinking song, and the people began to sing, and a waitress passed by carrying six beer steins, and we knew we couldn't leave.

Suddenly I spotted a long table where 6 Italians sat drinking. Two half-spots remained at the ends of the long benches. I made pleading eye contact at fifteen paces. The Italians motioned for us to sit down. None spoke English, but one spoke Spanish, and all Italians speak a form of sign language.

"Where do you work?" the San Diegan asked.

"We work in a factory of automobiles, and he is a student," the Italian who spoke the best Spanish said. "What is it to live in California?"

"It is very fun," I said in Spanish. "All year the weather is like summer, and I like to go to the beach with my friends. I like to play sports too." It was my first oral presentation in 9th-grade Spanish.

On we talked, ordering beer as best we could from the overworked waitresses. They rushed around chaotic rooms, unable to bring steins fast enough for the patrons, until the Italians were our friends, and the shy ones among them revealed that they spoke "a little bit of English," a European euphemism for being able to understand and reply to pretty much anything. We carried on, drinking quickly to catch up for lost time. As midnight neared the Italians ordered yet another round of beer and an extra communal stein to pass around the table.
10.
"To celebrate New Year's Eve in Estonia, people decorate villages, visit friends and prepare lavish meals," Wikipedia tells us. "Some believe that people should eat seven, nine, or twelve times on New Year's Eve. These are lucky numbers in Estonia; it is believed that for each meal consumed, the person gains the strength of that many men the following year."
Perfect.
11.
11:58 p.m. We stood up, loudly singing German drinking songs, the Italians draping their arms around our shoulders. We swayed back and forth, counting down the seconds until ... Midnight! The band exploded.
Our table crashed our steins together, so that beer splashed into the air and soaked our wrists. The Italians cheered, motioning happily with their arms. The Germans cheered, smashing steins together all around us. So we smashed our steins together again, tipping them up to drain frothy gulps before setting them down, the heavy glass thudding onto the wooden table.
Every reveler poured onto streets that seemed at once anarchic and idyllic. Sparklers, firecrackers and bottle rockets glittered and blasted and whistled through the air, sailing past sparks fizzling from children's hands. Pyrotechnic flares lit up the Marienplatz, the cobbled stones littered with confetti and wrappers from fireworks and broken beer bottles and champagne corks, all crunched together by the passing crowds, the air smelling of gunpowder. The Italians huddled into a circle, drawing us close and yelling into our ears above the shrill scream of fireworks and boisterous outbursts from the crowd. It took several tries shouting for them to invite us out to a bar whose name we couldn't hear, and we followed them across the Marienplatz, small firecrackers bursting at our feet until we broke through, threading our way through thinning masses until we reached the plaza's edge. The Italians paused, shouting to the San Diegan that they would take us to a nightspot certain to enthrall us.

So we followed them.
12.
Says
Travel+Leisure
, "effigies of well-known people called muñecos are traditionally burned in New Year's bonfires in Panama." The effigies need not be figures who are disliked. "Last year, Panama's first Olympic gold medalist, track star Irving Saladin, was burned," the item states. "The effigies represent the old year; immolating them is meant to drive off evil spirits for a fresh New Year's start."
13.
As we followed the Italians our excitement only grew.
They took us down unfamiliar streets, turned down alleys we never would've thought to traverse, all of them proceeding at a gait that seemed springy with excitement, and all of us drunk on beer and adrenaline. I imagined a wonderful out-of-the-way beer hall filled with the sounds of a brass band, gorgeous Bavarian women, overflowing steins of beer and giant warm pretzels. Or perhaps they'd take us to an Italian expat bar, or a friend's flat with Italian girls and a passed bottle of absinthe. Perhaps we'd be taken to some scene we couldn't even fathom.
We only knew, in the moments before our arrival, that the Italians were very fond of us in their drunkenness, and unanimous that we'd certainly love the secret destination to which they were leading us...
...and then we turned a corner and stopped.
"We have brought you to the Hard Rock!"
"Rock and roll!" said his compatriot, beaming, "just like you do in America. Now we party right, prego?" We didn't have the heart to tell them that it wasn't in fact the place we'd have chosen to go.
But what did we expect? It was New Year's Eve.
Of course it would be anticlimactic.
14.
Hence the international New Year's Eve spectacular I'd like to throw next year. It would be a house party, requiring no more than a living room with a fireplace. Guests would arrive at 9 p.m. with a cheap wooden chair from Ikea, a Duraflame-sized statue of Guto Nyth Bran, and a sack of tamales. A karaoke machine would be on hand to simulate the Japanese singing competition, with male and female guests squaring off in rounds, the winner scoring a point for their gender. At 11:55 p.m., representatives from  team with fewer points would go outside to fetch the huge container of whiskey punch, carrying it through the door at midnight. Upon their entrance, the assembled guests would jump down from atop the chairs where they were standing.
They'd crash to the ground with the jingle of 108 bells tied to their backs.
Why not?
Then, one by one, everyone would proceed to the fireplace, where all of the Duraflame shaped effigies of good old Guto Nyth Bran would be stacked and lit aflame. The conflagration would be understood to represent the party itself. Rather than expecting a climactic kiss at midnight, revelers would understand that the evening would slowly wind down, until in the light of the dying embers guests stuffed themselves with 7, 9, or 12 tamales, but no other number of tamales.
It wouldn't be entirely pleasant, but after all those tamales everyone would be full, ready to sleep, and glad that the traditional New Year's Eve celebration wouldn't have to be repeated for a whole year. Sure, it's possible that a particularly savvy reader might be able to improve upon this plan. But better to keep expectations low. I promise only that the party I suggest would be better than going to Times Square. A humble reformer, I am satisfied to offer millions something better.