The year in review.
One of the best movies to have gotten an American distribution this year is Hungarian director Bela Tarr's The Turin Horse, a psychologically punishing depiction of subsistence farming in the 19th century. For over two battering hours, an old man and his daughter fetch water from a quickly-depleting well, eat simple meals of boiled potatoes, fail in coaxing their possibly-dying workhorse out of his barn, and mumble Bible verses as the wind accelerates from a soft whistle to an apocalyptic howl. And that's pretty much it. That's the movie.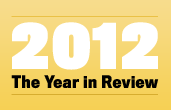 Atlantic writers survey the biggest stories and ideas on their beats.
See full coverage
Supposedly, it was the vicious beating of a horse by a cab driver in the northern Italian city of Turin that drove the philosopher Fredric Nietzsche into a permanent state of syphilitic insanity. But the film only hints at such world-historical matters, and the title slyly pans away from the great events and personalities of history. Instead, the movie is an examination of the quotidian and anonymous nature of the greater part of lived experience. It's a poetic and sometimes bleak -- although sometimes inspiring -- inquiry into the strength needed to face a daily existence that is fundamentally precarious.
In a way, this has been a year of great events and personalities, dominated by the likes of Bashar al Assad, Mohammed Morsi, Vladimir Putin and Xi Jinping. Our list is similarly punctuated with headline-grabbing events, wars and crises that occupied the attention and anxieties of some of the more consequential nations and individuals on earth. Yet as Tarr's film suggests, one could look elsewhere for the true substance of world events. This year, it might be found in the refugee camps of Turkey and Jordan, in the slums of Cairo, or in the fading prospects of millions of unemployed Spanish and Greek youth. World affairs can take on an abstract and schematic quality when viewed at an extreme distance, and the events listed below are no exception. But they aren't abstract or schematic for the people that are living through them, right now, even as you read this. And most of these stories aren't over yet. They'll ripple and ramify for years to come, in ways that are destined to both shock and gratify us.
We want to hear what you think about this article. Submit a letter to the editor or write to letters@theatlantic.com.
Armin Rosen
is a former writer and producer for
The Atlantic
's Global channel.