The Problem With Using Symbols on Ballots in Pakistan
They enfranchise illiterate Pakistanis. But what happens when an election could hinge on whether enough people confuse a house cat for a lion?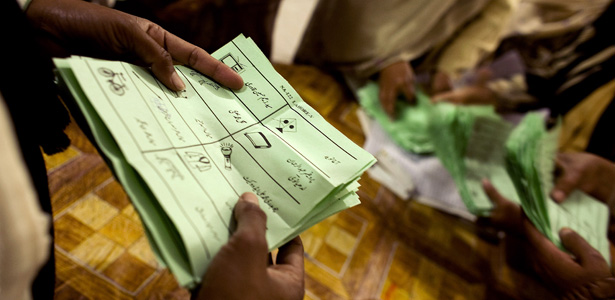 It is perhaps unsurprising that Pakistani politicians, after daylong deliberations on November 28, reached a unanimous decision that cats should be thrown out of the country's marshy politics. Same for radishes, carrots, okras, bananas, and the much-despised lotas, or ewers.
Implications did not extend to the proverbial "greater national interest," as is the case with so many decisions in Pakistan. Rather it was a matter of mutual personal and party interests. And so the decision came quickly. The election commission says there are 216 registered political parties in Pakistan, while there are so far just 171 electoral symbols available. Many independent candidates will need their own symbols.
Symbols are used in elections in many countries to help illiterate voters distinguish among parties or even individual candidates. Such images, used for years in Pakistan, accompany campaign materials and must appear alongside the names of the respective individuals or groups on the ballots. General elections are expected in April or May, and some parties have objected to the presence of certain symbols on the ballot.
The Pakistan Muslim League Nawaz (PML-N), the country's second-largest party and an early favorite ahead of the contest, has objected to the assignment of a cat as the symbol for any party or independent candidate. The PML-N's own symbol is a lion, and some party leaders are of the view that the resemblance between the cat and the lion might adversely affect their showing. Illiterate voters who frequently pay special attention to kinship, clans, feudalism, or khanism, their argument goes, might cast votes for the wrong cat.
Another, arguably more serious, case is that of the book. That was the symbol of the six-party religious alliance Muttahidda Majlis-e-Amal (MMA) in the 2002 general elections. But since that religious alliance disintegrated in 2007, the book was assigned to the Jamiat Ulema-e-Islam (JUI-F) party for the 2008 polls.
Both in 2002 and again in 2008, leaders of nonreligious parties complained that their religious rivals were presenting the book as a Koran to attract voters in the name of Islam. So they have filed an objection with the Election Commission of Pakistan this time to remove it from the list.
There have been suggestions that the book should appear unfolded, with English letters on its pages. That would presumably prevent religious parties from propagating their election symbol as holy because, opponents suggest, even the illiterate in Pakistan know very well that the language of the Koran is Arabic and not English.
So what's left for the hard-line Jamat-e-Islami party? Since it boycotted the 2008 general elections, the image of the book was assigned to its erstwhile coalition partner, Jamiat Ulema-e-Islam. Looking for a similarly desirable symbol, Jamat-e-Islami's leaders have applied with the election commission to be represented by a set of scales.
​​Of course, scales are widely regarded as a symbol of justice, and Pakistan is no exception. That's why the Pakistan Tehrik-e-Insaaf (PTI), or Justice Party, of cricketer-turned-politician Imran Khan also wants its symbol to be a set of scales. Khan's electoral symbol was previously a cricket bat. Khan's Tehrik-e-Insaaf party and Jamat-e-Islami are both known for their dharnas (sit-ins) and marches to register their displeasure. So neither can be ruled out once a decision on the symbol is made.
That brings us to the most despised symbol, the lota, or vessel. In olden days, lotas were made of clay and used mostly in mosques for ablutions. With modernity creeping into religious places, however, the clay lotas have largely been replaced with metal or plastic pitchers. Although hand and electrical pumps have now considerably reduced the use of lotas for ablutions in urban areas, they are still widely used in village purification rituals.
One might assume that as an instrument of a sacred rite, the lota might be the choice of conservative parties. But the opposite is in fact the case. No one knows precisely how or when the lota entered Pakistan's political lexicon or why it became so despised, but it has become synonymous with opportunistic politicians who change political stripes for personal gain.
But what about okra, banana, radish, and carrot? Election commission spokesman Altaf Ahmad said that "those names were just comical." Without going into detail, he said candidates and political parties had refused to accept those symbols whenever they were assigned in the past.
Maybe he's right. So the question is: Why were those symbols included on the list again to begin with? Maybe for the same reason that the cat is being extirpated and the appearance of the book is being changed. Maybe not enough proper consideration and planning went into the process.
So the image of the lota was removed from the list of electoral symbols (although scores of politicians sitting in or outside parliament have shifted loyalties and will continue to do so in future without so much as batting an eyelid).
Video: A discussion of the pejorative meaning of "lota" in modern Pakistani politics (in Urdu):
---
This post appears courtesy of Radio Free Europe/Radio Liberty.