The Iranian Government's Lame YouTube Clone
With one of the strictest web filters on earth, the Islamic Republic leaves people with few alternatives.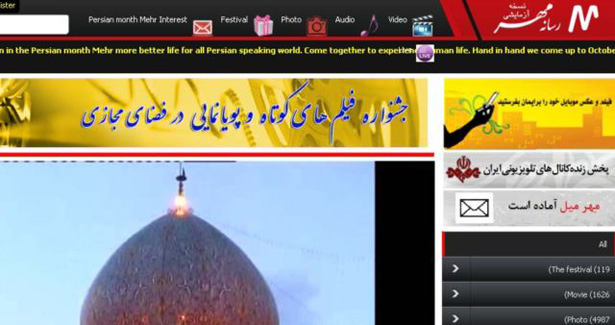 Screenshot, via RFE/RL
Those looking for another avenue to watch Persian cat videos or cute antics by Iranian toddlers have been left disappointed after the launch of Iran's new and much-hyped video-sharing website went awry.
On its homepage, Mehr says its purpose is to bring together Persian-speaking users and to promote Iranian culture. But just days after its launch, the website that officials hope will become a rival to Google's popular YouTube has been marred by poor download speeds and technical glitches.
Iran already has a popular video-sharing website, Aparat, which is run by the same company behind Iran's social-networking site, Cloob. But Mehr, which is run by the state broadcaster Islamic Republic of Iran Broadcasting, is the first government-sanctioned competitor to YouTube in the country.
Hundreds of videos have already been uploaded to Mehr, mostly clips from Iranian state TV, government-approved music videos, and religious sermons. But users testing out the new site were met with a continuous "loading the player" message.
 
YouTube has been blocked in the Islamic Republic since 2009, after widespread protests and a police crackdown following the contentious reelection of President Mahmoud Ahmadinejad. Tehran has also blocked access to popular Western social-networking sites such as Facebook and Twitter, along with Western media outlets and pornographic material, on the official grounds that they are offensive and a threat to national security.
That has led Iranian authorities to create one of the largest Internet filters in the world, although its citizens continue to access Western websites by using virtual private networks (VPNs), which the authorities have clamped down on. VPNs can make a computer appear to be based in another country.
'Soft War' Against Iran
Iranian officials have claimed Western governments are using popular websites to wage a "soft war" against the Islamic Republic. But the United States has alleged that Tehran is looking to create an "electronic curtain" to cut off its population from the rest of the world. Washington has reportedly imposed financial sanctions on those Iranian government officials it accuses of involvement in the effort.
In fact, Iranian officials have said they are planning to create a national intranet that would be largely isolated from the World Wide Web. Tehran says its internal system would protect the public from "un-Islamic" content. The launch of Mehr, which means "affection" in Persian, is seen as another step toward achieving that goal.
Iranian authorities have dismissed doubts raised by Western experts who have questioned whether any country can make a complete break from the global Internet.
In March, Iran's Supreme Leader Ayatollah Ali Khamenei ordered officials to set up an Internet oversight agency. The Supreme Council of Virtual Space reportedly includes the president, the information and culture ministers, and the heads of the police and the Islamic Revolutionary Guards Corps (IRGC).
Khamenei said in his decree that the body would protect Iran from "harm" resulting from "the increasing spread of information and communication technologies, particularly that of the global Internet network and its important role in personal and social life."
 
Internet Usage Growing
There have also been reports that the IRGC created a "cyberarmy" in 2010 to tackle what it called "destructive" networks. Hundreds of web users have reportedly been arrested for Internet-related offenses in Iran.
The United Nations' International Telecommunication Union says Internet usage in Iran, which has a population of roughly 75 million, has rapidly grown over the past decade, increasing from less than 1 percent of the population to some 13 percent.
There is no information yet about the use of Mehr in Iran. But Aparat, which has been in existence for the past several years, is among the most-viewed websites in the Islamic republic, according to the web statistics provider Alexa. Aparat is based in Iran and conforms to domestic laws on Internet content but has international backers, including the South Korean electronics firm LG.
---
This post appears courtesy of Radio Free Europe/Radio Liberty.