'Taxpayer': The New Watchword for Transparency Reform in China
Why?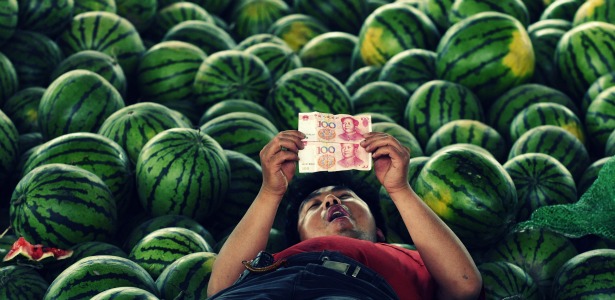 Reuters
Chinese Internet users have a new name for themselves: Taxpayers.
Over the past year, the word "taxpayer" (nashuiren or nashuizhe) has appeared with increasing frequency on Chinese microblogs and websites, yielding almost 12.5 million results in a search on Sina Weibo, one of China's most popular microblogs. And just like in the United States, many Chinese "taxpayers" are hardly satisfied with their government's fiscal record.
In a post last Friday, one Chinese microblogger (@Dvampire-MrFox) excoriated government officials who played hooky from work after China's National Day vacation. "This is our money as taxpayers!" he wrote. "What are we paying them for?" Posting later that day, another microblogger (@薇薇-伍月) criticized the city of Zhengzhou's poor record in providing housing for migrant workers: "Where the heck is our taxpayer money going?" she wrote.
For Americans, using the term "taxpayer" to inveigh against government profligacy is one of the oldest tricks in the rhetorical book. For Chinese, however, it represents a striking innovation.
One reason may be that for many years, the average Chinese citizen has faced a relatively light tax burden. According to Chinese government statistics, personal income tax makes up a small fraction of state revenue -- just 6.8 percent in 2011. Instead, the central government draws most of its funding from China's value-added tax (VAT), which is levied primarily on manufacturers. In the United States, income tax revenue comprises over 40 percent of the Federal government's total tax proceeds.
In fact, many Chinese citizens -- and perhaps more than a few self-styled "taxpayers" -- have never filed a tax return at all. The average Chinese worker earns less than 3,000 RMB per month, or just over $480. As a result, China's income tax threshold of 3,500 RMB exempts over 90 percent of Chinese citizens, according to its finance ministry. It's a figure that would no doubt astonish Americans like Mitt Romney, who scoffed earlier this year at the 47 percent of U.S. citizens who don't pay income tax.
But Chinese bloggers appropriating the word "taxpayer" may be thinking less about their own pocketbooks, and more about political reform. As the expansion of social media drives increased transparency in China, more and more citizens are demanding accountability -- particularly when it comes to government finances.
Earlier this year, when Chinese PR firm Ming En Media (@明恩传媒) published an online video called "Where did our taxes go?" the post garnered over 40,000 shares and 6,500 comments. The video begins with a voice actor cheerfully intoning: "When you have money, you have to spend it. But do you know where taxpayer money goes?" The next frame shows four cartoonish government office buildings adorned with banners reading "I need mistresses" and "I need to buy a car." According to the China news website Ministry of Tofu, the video was later "harmonized", or removed, from Sina Weibo and video-exchange platform Youku.
For Zhao Chenxiang, a professor at Tianjin Finance University, the rise of taxpayer consciousness in China is a natural outgrowth of the country's transition to a rule-of-law society. "In a rule-of-law (fazhi) society, taxpayer consciousness is the very embodiment of citizenship," Zhao wrote in a 2009 essay.
Perhaps it's unsurprising, then, that the first printed mention of the word "taxpayer" in the United States can be found in a 1789 letter to the editor, published just two years after the ratification of the American constitution. That letter, published in the Independent Gazetteer, protests Philadelphia's construction of a new city hall (at the expense of 6,000 pounds) and concludes with these words: "I am, sir, with my best wishes for the improvement of Philadelphia. ...Your humble servant, A TAX-PAYER." By the early 1830s, op-ed pages throughout America were filled with the cavils and protestations of "taxpayers."
A review of Chinese historical newspapers suggests a very different record for that country. In 1935, the Shun Pao Monthly -- Shanghai's most popular newspaper at the time -- published a report on American taxpayers during the great depression. According to the Shanghai Library's historical newspaper database, over the next four decades, the word "taxpayer" appeared in print only a handful of times -- and almost always in connection with the United States.
Today, the return of the Chinese "taxpayer" portends a broader shift in China's economy and society. Since Reform and Openness began in 1979, China has prospered through an export-led economy -- enjoying added proceeds from land sales, corporate taxes, and the VAT. But as manufacturing weakens and China seeks to bolster domestic consumption, the government may increasingly look to individual citizens -- taxpayers -- to foot the bill.
---
This post also appears at Tea Leaf Nation, an Atlantic partner site.